Debbie Reynolds, Hollywood Legend And Mother Of Carrie Fisher, Dies At 84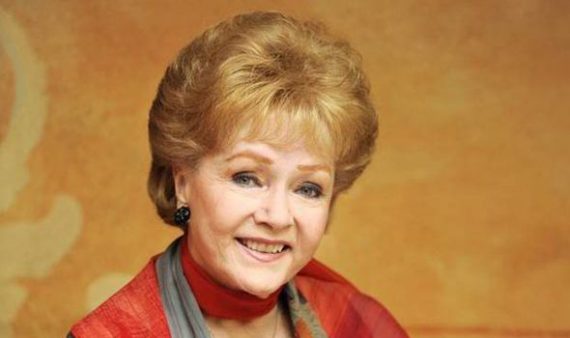 Debbie Reynolds, who became a Hollywood star in the 1950s beginning with her role in the musical "Singin' In The Rain" and other now-famous films, and the mother of Carrie Fisher, died yesterday at the age of 84, just one day after her daughter:
Debbie Reynolds, the wholesome ingénue in 1950s films like "Singin' in the Rain" and "Tammy and the Bachelor," died Wednesday, a day after the death of her daughter, the actress Carrie Fisher. She was 84.

Her death was confirmed by her son, Todd Fisher, according to her agent, Tom Markley of the Metropolitan Talent Agency. Ms. Reynolds was taken to a Los Angeles hospital on Wednesday afternoon. Mr. Fisher told the television station ABC 7 Los Angeles that she had suffered a stroke.

According to TMZ, she had been discussing funeral plans for Ms. Fisher, who died on Tuesday after having a heart attack during a flight to Los Angeles last Friday.

"She's now with Carrie, and we're all heartbroken," Mr. Fisher said from Cedars-Sinai Medical Center, where Ms. Reynolds was taken by ambulance, The Associated Press said. He said the stress of his sister's death "was too much" for his mother.

On Tuesday, Ms. Reynolds had expressed gratitude to her daughter's fans on Facebook.

"Thank you to everyone who has embraced the gifts and talents of my beloved and amazing daughter," she wrote. "I am grateful for your thoughts and prayers that are now guiding her to her next stop."

Her best-remembered film is probably "Singin' in the Rain" (1952), the classic MGM musical about 1920s moviemaking, in which she held her own with Gene Kelly and Donald O'Connor, although she was only 19 when the movie was shot and had never danced professionally before. Her fans may cherish her sentimental good-girl portrayals, like the title role in "Tammy and the Bachelor" (1957), in which she played a Louisiana moonshiner's wide-eyed granddaughter who spouted folksy wisdom.

Her greatest fame, however, may have come not from any movie role but from the Hollywood scandal involving her husband and a glamorous young widow.

In 1955, Ms. Reynolds married Eddie Fisher, the boyish music idol whose hits included "Oh! My Pa-Pa" and "I'm Walking Behind You," and the young couple were embraced by fan magazines as America's sweethearts. Their best friends were the producer Mike Todd and his new wife, the femme-fatale film star Elizabeth Taylor.

When Mr. Todd died in a private-plane crash in 1958, Ms. Reynolds and Mr. Fisher rushed to comfort Ms. Taylor. Mr. Fisher's comforting, however, turned into a very public extramarital affair. He and Ms. Reynolds were divorced early the next year, and he and Ms. Taylor were married weeks later. That marriage lasted five years. Ms. Taylor left Mr. Fisher for Richard Burton, whom she had met in Rome on the set of "Cleopatra" (1963).

Almost 40 years later, in an interview with The Chicago Sun-Times, Ms. Reynolds said of Ms. Taylor, "Probably she did me a great favor." In her 1988 autobiography, "Debbie: My Life," she described a marriage that was unhappy from the beginning.

"He didn't think I was funny," Ms. Reynolds wrote of Mr. Fisher. "I wasn't good in bed. I didn't make good gefilte fish or good chopped liver. So what did he have? A cute little girl next door with a little turned-up nose. That was, in fact, all he actually ever said he wanted from me. The children, he said, better have your nose."

Mary Frances Reynolds was born on April 1, 1932, in El Paso. Her father, Ray, worked for the railroad and struggled financially during the Depression. Her mother, Maxene, took in laundry to help make ends meet. As Nazarene Baptists, they considered movies sinful.

With the promise of a better job, Ray moved to California when Mary Frances was 7, and the family soon followed. Her career dream was to go to college and become a gym teacher, she often said, but when she was named Miss Burbank 1948, everything changed. Two of the judges were movie-studio scouts, and she was soon under contract to Warner Bros., which changed her name.

In 1950, she made her movie debut in "The Daughter of Rosie O'Grady," a musical comedy starring June Haver and Gordon MacRae. The same year, she played Helen Kane, the 1920s singer known as the boop-boop-a-doop girl, in "Three Little Words" and also appeared in "Two Weeks With Love," in which she sang "Aba Daba Honeymoon" with Carleton Carpenter. The song became a huge novelty hit.

Her roles seemed to mirror 1950s attitudes toward love, marriage and family. In 1955, she played a marriage-minded all-American girl opposite Frank Sinatra in "The Tender Trap." In 1956, she starred with her new husband, Mr. Fisher, in "Bundle of Joy," a musical remake of the 1939 comedy "Bachelor Mother."

After the Taylor-Fisher-Reynolds scandal, Ms. Reynolds rode on a crest of good will and was a popular co-star in a long string of films, mostly lighthearted romantic comedies, including "The Gazebo" (1959), "Say One for Me" (1959) and "The Pleasure of His Company" (1961). She also played the title role in "The Singing Nun" (1966), appeared in "Divorce American Style" (1967) and was part of the all-star ensemble cast of "How the West Was Won" (1963), a rare drama among her more than three dozen movie credits.

"Drama's unhappy, and playing someone unhappy would make me unhappy," she told The Boston Globe in 1990. "Ain't for me, honey."

She took a stab at series television with a sitcom, "The Debbie Reynolds Show" (1969), in which she played a wacky Lucy Ricardo-like wife who wanted to be a journalist like her husband. It lasted only one season. But she soon achieved a kind of immortality as the voice of Charlotte the selfless spider in the animated film version of E. B. White's children's classic "Charlotte's Web" (1973).

For a while, Ms. Reynolds seemed to be better known as the mother of Ms. Fisher — who shot to stardom as Princess Leia in the "Star Wars" movies and wrote semiautobiographical novels — than as an actress or singer. Ms. Fisher's 1987 book, "Postcards From the Edge," made into a film starring Meryl Streep and Shirley MacLaine, reflected the sometimes difficult relationship between her and her famous mother.

Ms. Reynolds's career took something of a back seat to her personal life when she married Mr. Hamlett in 1984, but they divorced 12 years later.

In 1996, Ms. Reynolds made an attention-getting big-screen comeback when Albert Brooks cast her as his often-clueless yet admirably self-possessed widowed mother in "Mother." Her uncharacteristically low-key comic performance earned her a Golden Globe nomination, though not the Oscar nomination that many had predicted.

The next year, she played Kevin Kline's mother in the sexual-identity film comedy "In & Out." And beginning in 1999, she won new fans with a recurring role on the NBC sitcom "Will & Grace" as Bobbi Adler, the Debra Messing character's gregarious, uninhibited mother, who had a tendency to burst into song (show tunes, of course).

Ms. Reynolds continued acting and doing voice work in both films and television into her late 70s.
Reynolds was reportedly distraught at her daughter's passing and is reported to have told her son Todd that she wanted to 'be with Carrie' shortly before falling ill and being rushed to the same hospital that Carrie Fisher had been taken to after her heart attack. Her passing is a double tragedy both for the entertainment world and, of course, her family.
This is Reynolds alongside Donald O'Connor and Gene Kelly in "Singin' In the Rain," filmed when Reynolds was just 19 years old:
And here's a clip of her performance in "The Tender Trap" along with co-star Frank Sinatra: