Defense Civilians Could Go Back to Work
The Defense Department might open for business while the rest of government remains shut down.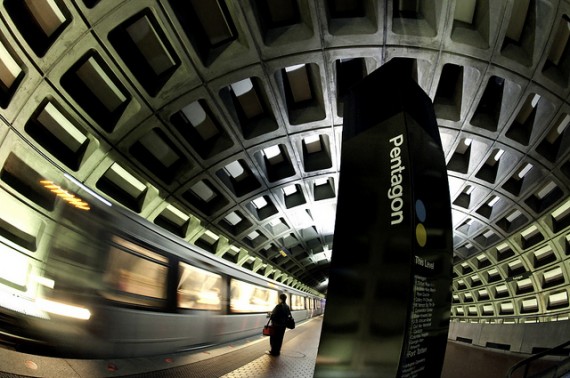 The law passed Monday night to ensure military personnel get paid during the government shutdown may allow DoD civilians to go back to work, too.
Stars and Stripes ("White House, DOD looking at using military pay law to end furloughs"):
The Pentagon and the White House are weighing whether a new law that ensures military members as well as some Defense Department civilians keep getting paid during the government shutdown could be used to bring furloughed civilians back to work.

Federal legislators who passed the law, meanwhile, say the Pentagon has the authority now to end the DOD civilian furloughs.

On Tuesday, as hundreds of thousands of DOD employees went on furlough, Pentagon lawyers sent a legal brief to the White House Office of Management and Budget that a defense official, speaking on the condition of anonymity, said had "recommended maximum flexibility" in interpreting the "Pay Our Military Act."

The act, signed into law late Monday, authorizes paychecks for military members as well as DOD civilians who Defense Secretary Chuck Hagel determines "are providing support to members of the Armed Forces."

The questions of how broadly "providing support" could be interpreted and how many of an estimated 400,000 furloughed civilians might return to work were being ironed out Wednesday as executive branch attorneys mulled the legal requirements of a government shutdown brought on by a deadlocked Congress' inability to pass by midnight Monday a measure to fund federal operations.

In a letter sent Tuesday to Hagel, Rep. Buck McKeon, R-Calif., chairman of the House Armed Services committee, told Hagel that DOD civilians who are currently sitting at home are actually authorized to work by the new law.

"I believe the legislation provides you broad latitude and I encourage you to use it," McKeon wrote. "The text does not limit the provision of pay to civilians who were previously categorized by the Administration as 'excepted' or 'essential' … Therefore, I strongly encourage you to use the authority Congress has given you to keep national security running, rather than keeping defense civilians at home when they are authorized to work."

In another letter sent Monday to Hagel, Rep. Michael R. Turner, R-Ohio, said all furloughed employees at Wright-Patterson Air Force Base in his district provide support for the military, as specified in the new law, and thus should be allowed to work.

"The law is clear and provides the department as well as the United States Coast Guard with authority to immediately call its civilian employees back to work," Turner wrote. The Coast Guard falls under the Department of Homeland Security.
Interestingly, House Republican leaders, including the Speaker, have been saying this all along.
House Speaker John Boehner, R-Ohio, issued a statement linking to McKeon's letter, criticizing the Pentagon for "narrowly" interpreting the law so far "against congressional intent." The headline of Boehner's statement is "Despite Signing Pay Our Military Act, White House Using DoD Workers to Play Political Games."
As one of those furloughed civilians, I'd be happy to go back to work sooner rather than later. Not only is getting a paycheck nice but it's a career, not a job; studying and writing about national security policy is what I do, not just a means of paying the mortgage.
That said, I'm not crazy about the idea of keeping the government shut down while exempting piecemeal those employees doing jobs that people suddenly discover are actually pretty important.  World War II vets can't go see their memorial? Okay, let's fund that. Kids with cancer can't get treatment? Okay, let's fund that. We shouldn't fund the government based on which jobs can get the public's attention soonest.
Some very important jobs operate under the public radar. Some provide crucial behind-the-scenes support to more visible agencies.  Some do vital work whose impact isn't felt for years or even decades but need to be done now to prevent very bad things happening then. Many of them are far more important to the country than museums, parks, and service academy football games.
Beyond that, while inartfully phrased, Harry Reid's stance that the minority party should not get to "pick and choose what part of government's going to be funded" is basically right.
Are there whole agencies and departments whose existence would no longer withstand rational scrutiny? Probably. Are there government workers who are lazy and worthless? Certainly. The taxpayer shouldn't have to give up their hard-earned income to pay for them. But those decisions ought to be made through a clear-eyed review process, not under the gun of a needless shutdown of the whole system. Much less on the basis of which ones are best at getting the attention of the news media.