World War II Vets Storm World War II Memorial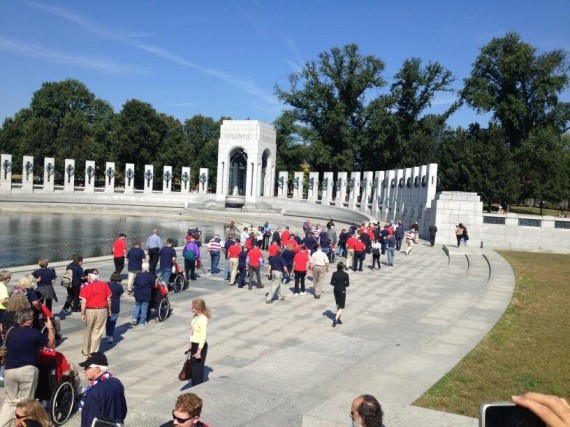 A group of World War II veterans who had flown in especially to visit the World War II Memorial in Washington under a program known as "Honor Flights" where elderly veterans are brought to D.C. at little or no cost to them weren't going to let a little thing like a government shutdown stand in the way of their objective:
Seventy years ago they fought fascists. Now they're fighting partisan gridlock.

A group of about 140 World War II veterans spent a day at their monument on the National Mall on Tuesday — despite the site being closed amid a government shutdown — after they were joined by a group of Republican lawmakers, some of whom claimed to have pushed aside the barriers.

After the barriers were taken away, the site remained "technically closed" on Tuesday, even as the public walked freely around the open-air monument.

National Park Service spokeswoman Carol Johnson said that she did not have the authority to re-close the monument, and said that about 330 park rangers in the nation's capital had been furloughed because of the funding cut.

It was unclear exactly who had moved the barriers. Rep. Steve King of Iowa tweeted that veterans were "locked out" of the memorial, and "we opened it."

Other reports indicated that the veterans moved the barriers or that multiple pairs of hands played a part.

"They were disappointed they couldn't go on to the grounds, but they also understood why the grounds were closed," said Patrick McCourt, an Honor Flight volunteer. "I don't think that the veterans would have opened the gates. They have more respect for the circumstances than normal tourists."

Tuesday's Honor Flights included 91 veterans from Mississippi and about 50 more from Iowa, McCourt said.
Stars and Stripes described it this way:
WASHINGTON — Wheelchair-bound elderly veterans pushed aside barricades to tour the World War II Memorial Tuesday morning, in defiance of the government shutdown which closed all of the memorials in the nation's capital.

The four bus loads of veterans — visiting from Mississippi as part of a once-in-a-lifetime Honor Flight tour — ignored National Park Police instructions not to enter the site as lawmakers and tourists cheered them on.

"We didn't come this far not to get in," one veteran proclaimed.

The scene was both emotional and comical at once. After it was clear they had lost control of the situation, Park Police officials stood aside, telling press that they had "asked for guidance on how to respond" to the breach of security.

As 80-something veterans slowly walked around the massive war memorial, Park Police stood quietly to the side, advising other tourists that the site was technically still closed. But they made no moves to stop the wishes of the war heroes.
Of course they didn't. Shutdown or not, these guys deserved to see what they came to see. Good for them.
Photo via Twitter feed of Stars And Stripes Reporter Leo Shane