Democratic Debate Stage Set To Shrink Again
Next week's Democratic debate could have as few as five candidates.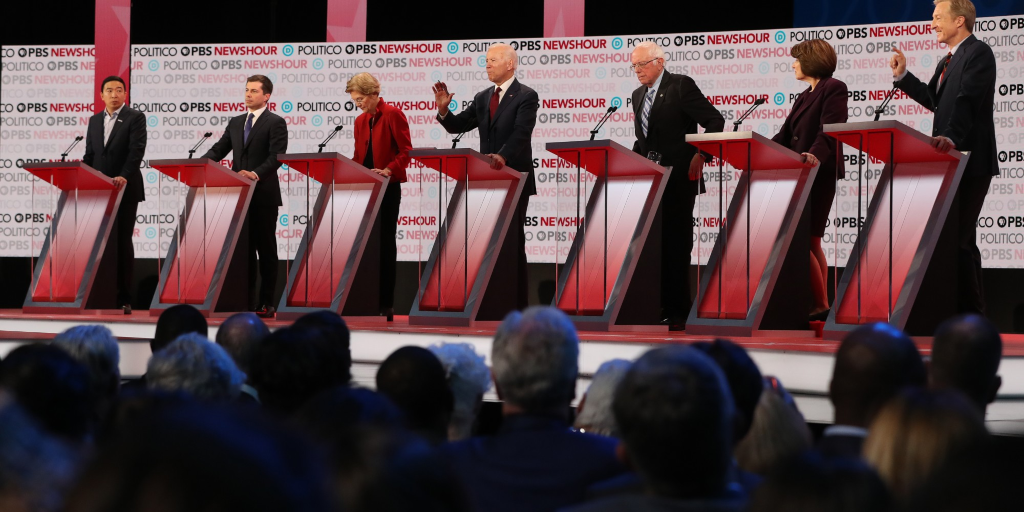 The stage for next week's Democratic debate looks like it will be the smallest yet, with just five candidates qualified so far and prospects looking dim that any more candidates will follow:
The Democratic presidential debate stage is set to shrink again next week.

Only five candidates so far have earned spots in the Jan. 14 CNN/Des Moines Register debate in Iowa: Joe Biden, Pete Buttigieg, Amy Klobuchar, Bernie Sanders and Elizabeth Warren. Tom Steyer, Andrew Yang and Cory Booker will all watch from the sidelines unless they see polling surges before Friday's deadline to qualify.

Faced with this potential winnowing of the field, the Democratic National Committee has come under new criticism — especially from the candidates on the chopping block. They pointed to a smaller number of polls over the eight-week qualifying period — which included lengthy breaks over both the Thanksgiving and Christmas holidays — and a weeks-long early state polling drought, urging the DNC to make the polling thresholds more lenient.

But the DNC is refusing to budge, calling its criteria "inclusive" and fair.

This week could bring a surge of 11th-hour polls, though Steyer, Yang and Booker still face major headwinds to getting back on the debate stage at a crucial moment.

The DNC thresholds are only modest steps up from last month's criteria: Candidates need to hit 5 percent in four DNC-approved polls (or 7 percent in two approved polls specifically in early states) between Nov. 14 and Jan. 10, combined with 225,000 unique donors — before 11:59 p.m. on Friday.

Though the new polling thresholds are only slightly higher than for the last debate — 5 percent instead of 4 percent — they threaten to exclude Steyer, Yang and Booker. Steyer has two of the four polls he needs. Yang only has one, while Booker hasn't hit 5 percent in a single poll. Yang and Steyer participated in the December debate, while Booker did not clear that polling threshold, either.

Among the candidates on the outside looking in, their complaints aren't that the new threshold is too high, however. It's that there are too few polls.

Those gripes reached a fever pitch over the past week, when a holiday polling drought froze the debate process in place and left some candidates begging for a chance to add to their qualifying poll count. The break ended Sunday, when CBS News released a pair of polls conducted by YouGov in Iowa and New Hampshire.

But those polls offered no help: The only candidates above 5 percent were the five who have already qualified for the debate.

The CBS News surveys represented the first early-state polls since mid-November. Among the events during that more-than-six-week gap: Kamala Harris ended her presidential bid, two different primary debates took place, and campaigns have been pouring money and manpower into the states.

"The DNC has been more than inclusive throughout this entire process with an expansive list of qualifying polls, including 19 qualifying polls thus far for the January debate, 9 [of] which are state polls," Adrienne Watson, a DNC spokesperson, said in a statement to POLITICO. "In addition, we have not only expanded the list [of] poll sponsors this cycle to include online polls, but we have expanded the qualifying period for the January debate to account for the holidays."
Not surprisingly, the five candidates who have qualified for the final debate before the Iowa Caucuses, also happen to be the only five candidates that RealClearPolitics shows averaging better than 5%. The lowest-ranked candidate, Minnesota Senator Amy Klobuchar, is averaging 7% in the polls. All of the other candidates are averaging 3.0% or less. The same is true in the recent poll in the Hawkeye State, the aforementioned CBS News poll, which has the same top 5 and shows all the other candidates, including Yang, Booker, and Steyer, who have apparently met the donor limitation for qualification, at or below 2%. While it's possible that we'll get some more polling before Friday's deadline, the prospect of this polling giving any of the so-far excluded candidates a reprieve seems low.
Given the point that we're at in the election, it seems entirely appropriate that debates should be limited to the candidates who actually have a realistic chance of being competitive as we go forward. As it stands, none of the candidates polling below 5% at this point are going to be the Democratic nominee and if these debates are going to be of service to voters then they ought to be limited to the candidates who actually have a chance of winning the nomination. Realistically speaking, that means Biden, Warren, Sanders, and Buttigieg. Klobuchar has qualified largely due to the fact that she seems to be outperforming herself in Iowa, which is close to her native Minnesota. Beyond that, she is much less of a factor in the national polling or in New Hampshire, Nevada, or South Carolina. However, if she's able to somehow pull off a surprise in the Hawkeye State then perhaps it will catapult her into a stronger position. The same is not true of any of the other candidates, and there's no reason to believe that will change after the caucuses on February 3rd.