Democrats Already Gearing Up For 2020 Battles
The midterm elections are still four months away, but Democrats are already making moves to prepare for the race for their party's Presidential nomination in 2020.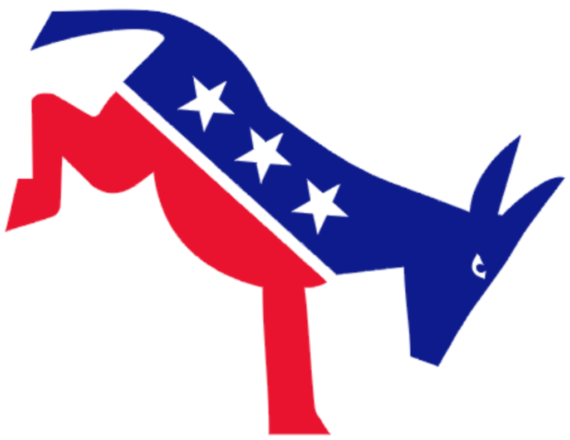 The midterm elections may still be four months away, but several Democratic candidates are already laying the groundwork for a run for the White House in 2020:
RENO, Nev. — During a campaign-style tour of the West late last month, Senator Elizabeth Warren did not announce she was running for president. But in private events and public speeches, her message about 2020 was as clear as it was rousing.

In Salt Lake City, Ms. Warren urged Democrats to turn out in force for the midterm elections to build momentum for the next presidential race, and in Denver, she told a meeting of state legislators and trial lawyers that she wanted to be a tribune for lower-income Americans, according to people who attended the events. And in a speech to the Nevada Democratic Party in Reno, Ms. Warren said Democrats must do more than "drive Donald Trump and his enablers out of power."

"I want a party strong enough to take on the hard job of cleaning up the mess they'll leave behind once they are gone," Ms. Warren declared, all but volunteering for the task.

Before the trip and since, Ms. Warren and her emissaries have been reaching out to key Democratic officeholders in Iowa, Nevada and South Carolina — three states early in the presidential primary calendar — making introductions and offering help in the midterm campaign. Altogether, her moves are among the most assertive steps taken by any Democrat to prepare for 2020.

Ms. Warren, 69, now leads a small advance guard of Democrats who appear to be moving deliberately toward challenging President Trump. Former Vice President Joseph R. Biden Jr., wielding a political network cultivated over decades, has been reasserting himself as a party leader, while Senators Cory Booker of New Jersey and Kamala Harris of California have emerged as fresher-faced messengers for the midterms. And Senator Bernie Sanders of Vermont, the runner-up in the 2016 primaries, has been acting like a candidate as he considers another race.

All five have been traveling the country, raising money for Democrats and gauging the appeal of their personalities and favorite themes. As a group, they are a strikingly heterogeneous array of rivals for Mr. Trump, embodying the Democratic Party's options for defining itself: They are distinguished by gender and race, span three decades in age and traverse the ideological and tonal spectrum between combative Democratic socialism and consensus-minded incrementalism.

Yet absent, at least so far, is either an obvious political phenom like former President Barack Obama or an establishment-backed juggernaut in the mold of Hillary Clinton. Unlike the last few Democratic primaries, the unsettled race evokes the sprawling nomination fights of earlier decades — lacking a dominant figure and seemingly inviting new leaders to rise.

"The opportunity for somebody to emerge and catch a wave hasn't been this high since 1976," said Anita Dunn, a veteran Democratic strategist, referring to another unpredictable primary featuring a multitude of candidates and a party wrestling with its identity.

Interviews with about four dozen lawmakers, consultants and party leaders revealed a mood of emphatic uncertainty: Senior Democrats see their party in a historically volatile state, and they are wary of attempting another Clinton-style coronation. But many Democrats believe the party's turn left, combined with the rising fury of progressive women and the grass-roots appetite for a political brawler, have created an especially inviting environment for Ms. Warren.

On her Western swing, Ms. Warren sought to strike a unifying chord. At a tapas restaurant in Salt Lake City, she said Democrats had to close ranks in 2018 in order to recapture the White House.

"She was saying, 'Look, we all have to come together,'" recalled Jackie Biskupski, Salt Lake City's Democratic mayor, who attended the event. She paraphrased Ms. Warren's exhortation: "We need to show this year that change is what the people want."

Perhaps most appealing to Democratic leaders, Ms. Warren might please their activist base while staving off a candidate they fear would lose the general election.

A candidate such as Mr. Sanders.

The 76-year-old Democratic socialist looms over the 2020 race, boasting an unmatched following among activists and a proven ability to raise millions of dollars online. Having pushed policies like single-payer health care and free public college tuition into the Democratic mainstream, Mr. Sanders could be a powerful competitor for the nomination — and a daunting obstacle to Ms. Warren and other economic populists.

Mr. Sanders's generational peer, Mr. Biden, 75, is preparing to test a contrasting message this fall, with plans to campaign up to four days a week after Labor Day, people familiar with his strategy said. In his speeches so far, Mr. Biden has struck a gentler chord than Mr. Sanders and Ms. Warren, delivering paeans to bipartisanship and beckoning Democrats to rise above Mr. Trump's demagogic taunts.

And Mr. Biden, who has run for president twice before, has been seeking out a younger cohort of Democrats: During a trip to New Orleans in June he arranged a visit with Representative Cedric Richmond, the 44-year-old chairman of the Congressional Black Caucus, and this month he will travel to Arizona to help Representative Kyrsten Sinema, the Democrats' 41-year-old Senate candidate, and to address a gathering of the Latino advocacy group Lulac.

But Mr. Biden's most important step so far has been to help install a close ally, James Smith, as the Democratic nominee for governor in the early primary state of South Carolina. Steve Benjamin, the Democratic mayor of Columbia, South Carolina's capital, said Mr. Biden enjoys a close bond with party leaders there.
Senators Harris and Booker, meanwhile, have been focusing on building their national bona fides by backing candidates for the upcoming midterms:
Ms. Harris, 53, has been focused on backing Democratic women and candidates of color, endorsing over a dozen around the country. And at an April gathering of The Links, a service organization of African-American women, Ms. Harris met with Deidre DeJear, a black woman who is the Democratic nominee for secretary of state in Iowa.

In her travels, Ms. Harris offers herself as the herald of a rising, diverse generation of Americans. An unrelenting critic of the president, she is said to have grown more interested in the 2020 race as the midterm campaign has unfolded and Democratic women have mobilized to repudiate Mr. Trump's party.

Some Democrats delight at the contrast between her and the 72-year-old president.

"I think this world needs a black woman as president," said John Bowman, a former Missouri state lawmaker, after hearing Ms. Harris address an N.A.A.C.P. gathering in St. Louis last month.

Mr. Booker, 49, has campaigned with a message of uplift, aiming to show that he can win over voters in red states as an African-American liberal from the Northeast. After stumping in Alabama for Senator Doug Jones last year, Mr. Booker is said to be considering a fall swing through the Deep South, a conservative region where black voters have helped settle the last two Democratic nominations.

He is also in regular contact with early-state Democrats like the influential New Hampshire lobbyist Jim Demers. An early backer of Mr. Obama, Mr. Demers said in an interview he had not planned to pick a candidate early this time. But much as he swooned in 2006, Mr. Demers said he could not resist Mr. Booker and had recently told the New Jersey senator he would support him if he ran.
While each of these five candidates have been mentioned in the past, the fact that they are all clearly making moves that would position themselves for a race in 2020 this early is significant because it signals that, whether justified or not, Democrats are growing increasingly confident of their prospects in both this year's midterms and in the 2020 campaign that will likely begin almost as soon as the polls close on November 6th. To a large degree, of course, that optimism is well-placed. While the gap is not where it was in the earlier months of 2018 and later part of 2017, Democrats continue to hold a lead over Republicans in the Generic Congressional Ballot and President Trump continues to be upside down in his job approval numbers, both signs that are likely to be advantageous to the Democrats in the fall if they keep up.
The most interesting and potentially important thing about these five names in particular, of course, is that they each in their own way personify the conflict that is still taking place inside the Democratic Party in the wake of the 2016 nomination fight between Hillary Clinton and Senator Sanders.
On the one side, of course, we have Elizabeth Warren and Sanders himself, both of him seem to have the strongest appeal among the voters that rallied around Sanders in 2016. If they both ended up running in 2020, the battle between these two candidates for that cohort would be an interesting one to watch, but could also have the impact of dividing the so-called "progressive" wing of the party so much that it fails to have as strong of an impact on the outcome of the 2020 nomination fight as many observers expect it might. The other question that candidates like Warren and Sanders will face is whether they'll be able to overcome the many problems that Sanders faced in 2016, such as the fact that most of his victories came in either unrepresentative caucuses or in primaries in red states that Democrats were never going to win in the General Election anyway and the fact that Sanders was never able to attract much support from minority groups such as Latinos and African-Americans, something that's essential for any Democrat running for the national nomination or in a General Election.
On the other side of the spectrum stands former Vice-President Biden, who would likely garner much of the support from the so-called establishment wing of the party that backed Clinton in 2016 and 2008. Additionally, Biden would likely appeal to voters in the Northeast and Midwest in ways that none of the other candidates would be able to. The question that Biden would face is whether he'd be able to repeat the success that Clinton had in the 2016 nomination fight in getting support form the minority community, especially in states such as South Carolina and other early voting states where Latino and African-American support is crucial for any candidate that wishes to have hopes of winning the nomination. The final question for Biden, of course, would be his age given the fact that he will be 77 years old before the first votes are cast early in 2020. While it's true that Trump will be running for re-election at the age of 73 and will turn 74 before the 2020 General Election, a septuagenarian nominee may not be the image Democrats are looking for in 2020.
Somewhere in the middle of all of this sit Senators Kamala Harris and Cory Booker, not so much because of their ideology but because they arguably have a foot in both of the party's camps. Harris, of course, comes from California and thus has ties to Silicon Valley and the high-profile fundraisers that come from that state, but she also has ties to the "progressive" wing of the party and has been favorably compared to former President Obama as a potential rising star in the party. Senator Booker, meanwhile, comes from the East Coast and has substantial ties to the Wall Street and financial industries as well as his own connections to the "progressive" wing of the party. Additionally, both of these candidates are minorities and have the potential to bring minority voters to the polls in the same way that Barack Obama did in the 2008 and 2012.
Even if the race were limited to just these five candidates, then, the race for the 2020 nomination would be an interesting one to watch to say the least.
In addition to these candidates who are serving at the Federal level, Politico notes that several Democratic Mayors are considering bids for the Democratic nomination:
No mayor has ever sprung directly from City Hall to the White House.

But that historic streak stands to be tested in 2020, with at least three Democratic mayors mulling presidential campaigns: Los Angeles Mayor Eric Garcetti, former New Orleans Mayor Mitch Landrieu and South Bend, Indiana, Mayor Pete Buttigieg.

They're exploiting a newfound opening for politicians at the municipal level, one enabled by broader economic and cultural forces, among them the rise of the Democratic Party's diverse and ascendant Obama coalition.

"Cities are powerful forces now; they're almost like city-states," said Henry Cisneros, who was mayor of San Antonio when, in 1984, he was interviewed to be Walter Mondale's presidential running mate. "While it is perfectly plausible that a governor, even of a small state, can run for president … why isn't it plausible that a mayor of a major, global epicenter of power like New York or Los Angeles or Chicago or Seattle or Miami shouldn't be plausible at the presidential level?"

In part, the opportunity for Democratic mayors is a product of the party's failings elsewhere. With Democrats out of power in Washington and in many state capitals, large, heavily Democratic cities have become progressives' power centers of last resort, with an increasingly diverse media landscape offering exposure to a previously anonymous class of politicians.

"At least before new media, it was less common for mayors to get national exposure," Buttigieg said recently. But Buttigieg, who burst onto Democrats' radar with his failed bid for Democratic National Committee chairman, has demonstrated that now, even the mayor of a small city can find a spark.

"It's definitely a season for cities," said Buttigieg, the mayor of a city of just more than 100,000 people. "And it's definitely a season for mayors."
The idea of a Mayor, even the Mayor of a major city like Los Angeles becoming President without serving in some higher office first is certainly an unusual one and would be rather unprecedented in American history. Prior to President Trump, who of course had never run for office much less served in one prior to entering the race for President in 2015, every other President had served in either Federal elected or appointed office, as a Governor, or as a military commander prior to becoming President. Rudy Giuliani famously made an attempt to run for the Republican nomination in 2008 and fell far short of expectations notwithstanding the fact that pre-2008 polling showed him to be among the frontrunners for the nomination that year. This happened notwithstanding the fact that Giuliani was perhaps the best-known Mayor of any city in recent memory thanks to his leadership in the wake of the September 11th attacks and the fact that, in the years after that, he became something of a media celebrity as a frequent pundit on a number of different networks. If Giuliani couldn't pull it off, the idea that someone like Garcetti, Landrieu, or Buttigieg could do so seems unlikely. The idea of a Mayor going directly from City Hall to the White House is one that doesn't quite register, especially given the fact that, unlike Trump and Giuliani, none of the candidates that Politico mentions have anything approaching a national reputation even inside their own party. If these men do run, it's likely they'd be doing so with the idea of becoming a potential Vice-Presidential running mate or, falling short of that, a potential Cabinet appointee should a Democrat actually beat President Trump in 2020.
The list of potential candidates is likely to grow if the Democratic Party does as well in 2018 as some polls seem to suggest they will. In addition to the Mayors, we could also see current and former Governors, as well as a few Senators, toss their hats in the ring or at least test the waters with an exploratory committee before committing to the race. The names that come to mind the most in this regard include New York Governor Andrew Cuomo, former Virginia Governor Terry McAuliffe, former Massachusetts Governor Deval Patrick, Governor John Hickenlooper of Colorado, former Secretary of Housing and Urban Development Julian Castro, former U.S Attorney General Eric Holder, Senator Sherrod Brown of Ohio, and Senator Jeff Merkley of Oregon. If all of these candidates entered the race, of course, Democrats could find themselves faced with a situation similar to the one Republicans faced in 2016 when they had as many as 17 candidates running for the party's nomination at one point. If that happens, it could prove problematic given the fact that party rules award delegates on a proportional basis, meaning that it would be harder for a candidate to put together a winning slate of delegates and could cause the race for the nomination to once again stretch to its final days for the third cycle in a row. At the same time, though, that kind of abundance of candidates would also be a sign that Democrats see Trump as vulnerable in 2020 and that many candidates want to get the chance to be the one to take a shot at unseating him. That's could end up energizing the race in a year when the race for the Republican nomination will likely be pretty boring absent the unlikely event that Trump decides not to run for re-election.