Democrats and Republican Converts
It's not the responsibility of the opposition party to make up for Donald Trump.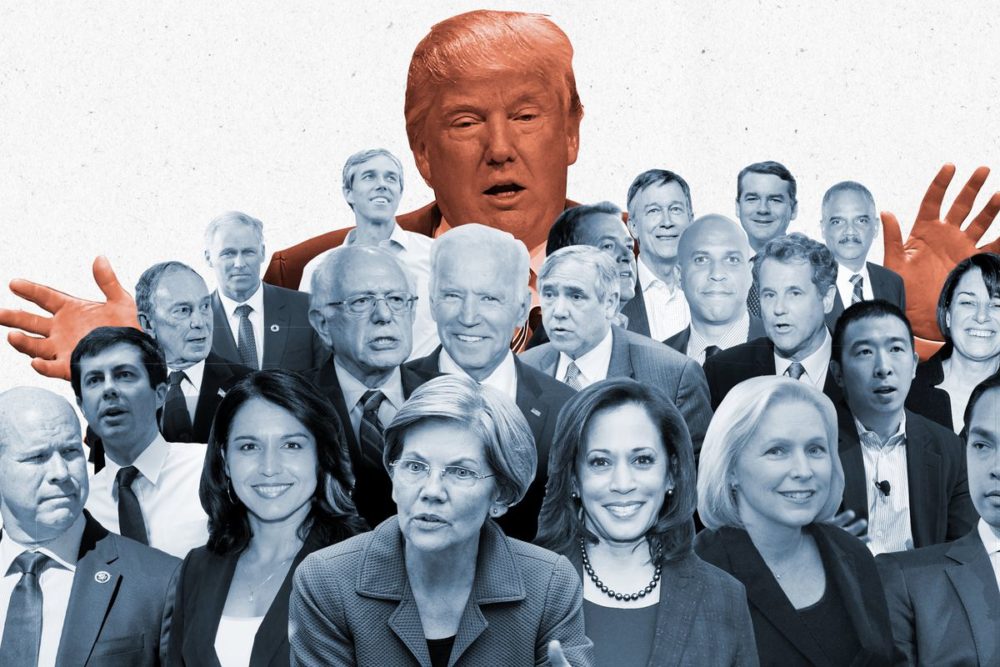 Ericka Andersen, a freelance writer from Indianapolis, takes to the op-ed pages of the New York Times to ask an increasingly common question, "Why Are Democrats Jilting G.O.P. Voters Who Want to Like Them?"
Under President Trump, a small slice of America's electorate seeks a reason to call the Democratic Party home for the very first time. But without adequate hospitality to welcome them, they will disappear quickly.

With a few exceptions on particular policies, the Democratic presidential field neglects abundant pools of potential Democrat converts, leaving persuadable audiences — like independents and Trump-averse, anti-abortion Christians (some of whom are white evangelicals) — without options.

[…]

The voters are there, according to FiveThirtyEight. Younger white evangelical Christians now view Mr. Trump far less favorably than their parents' generation: 60 percent of those 44 and under saw the president as "very" or "somewhat" favorable, compared with 80 percent of those 45 or older. And independents leaning right, who may have voted for Mr. Trump in 2016, hover around 10 percent of the electorate. There's no guarantee that this translates to voting for the Democratic candidate in 2020, but speaking as a member of this group, I think the opportunity exists where it once didn't.

Candidates like Senator Cory Booker, who called giving illegal immigrants free health care "common sense," and former Representative Beto O'Rourke, who promises gun confiscation, don't appear to care about attracting these folks.

Whether it's climate change policy, health care solutions or immigration remedies, a majority of candidates offer curiously similar ideas. They are skittish about offending the base and quick to placate culture warriors who demonize those with traditional beliefs about sex and gender. They have abandoned once widely accepted concepts like strong border security.

This ideological purity may win fanfare from the media and the pundit class, but it does not offer what swing voters may need to take a leap of faith to the left.
There's quite a bit more of this, but you get the idea. Megan McArdle and Tom Nichols have expressed similar concerns of late; there have been plenty of others.
As an erstwhile Republican and #NeverTrump guy, I'm sympathetic. While I can no longer support my old party, I'm still conservative on many issues and don't find myself at home among the progressive wing that's dominating the Democratic Party.
But it's rather bizarre to place the burden on the opposition party to reform itself because we've lost control of our own. Disaffected Republicans need to either take back control of their party from the Trumpists or migrate en masse to the Democratic Party and put their support behind moderate candidates. (A hybrid strategy of doing the latter for 2020 and the former in future elections is also plausible, especially if Trump loses in a landslide.)
Now, where I tend to agree with Andersen is on this front:
The answer for candidates isn't necessarily changing policy positions but offering room for conversation . . .
She is speaking specifically about abortion but I think this applies more broadly. So, for example, I agree with Tom Nichols and Doug Mataconis that Elizabeth Warren's zinger at the anti-gay marriage crowd was unwise. All of us agree with Warren on the issue. But it makes no sense to alienate potential voters to pander to those already in your column in the general election.
Similarly, while she's referring specifically to the impeachment issue, McArdle is right more generally when she pleads,
[I]f you want Republicans — and not just the occasional squishy libertarian — to go along, you'll need a piece of advice I once got from the father of a large brood: "Don't make it hard to be good."

By this, he meant that a repentant scofflaw should be offered kindness, not your residual anger. If you want kids to do the right thing, make being good more pleasant than the alternative. Corollary: Democrats, you should impeach only if yougenuinely want to remove the president from office, not just to position yourselves for 2020. And because you'll need 20 Republican senators to accomplish that, you should make it as easy as possible for conservatives to join the effort.

Don't shower invective on conservatives; if anyone must be denounced, let it be Trump and Trump alone. Greet each new convert to Team Impeachment with a warm "Welcome, brothers and sisters!" rather than a grudging "What took you so long?"

You should do these things because if Trump is truly an existential threat to the nation, your sole priority should be his expeditious removal. Also because it's hard to slam partisan Republicans for cravenly supporting Trump if you yourself remain more interested in your prior political goals, and lingering grievances, than building a coalition to get him out.
Now, again, I think this only goes so far. I disagree with Nichols that, if Trump is re-elected, the blame will be on Democrats. No, that would be on Republicans and others who vote for him.
Still, Democrats should do their best to avoid alienating those who might be persuadable to join their cause for the purpose of ousting Trump. I'm skeptical that those who are single-issue voters on abortion, like Andersen, are actually in that group. But I do think there are large numbers of social conservatives who find Trump repugnant who could indeed cross the aisle if not made to feel like they're held in contempt by the Democratic Party.
The obvious rejoinder, variants of which were issued many times in the comments on Doug's thread on the Warren snipe, is that Republicans in general and Trump, in particular, don't seem to be held to that standard.
But many of us have been arguing for years that, to be a sustainable national party, the Republicans must do precisely that. Sure, they hold the White House and the Senate. But that's a function of a bizarre electoral system stacked in their favor. In the seven Presidential elections since George H.W. Bush's 1988 landslide, the GOP has won the plurality of the popular vote just once, with George W. Bush's narrow 2004 re-election.
Beyond that, the focus must be on ousting Trump. That requires ensuring that he doesn't replicate the bizarre path he took to his shocking win in 2016. Alienating the Rust Belt voters who sided with him then is just a bad approach.
More importantly, we have to somehow get out of this cycle of division and back to governance on consensus. Democrats have the numbers to do this, not only in terms of electing candidates to national office but on many key issues, including health care.
Both Warren and Biden, who seem at present the only candidates who can win the nomination, have the capacity to do that. Bernie Sanders, who's in third place but seemingly fading fast, probably doesn't.
Biden is more moderate ideologically and in demeanor than Warren and, leaving aside concerns about his health, likely my preferred candidate. But Warren, an academic by both profession and temperament, is a gifted explainer, able to break down complex problems in understandable terms without being condescending. While I think her attempt to ingratiate herself with the audience at the LGBTQ event unhelpful, it strikes me as a one-off. Going forward—and, certainly, if she's the nominee—I'd prefer she keep it that way.