Warren's Same-Sex Marriage Joke Raises Concerns
Elizabeth Warren's comments at an LGBT rights forum late last week were cheered by the audience, but some Democrats are raising concerns about their impact on the General Election.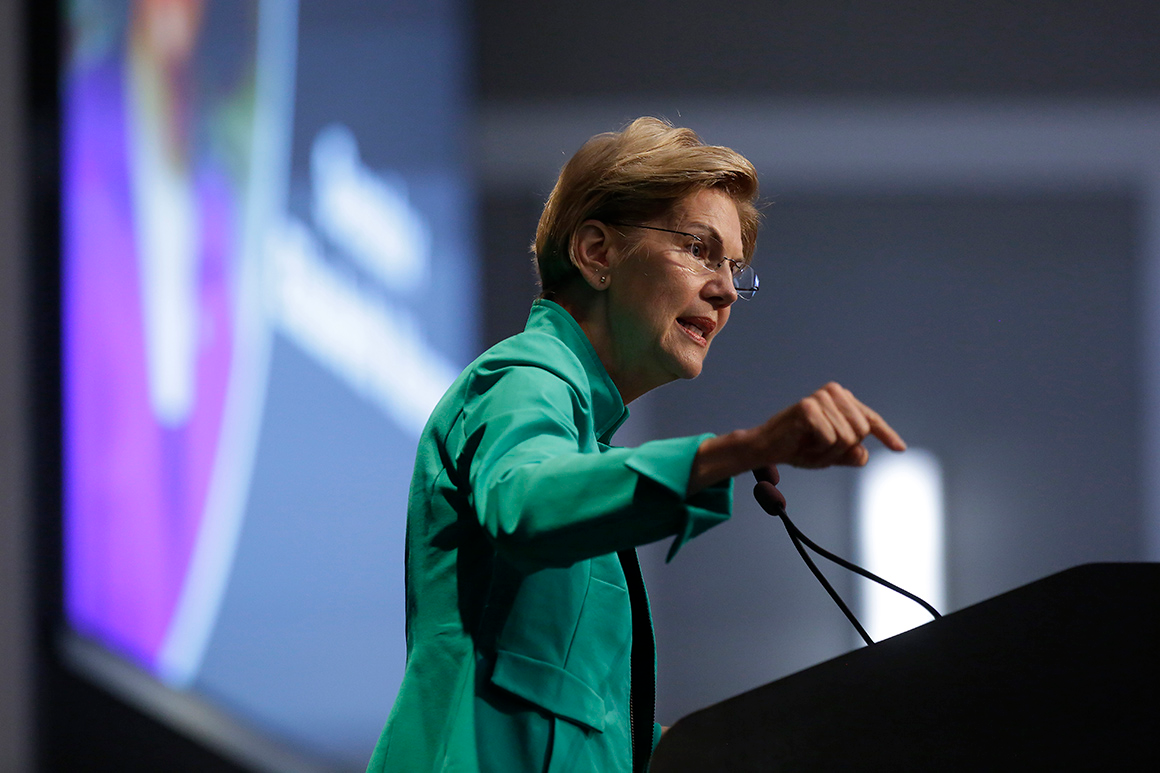 A quip by Massachusetts Senator Elizabeth Warren regarding same-sex marriage is garnering support from within her base of supporters and no small amount of criticism from outside it by those concerned that it belies an attitude that could cause Democrats to turn off the voters they need to win in 2020:
About 90 minutes into Thursday's forum on LGBTQ issues in Los Angeles, a gay rights leader posed a question to Sen. Elizabeth Warren: How would she respond if a voter approached her and said, "I'm old-fashioned, and my faith teaches me that marriage is between one man and one woman?"

Warren (D-Mass.) responded with a theatrical seriousness. "Well, I'm going to assume it's a guy who said that," she deadpanned, pausing a beat for the audience to catch the joke. Then she added, "And I'm going to say, 'Then just marry one woman — I'm cool with that.'"

She finished with a zinger: " 'Assuming you can find one.' "

After landing her punchline, Warren turned, took a few steps and smiled broadly as the room exploded in laughter. Her response went viral online, and by Friday afternoon, Warren's campaign team, which rarely brags about such things, was crowing that the clip had garnered more than 12 million views on Twitter.
As Annie Linskey at The Washington Post goes on to note, though, some political observers think that remarks like Warren's could come back to haunt Democrats, especially if she is the nominee:
Republicans and some Democrats warned that the quip at the CNN-sponsored forum would play poorly among a big swath of voters.

"It's about telling people who don't agree with you that they are backward by definition," said Hank Sheinkopf, a Democratic strategist who advised Bill Clinton's presidential reelection campaign. The line was a "stab" to those who don't agree with her, he said, and "it is a battle cry for men to turn out against Elizabeth Warren."

The 44-second exchange captured the promise and peril of Warren's candidacy. She is quick-witted and sharp-tongued in a way that has played well in the Democratic primary and could prove effective against President Trump. But conservatives warn that she can come off as condescending and dismissive.

(…)

For many liberals, the rapid-fire answer showcased her ability to take on Trump. "It was genius — it shows the real Elizabeth Warren," said Mary Anne Marsh, a Democratic strategist who is not affiliated with a presidential campaign. "It was off-the-cuff and it was devastating, with a smile, a wink, a turn of the heel and a chuckle. Everybody got it."

But Sheinkopf suggested Warren was playing to her liberal studio audience, and he warned that such comments could alienate voters in the South and upper Midwest. "Would she say the same thing at a dinner in Birmingham, Alabama?" he said. "The answer is no."
Republicans noted that Warren's comment went beyond stating a position to ridicule those who have a different view on same-sex marriage.
As a preliminary matter, I would note that we're at the point now where the debate over marriage equality is basically over as a political matter. Thanks to the Supreme Court's decision in Obergefell v. Hodges and the strong support that it enjoys according to those polls that still ask the question, it is unlikely that we're headed back to an era when gay and lesbian Americans will be unable to get legally married. This is important because, realistically speaking, the question that prompted Warren's response is essentially irrelevant. As long as they are aren't taking any action to deny gay and lesbian Americans their rights under the law, then whether or not an individual American approves or disapproves of same-sex marriage ought to be irrelevant.
The question that Warren's remarks prompt, though, is whether or not they could potentially backfire. In the context of a Democratic primary, of course, they resonate quite well, which explains the positive response to her remarks from the audience at the forum last week. At the same time, though, there are some voters that could be turned off by the way Warren ridiculed people who disagree with her, including one important voting bloc inside the Democratic Party:
Older and more religious black voters in particular may be less likely to find Warren's joke funny, several strategists said.

"I'm not sure how that resonates with older African American voters, especially African American women," said Antjuan Seawright, a black Democratic strategist based in South Carolina. "I'm especially not sure what discussions might carry over to the barbershops this weekend."

He added, "That's the place in many communities that everyone comes to talk politics and the happenings of the day."
In addition to older African-Americans, the remarks may not resonate so well with the white, working-class voters in the Midwest that Democrats lost in 2016 after winning them in 2008 and 2012. Many of these voters are culturally conservative and regular churchgoers, though, and even though they might be responsive to the right message from the right Democratic candidate, it's just as possible that they will be turned off by a candidate who ridicules what they consider to be sincerely held religious beliefs. In that case, these voters could be susceptible once again to the argument that Donald Trump made to them in 2016 that the coastal Democrats like Warren don't really care about them and that they have contempt for them because of their beliefs. That could be just enough to send them back into the Republican camp again even if they have doubts about Trump himself.4
This is one of the many reasons that Warren seems to me to come across as being not unlike Hillary Clinton in 2016 in that she seems to come across as having contempt for those who disagree with her. As an academic one would think she'd have at least some respect for other points of view, but this response reveals otherwise at least on this topic. That's not a good look for a politician who is going to have to count on people who disagree with her on many issues for support.