Democrats Clash Over Ideology And Policy In Third Presidential Debate
The top ten candidates in the race for the Democratic nomination clashed last night in a debate that made clear the different ideological directions that this race is pulling their party.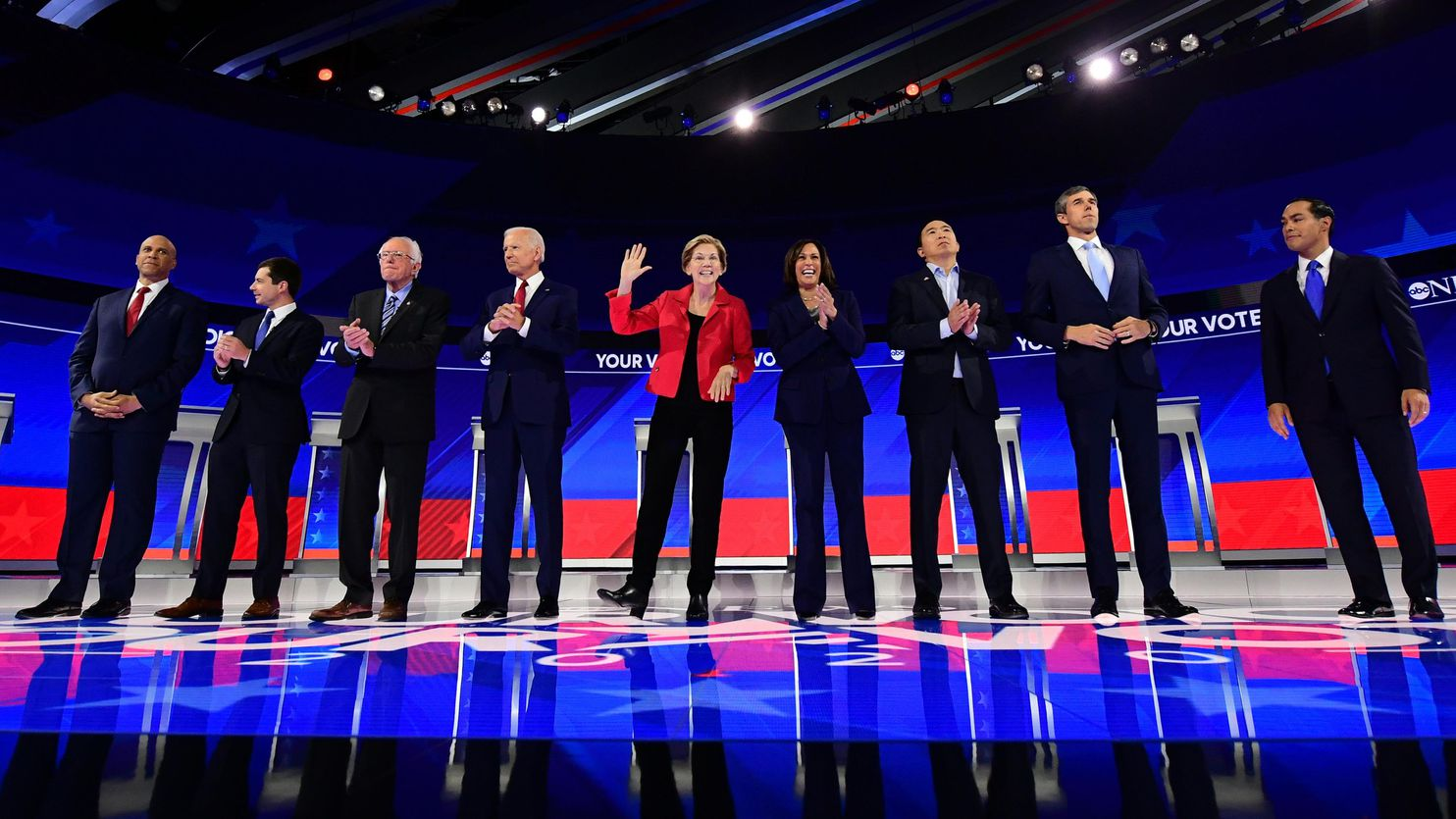 With 145 days left until the first votes of the 2020 election cycle are cast in the Iowa Caucuses, ten of the Democratic candidates for President clashed in the third debate of the election cycle. As a preliminary matter, my first observation is that the debate itself was quite simply too damn long at three hours and the format was unhelpful. While an earlier start time of 8:00 p.m. Eastern was far more reasonable than the 9:00 p.m. time of the first debate that doesn't make up for the fact that the format was, once again, atrocious and seemingly designed to make sure there were as few details discussed as possible, As with the previous debates, there are still simply too many candidates on the state for anything that approaches a useful exchange of ideas and positions, or for any candidate to get off anything more than short statements that are hardly useful in making any rational judgment about whether or not that candidate would make a good President or a good nominee capable of beating Donald Trump.
What set this debate apart from all the others to date, of course, is the fact that all of the candidates who can be classified as either frontrunners or potentially viable were on the stage together for the first time. This was significant both because it is the first time that voters have had the ability to see all of these candidates, and especially former Vice-President Biden and Senators Elizabeth Warren and Bernie Sanders, interact with each other. One of the most significant things about this, of course, is that it laid bare the policy differences between the candidates and the extent to which the current campaign is as much about the future of the Democratic Party as it is about beating Donald Trump in 2020:
HOUSTON — Former Vice President Joseph R. Biden Jr. clung tightly to the legacy of the Obama administration in a Democratic primary debate on Thursday, asking voters to view him as a stand-in for the former president as an array of progressive challengers, led by Senators Elizabeth Warren and Bernie Sanders, brandished more daring policy promises and questioned Mr. Biden's political strength.

Facing all of his closest competitors for the first time in a debate, Mr. Biden, the Democratic front-runner, repeatedly invoked President Barack Obama's name and policy record as a shield against rivals who suggested his own record was flawed, or implied his agenda lacked ambition. On health care, immigration, foreign wars and more, Mr. Biden's central theme was his tenure serving under Mr. Obama.

By constantly invoking Mr. Obama, a popular figure among Democrats,Mr. Biden sought to mute the ideological and generational divisions that have left him vulnerable in the primary race. To voters who might see him as a candidate of the past, Mr. Biden seemed to counter that the past was not so bad.

In an early exchange over health care, Mr. Biden referred to Ms. Warren's support for Mr. Sanders's "Medicare for all" plan. "The senator says she's for Bernie," Mr. Biden said. "Well, I'm for Barack — I think the Obamacare worked."

Explaining his preference for more incremental health care improvements, like the creation of an optional government-backed plan, Mr. Biden challenged Ms. Warren and Mr. Sanders to defend the cost of their plans, warning that they would require tax increases on middle-income Americans.

Mr. Biden was steadier in what was his third debate of the primary contest, rattling off statistics and parrying attacks with good cheer, though he still rambled at other moments. And despite their criticism, none of the nine other candidates onstage appeared to significantly damage his candidacy.

But Mr. Biden's challengers were undeterred by his embrace of Mr. Obama, and the progressive candidates made clear the choice before primary voters.

Several of them argued — some subtly, some stridently — that the party needed to move well beyond the policies of the last Democratic president. And if Mr. Biden appealed to voters' sense of nostalgia, his rivals pressed the case for broader change.

Ms. Warren, of Massachusetts, argued that her and Mr. Sanders's approach would build upon Mr. Obama's legacy rather than unraveling it. She credited Mr. Obama with having "fundamentally transformed health care," but said the next president had to go further.

"The question is, how best can we improve on it?" Ms. Warren said, promising: "Costs are going to go up for giant corporations, but for hard-working families across this country, costs are going to go down."

Mr. Sanders sidestepped the mention of Mr. Obama altogether, asserting to Mr. Biden that a single-payer system would save consumers money by breaking the influence of insurers seeking to "protect their profits."

"Americans don't want to pay twice as much as other countries," Mr. Sanders, of Vermont, said.

Other challengers in the 10-candidate field were less diplomatic in demanding a break from the center-left policy framework that guided the Obama administration. Julián Castro, who served as Mr. Obama's housing secretary, echoed the news anchor Jorge Ramos in questioning the Obama administration's record of deporting millions of illegal immigrants. When Mr. Ramos pressed Mr. Biden to say whether he had made any mistakes on immigration as vice president, Mr. Biden pleaded personal loyalty.

"We didn't lock people up in cages, we didn't separate families," Mr. Biden said, adding, "The president did the best thing that was able to be done."

(…)

Ms. Harris used her opening statement to speak directly to, and criticize, President Trump. During the health care contretemps she lamented that "not once have we talked about Donald Trump." And when she made the case for using executive action to overcome legislative gridlock, she turned to Mr. Biden, let out a laugh and borrowed Mr. Obama's signature line. "Hey, Joe, let's say, 'Yes we can,'" she said.

Ms. Harris's attempt at a strategic makeover was hard to miss, but other candidates also tried to show voters a fuller version of themselves. Ms. Warren stayed true to her vision for sweeping policy proposals, but she also used the debate, held in the city where she went to college, to talk more about her personal story, which many voters are only dimly aware of. She recalled her Oklahoma youth, repeatedly cited her brothers' military service and talked about being a public school teacher.

If Ms. Warren seemed determined to unfurl her biography, Mr. Sanders came prepared to take on Mr. Biden. The Vermont senator was assertive about drawing contrasts between his progressive credentials and Mr. Biden's far more varied record. Where Mr. Sanders shied away from direct conflict when he shared a debate stage with Mr. Biden in June, this time he sought out areas of sharp disagreement, including over the NAFTA trade deal and the war in Iraq. Mr. Biden supported both; Mr. Sanders opposed them.

The Democratic Party's lively, sometimes heated internal disagreements were on vivid display throughout the night, on subjects as diverse as gun control, trade with China, the war in Afghanistan and the Senate filibuster. And if the clearest philosophical gulf separated Mr. Biden from the prominent populists who flanked him — Mr. Sanders and Ms. Warren — the debate made plain that the party was in the midst of a far more complex process of defining its identity.

The remaining field of candidates arrayed themselves around the same philosophical dividing line, most of them aligning more closely with Mr. Biden. And for the first time in this primary race, a few of the trailing contenders sharpened their attacks.

Senator Amy Klobuchar of Minnesota derided Mr. Sanders's single-payer health care bill as a "bad idea," while Mayor Pete Buttigieg of South Bend, Ind., accused Mr. Sanders and Ms. Warren of seeking to take away choice from consumers.

"I trust the American people to make the right choice for them," Mr. Buttigieg said. "Why don't you?"
The Washington Post has more:
There were brief calls for unity, and then a free-for-all. In heated exchanges at a presidential debate here Thursday night, 10 Democratic contenders laid bare the party's deep divisions on major issues including health care, immigration and foreign policy during a debate that also featured personal swipes over honesty, mental acuity and the legacy of former president Barack Obama.

Former vice president Joe Biden began Thursday's presidential debate with an aggressive defense of his health-care proposal, attacking the more expensive and ambitious Medicare-for-all program backed by his top rivals in the Democratic race.

Biden, flanked by Sen. Elizabeth Warren (Mass.) and Sen. Bernie Sanders (Vt.), went on offense early against the two liberal candidates, casting their universal health-care program as unworkable, too costly and a betrayal of Obama's signature legislative achievement.

"I know that the senator says she's for Bernie," Biden said, turning toward Warren. "Well, I'm for Barack."

Biden stressed that he wants to expand on the Affordable Care Act, commonly known as Obamacare, rather than replace it with Medicare-for-all, which is estimated to cost more than $30 trillion over 10 years.

Sanders and Warren largely joined forces to spar with Biden early in the debate, casting their plans as more properly suited to the major problems of the day.

In what served as a virtual battle over the soul of the Democratic Party, Thursday's debate highlighted key questions of whether the party should pursue policies of sweeping change or a more incremental return to normalcy in the wake of President Trump.

Several candidates also tried to balance offering praise of Obama with giving themselves space to criticize Biden, who served as Obama's vice president for eight years.

The third Democratic debate came at an inflection point in the race, with a narrowing of the field that has started to clarify the campaign as it heads into the fall. The trio at the center of the stage — Biden, Sanders and Warren — have consistently held the top places in the polls, with the rest of the candidates trailing far behind and growing increasingly desperate.

But the lengthy discussion appeared to do little to change the overall contours of the Democratic primary, with few standout moments or major missteps during the course of the nearly three-hour event.

Warren, who has been ascendant in the polls in recent months, spent long stretches without speaking Thursday, and did not end up challenging Biden directly during her first face-to-face debate with the former vice president, who sits atop most polls.

Several other candidates were more than willing to take on their fellow Democratic contenders directly, despite beginning the debate saying they wanted to unify the country and highlight the party's broad unanimity on public policy.

"I don't think it's a bold idea, I think it's a bad idea," Sen. Amy Klobuchar (Minn.) said of Sanders's health-care bill.

"For a socialist, you've got a lot more confidence in corporate America than I have," Biden said to Sanders, scoffing at the idea that companies would pay workers more if they had fewer health-care costs4.
As I noted, the most anticipated thing about last night's debate was the fact that we would be seeing all of the top tier candidates on the stage at the same time for the first time since this campaign began. Among other things, that seemed like it would have meant a clash between former Vice-President Biden, who clearly represents the center-left portion of the Democratic Party, and candidates such as Senators Elizabeth Warren and Bernie Sanders who represent the so-called "progressive" wing of the party. This is especially significant given the fact that it is these three candidates who have been dominating the polls at both the national and state levels, with no other candidate even getting into the double-digit area except perhaps in a handful of polls here and there. Much of the anticipation, of course, was that this clash could have a significant impact on the direction of the race as we head into the fall and the final countdown to the opening month of the election cycle in February.
To a large degree, though, those clashes were far more muted than many people likely anticipated. There were some clashes between the three candidates when it comes to the issue of health care reform, which is clearly the issue that divides the candidates the most. Senator Warren, and most especially Senator Sanders, gave strong defenses to their "Medicare for All" proposal, but the former Vice-President was just as aggressive in pushing back both on the issue of cost and as a means to contrast his own proposal, which basically includes leaving in place the bulk of the Affordable Care Act while adding to it a public option similar to, or perhaps a part of the Medicare/Medicaid system. The Warren and Sanders plan also came under fire from candidates further down in the polls, such as Minnesota Senator Amy Klobuchar, who criticized the extent to which both Warren and Sanders would take choices away from the American public and make private health insurance essentially illegal regardless of whether or not Americans were happy with their current coverage or not.
One of the most bitter health care clashes of the night, though, came between Biden and former Housing and Urban Development Secretary Julian Castro. After Biden had described his plan, which includes a provision under which people who can't afford coverage would be automatically enrolled in the public option while other Americans would have the choice of whether or not to do so, Castro claimed that Biden's plan would potentially leave millions of poor Americans without coverage since it didn't provide for automatic coverage. When Biden pointed out, correctly, that Castro was incorrect, Castro tried to turn it around by asking if Biden had forgotten something he said just ten minutes earlier, something that clearly seemed like a planned attack on Biden's age and fitness for office and, as CNN pointed out in a post-debate fact-check, Castro was clearly wrong in restating what Biden had said:
All things considered, the former Vice-President did far better in this third debate than he had in either of the previous two. The first debate, of course, was most notable for Kamala Harris's attack on Biden over the issue of busing in the 1970s. While that attack, and Biden's muted response, did have an impact on the race, the impact was fairly momentary and had largely disappeared by the second debate, during which Biden delivered a better but still muted performance. This time around Biden was far better on the attack where he needed to be and far stronger in defending himself, two things that are going to be valuable to whatever candidate ultimately ends up facing Donald Trump in the General Election, Last night, the former Vice-President did a lot to alleviate many of the doubts about him that may have developed over the summer. As Dan Balz put it in this morning's Washington Post, Biden delivered the strong performance he needed to, and that should help him going forward.
Like the former Vice-President, Senators Warren and Sanders also did fairly well in their own respects. While we did not see the kind of clashes between them and the Vice-President that we might have anticipated or hoped for, both candidates did fairly well in getting across their own ideas and neither one of them made any egregious error that would seem likely to derail their campaigns or hurt them in the polls. Indeed, I suspect that the post-debate polling that we see over the coming days will show that this debate did little to change the overall direction that the race has been taking. If anything, we are likely to see that the race will have winnowed down to a battle of these top three to an even greater extent, much to the chagrin of candidates hoping to make a breakthrough.
As for those other candidates, it's unclear that any of them did anything that would cause their fortunes to improve. Kamala Harris was fairly laid back compared to previous debates. To the extent she may have been hoping that this debate would turn around what appears to be a sinking campaign I'm afraid she didn't do enough to stop the bleeding. Similarly, candidates such as Pete Buttigieg and the others closer to the bottom of the pack, with the obvious exception of Julian Castro for the reasons noted above, came across quite well but I'm not sure it will be enough to pump any energy into their fledgling campaigns. The most notable thing to come out of these candidates all night may have been Andrew Yang, who is apparently intending to use campaign money to give $1,000 per month to ten American families, a campaign stunt that puts one of the central ideas of his campaign in the headlines. All of them will qualify for the fourth debate, of course, but that will likely be their last chance to turn their campaigns around. Most likely, they will not be able to do so.
Here's the video of last night's debate. The full video includes several hours of pre and post-debate commentary from ABC News but the video should start when the debate itself started. If it doesn't, you can fast forward to the three-hour mark. Alternatively, you can read the transcript.