Democrats Shift Focus To Bribery As Impeachment Inquiry Moves Forward
As the impeachment proceedings move forward, Democrats are shifting their focus to a specific, and powerful, charge.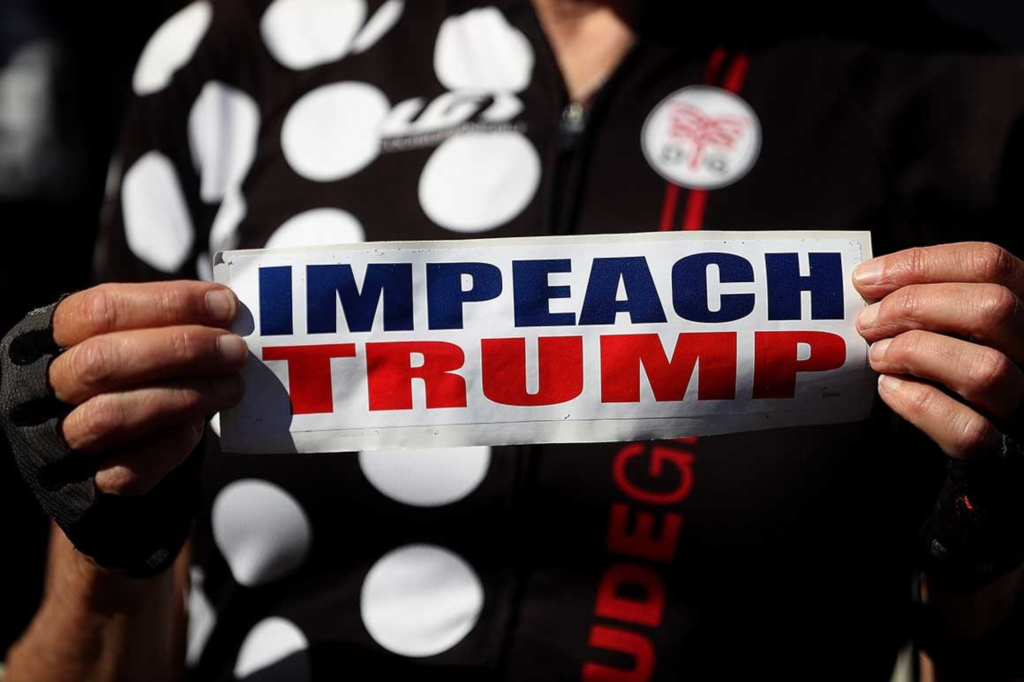 Taking a page from several left-leaning pundits and legal scholars who have tried to shift the legal focus of the ongoing impeachment investigation, Speaker of the House Nancy Pelosi and other House Democratic leaders are starting to bring up a charge directly out of the Constitution:
Democrats sharpened their case for impeachment Thursday, escalating their rhetoric against President Trump as additional evidence emerged potentially implicating him directly in the abuse-of-power controversy surrounding U.S. relations with Ukraine.

Using her most aggressive language yet, House Speaker Nancy Pelosi (D-Calif.) accused Trump of committing "bribery" by seeking to use U.S. military aid as leverage to pressure the Ukrainian government to conduct investigations that could politically benefit the president.

Pelosi's move to cite a specific constitutional offense and move away from using the lawyerly Latin term "quid pro quo" to describe the president's actions came as a second official from the U.S. Embassy in Kyiv was revealed to have overheard Trump discussing political "investigations" in a July 26 phone call with Gordon Sondland, the U.S. ambassador to the European Union who served as a key liaison between the White House and Ukraine's fledgling government.

That phone call, which Trump has said he doesn't recall, is expected to play a pivotal role in upcoming impeachment proceedings, as Democrats seek to directly tie Trump to what they charge was a bribery scheme worthy of removal from office. David Holmes, an embassy staffer in Ukraine who allegedly overheard Trump discussing "investigations" with Sondland, is slated to testify behind closed doors in the House impeachment probe Friday.

Democrats have seized on Holmes's allegation — which was revealed Wednesday during testimony by William B. Taylor Jr., the acting U.S. ambassador to Ukraine — as evidence of Trump's culpability in impeachable offenses.

Pelosi said Thursday that testimony by Taylor and Deputy Assistant Secretary of State George Kent highlighted how Trump had abused his power. Both senior diplomats testified that it was inappropriate for Trump and his allies to push for investigations targeting former vice president Joe Biden, a 2020 presidential candidate, and a debunked theory about Ukrainian interference in the 2016 election.

"The devastating testimony corroborated evidence of bribery uncovered in the inquiry and that the president abused power and violated his oath by threatening to withhold military aid and a White House meeting in exchange for an investigation into his political rival," Pelosi said at her weekly news conference.

In response, the White House and congressional Republicans have emphasized the diplomats' lack of firsthand knowledge of Trump's actions on Ukraine.
Pelosi's use of the term bribery to describe the President's actions with regard to Ukraine is apparently part of an effort to shift the focus of the impeachment inquiry away from the two-month-long concentration on the use of the term "quid pro quo" toward a legal concept that is easier for the general public to understand:
The shift came after the Democratic Congressional Campaign Committee conducted focus groups in key House battlegrounds in recent weeks, testinmessages related to impeachment. Among the questions put to participants was whether "quid pro quo," "extortion" or "bribery" was a more compelling description of Trump's conduct. According to two people familiar with the results, which circulated among Democrats this week, the focus groups found "bribery" to be most damning. The people spoke on the condition of anonymity because the results have not been made public.

Rep. Jim Himes (D-Conn.), a House Intelligence Committee member, kicked off the effort to retire "quid pro quo" from the Democratic vocabulary during a Sunday appearance on NBC's "Meet the Press," where he said "it's probably best not to use Latin words" to explain Trump's actions.

On Thursday, he told reporters that "bribery" was a useful, if not altogether precise way to summarize the allegations.

"Abuse of power is not necessarily a concept that most Americans run around thinking about," he said. "In this case, the abuse of power was some combination of bribery and extortion."
More from The New York Times:
Ms. Pelosi's remarks on impeachment were the first time she discussed the growing inquiry at length with reporters since Congress recessed in late October.

"The bribe is to grant or withhold military assistance in return for a public statement of a fake investigation into the elections," Ms. Pelosi said, clarifying her choice of words. "That's bribery."

Ms. Pelosi was referring to Article II of the Constitution, which states that the president and other public officers "shall be removed from office on impeachment for, and conviction of, treason, bribery, or other high crimes and misdemeanors." The founders, who were preoccupied with the young republic's independence from foreign influence, included the term to ensure the president was acting in the interest of the United States.

"The framers had this concept of an illicit exchange, the president using his power in exchange for something that was beneficial for him, and perhaps vice versa," said Michael J. Gerhardt, a constitutional law professor and an impeachment scholar at the University of North Carolina.

For Democrats, the term may also help solve a communications challenge. After weeks of describing the president's actions as a "quid pro quo," lawmakers are looking for a more straightforward and digestible way to describe what happened to their constituents.

"English words are easier to understand than Latin words," said Representative Jim Himes, Democrat of Connecticut
Along with treason, bribery is the only crime specifically mentioned in the Constitution as a ground for removing a President, Vice-President, or other public officials from office. The remainder of the impeachment clause, of course, mentions "other high crimes and misdemeanors," an open-ended term which has largely been considered to consist of whatever a majority of the House of Representatives decides that it might be. When I first started noticing this shift in rhetoric from left-leaning commentators as well as many of the attorneys who have become frequent guests on CNN and MSNBC to discuss the ongoing proceedings, I was somewhat skeptical, especially since there already seems to be other laws with which the President can be charged with violating. Among those, of course, is 50 U.S.C. 30121, which makes it illegal for an American to solicit a campaign donation in the form of money or any "thing of value" from a foreign citizen, government official, or government. In this case, of course, the "thing of value" would be compromising information about Vice-President Biden and his son as well as information supporting the discredited conspiracy theory that Ukraine intervened in the 2016 election rather than the Russians. As the evidence has mounted up, though, the evidence supporting a bribery charge is becoming clearer and clearer.
The Federal law regarding bribery can be found at 18 U.S.C. 201. In its opening section, it sets forth what most people likely think of when they think of bribery, namely situations where private individuals attempt to bribe public officials to commit an official act or a public official accepts a bribe in connection with an official act. However, the statute also provides that it is a violation of the law for a public official to solicit a bribe from any person, whether or not they are a public official. Specifically, this part of the definition of bribery is set forth in 18 USC 201(2):
(2) being a public official or person selected to be a public official, directly or indirectly, corruptly demands, seeks, receives, accepts, or agrees to receive or accept anything of value personally or for any other person or entity, in return for:

(A) being influenced in the performance of any official act;

(B) being influenced to commit or aid in committing, or to collude in, or allow, any fraud, or make opportunity for the commission of any fraud, on the United States; or

(C) being induced to do or omit to do any act in violation of the official duty of such official or person;
Given the evidence that we have before us, it's easy to see where bribery fits into the equation. The President stands accused, credibly I might add, of seeking a "thing of value" from the President of Ukraine and other Ukrainian officials in exchange for which he would release the military aid already authorized by Congress, schedule a much-wanted White House meeting with the Ukrainian President, and commit other "official acts" in connection with the American relationship with Ukraine. This would constitute a violation of 18 USC 201(2)(A) There also appears to be evidence of violations of Sections 201(2)(B) and (C) to the extent that the President agreed to do these things for fraudulent reasons that were in violation of his official duty to "preserve, protect, and defend" the Constitution and to "take care that the laws are faithfully executed."
There's no rule, of course, against, using the impeachment proceedings to charge a President or other public official with multiple crimes if the facts allow for it. That's what happened with respect to both the Articles of Impeachment that were drafted against President Nixon and those that were actually approved against President Clinton. As a result, one can see the House of Representatives eventually approving Articles of Impeachment that involve multiple charges against the President. For the time being, though, it does help the process for the charges to be simplified for public consumption in this manner. That may not influence the Republican Senate, but it will make it much easier to make the case to the American people which could be just as important when voters head to the polls next November.