Despite Historic Success, Gary Johnson Struggles To Qualify For Presidential Debates
Gary Johnson is doing better than any third-party candidate in twenty years, but that doesn't mean he's likely to get an invitation to the upcoming Presidential debates.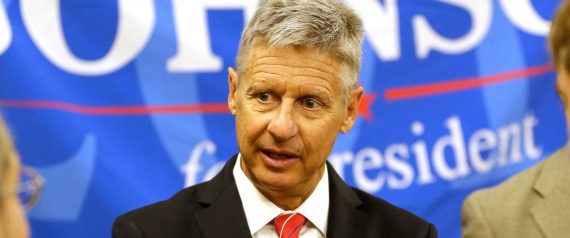 Gary Johnson is doing better right now than any Libertarian Party nominee has ever done since the party ran its first Presidential candidate, philosophy professor John Hospers, in 1972. He and his running mate former Massachusetts Governor Bill Weld are getting regular media attention and have appeared frequently on all three cable news networks on a regular basis. The Libertarian ticket has officially qualified for the ballot in all fifty states, an accomplishment that isn't exactly easy for non-establishment political parties. The ticket is also polling better far better than any Libertarian nominee ever has, hitting an average of 9,2% according to RealClearPolitics and according to Pollster. Among younger voters, the Johnson/Weld ticket has been consistently polling competitively, with a new Quinnipiac poll showing them just two points behind Clinton/Kaine among voters aged 18 to 34. The two former Governors have also picked up endorsements from newspapers such as the traditionally Republican Richmond Times Dispatch, the Winston-Salem Journal, and, just dropping overnight, the New Hampshire Union-Leader, 
Despite this success, Johnson and Weld are finding it hard to qualify for the upcoming Presidential debates:
The nonpartisan Commission on Presidential Debates has set a "mid-September" deadline for Johnson and the other third-party candidates to meet three criteria to qualify for the first debate later this month: "evidence of constitutional eligibility," "evidence of ballot access" and "indicators of electoral support."

Johnson clearly meets the first two qualifications: A two-term former governor of New Mexico, Johnson is a citizen and older than 35 years of age. And the Johnson campaign said Wednesday that he'll be on the ballot in all 50 states and the District of Columbia, meaning he's eligible to win all 538 electoral votes at stake on November 8.

But on the third qualification, Johnson falls short, and it isn't particularly close. The commission says he must be polling at 15 percent in five major, national polls, "using the average of those organizations' most recent publicly-reported results at the time of the determination."

As of Wednesday afternoon, Johnson is at only 9 percent, according to a POLITICO estimate.

The commission on Wednesday didn't return a telephone message and an email seeking to clarify when, exactly, in "mid-September" the criteria would be applied. But with the midpoint of the month a day away, and only 12 days until the first debate, Johnson's hopes of earning an invitation are all but extinguished.

The Libertarian nominee concedes that he will almost certainly fail to meet the mark, asking for a special dispensation that would allow him to participate. And Johnson realizes the stakes: He admitted last month that failing to make the debate stage would be "game over" for his hopes of becoming president.

If Johnson isn't invited, it doesn't mean he won't be a factor in the presidential race, especially in battleground states with a history of supporting third-party candidates. But the only impact Johnson is likely to make will be at the margins.

As of Wednesday afternoon, Johnson is at 9 percent in an average of the most recent qualifying polls from ABC News/Washington Post (9 percent), CBS News/New York Times (10 percent), CNN/ORC International (7 percent), Fox News (9 percent) and NBC News/Wall Street Journal (10 percent).

And there's little indication that Johnson is gaining ground. To the contrary: His two best polls among the five included in the average are also the two oldest. The CBS News/New York Times and NBC News/Wall Street Journal polls were conducted in late July and early August, in the immediate wake of the two major parties' national conventions.

The two most-recent polls that will be included, from ABC News/Washington Post and CNN/ORC, took measures of likely voters, which were included in the above analysis — and generally show decreasing support for third-party candidates. But even if the results for all registered voters were factored in, Johnson would only be at 9.8 percent in the average — still more than 5 points shy of the threshold. (The commission hasn't replied to numerous questions — including two posed again on Wednesday — about which measure, registered or likely voters, it will use to determine Johnson's eligibility.)

Johnson's pending disqualification comes even as his campaign and its allies are making their case for his inclusion. Johnson and his running mate — former Massachusetts Gov. William Weld — took out a full-page advertisement in Wednesday's New York Times, acknowledging that they won't reach 15 percent in the polls. But they are pleading with the commission to allow them to participate in the first debate despite their low standing in the polls.

"We've done the work required to appear on the ballot in all 50 states and because we are polling in double digits in the majority of those states, we respectfully propose the following: Put a third podium on stage for the debate scheduled on September 26th," the letter read. "Allow us to make our case to the American people. If, in the polls that follow, we fail to meet that 15 [percent] standard, we'll make no further efforts for inclusion in subsequent debates."

(…)

Public opinion is on Johnson's side. According to the new Quinnipiac poll, the majority of likely voters, 57 percent, think Johnson should be included in the debate, while only 37 percent say he shouldn't be invited.

And Johnson does have high-profile allies to help him make the case. Mitt Romney, the 2012 GOP presidential nominee, tweeted last week that he hopes "voters get to see former GOP Governors Gary Johnson and Bill Weld on the debate stages this fall." Sen. Bernie Sanders (I-Vt.) told NBC News last week he thought the 15-percent standard was too high.
As a preliminary matter, calling the Commission on Presidential Debates "nonpartisan" is a completely inaccurate representation of the organization in that, in reality, the commission is an organization controlled equally by the Republican and Democratic parties. Its two co-Chairman are Frank Farenkopf, a top Republican who once served as Chairman of the Republican National Committee, and Mike McCurry, a top Democratic Party alumnus who once served as Press Secretary for former President Bill Clinton. The Board Of Directors includes top GOP officials such as former Senators John Danforth and Alan Simpson and top Democrats such as Caroline Kennedy and Kennedy ally and former Chairman of the Federal Communications Commission Newton Minor. In other words, the CPD is purely a creature of the two major political parties that has controlled every Presidential and Vice-Presidential debate since 1988. Prior to then, the Presidential debates that had been held in 1976, 1980 and 1984 had been sponsored by the League of Women Voters and had often been a source of controversy for the campaigns, particularly in 1980 when the Carter campaign refused to participate in a debate that included independent John Anderson,. From its beginning, the Commission has taken the position that third-party participation in the debates should be as limited as possible and, with the exception of the 1992 debates that included H. Ross Perot, no CPD sponsored debate has included a third-party candidate. Indeed, even though he had been in the debates four years earlier, Ross Perot was not included in the debates in 1996. Beginning in 2000, it established the 'rule' that only candidates who are garnering 15% or more in select national polls will be invited to participate in the debates, and that rule has stood ever since.
As the quoted text notes, Johnson does not meet the criteria for the debate as of this point, and this remains true if you look at the wider universe of polls that encompass the averages at RealClearPolitics and Pollster. Despite this, it's worth noting that a candidate polling at 9% can still have a major impact on the outcome of an election so it's not clear why, assuming it is was acting objectively, the Commission would not consider such a candidate to be a relevant enough factor in the election that they ought to be among the voices that the tens of millions of people likely to tune into these debates should be able to hear from. Of course, that assumes that the Commission is indeed acting objectively and not as a creature of the two major parties, both of whom obviously have an interest in preventing third-parties from being heard. This is why it would be preferable that the debates be run by a truly non-partisan organization such as the League of Women Voters, or at least that the rules regarding access to the debates should be liberalized.
Outside of the issue of the partisanship of the CPD, the issue of third-party participation in national Presidential debates could be solved by changing the criteria to something of a sliding scale that gives candidates who are performing above the traditional 1% in the polls. The most obvious criteria ought to be that only candidates who have qualified for ballot access in enough states to at least theoretically make it possible for them to win 270 Electoral Votes would be considered for invitations. This would deal with the issue of gadfly or 'favorite son' candidates only qualified in a handful of states. Beyond that, to get into the first debate a candidate would have to get at least five percent (5%) in an agreed upon list of national polls that arguably ought to consist of more than just the polling run by the major news networks. To qualify for the second debate and the Vice-Presidential debate, candidates would have to meet a slightly higher threshold at, say, ten percent (10 %) in those same polls and, to qualify for the final debate candidates would have to hit at least 15% in the polls, In each case, there should be some discretion given to the sponsoring organization to invite a third-party candidate who,, while falling short of the polling criteria nationally, is having an impact at the state level such as the one Gary Johnson is in states such as Colorado, where he is averaging 14 .3% in the polls, and Utah, where he is averaging roughly 13%. This isn't an original idea of mine, but rather one that several pundits have suggested in the past for honestly dealing with debate access in a way that doesn't unfairly advantage the two major parties.
Even if Johnson doesn't make the first debate, it's possible, of course, that he'll rise far enough in the polls to qualify for future debates, although that seems unlikely. Four years ago when he was excluded from the debates, Johnson decided to utilize social media in a unique way by posting his own responses to each of the questions that was asked in the first debate. Doing something like that again this year, when he's getting far more media attention than he did four years ago, could end up helping the campaign in the long run. Additionally, even if he doesn't qualify for any of these debates, though, Johnson's 2016 campaign is helping to point out how arbitrary the qualification rules are. Perhaps that will lead to changes in the future that will inure to the benefit of the American people and the process as a whole. That would be a real accomplishment.