Did Herman Cain Just Contradict Himself On The Sexual Harrasment Story?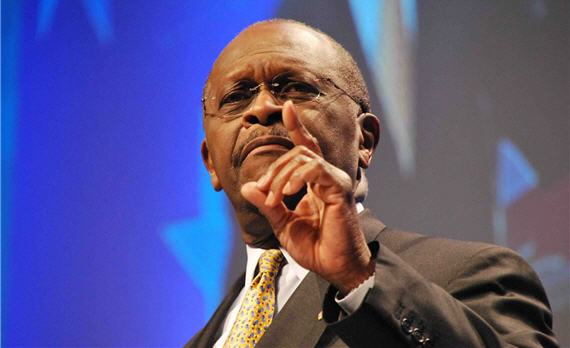 Just hours after repeating before the National Press Club that he was not aware of any settlement between the National Restaurant Association and the women who allegedly accused him of sexual harassment, Herman Cain sat down for an interview with Greta Van Susterin and appeared to tell a different story:
Cain told van Susteren that he remembered one woman who was a writer in the Association's communications department.  "I can't even remember her name, but I do remember the formal allegation she made in terms of sexual harassment," Cain said.  "I turned it over to my general counsel and one of the ladies that worked for me, the woman in charge of human resources.  They did investigate…and it was found to be baseless."

Van Susteren asked Cain how often he saw the woman.  "I might see her in the office because her office was on the same floor as my office," Cain said.  Van Susteren asked whether the woman traveled with Cain, who spent a lot of time on the road speaking to restaurant associations around the country.  "No, never," Cain said.

Cain said the woman was "younger than I was," but he could not recall her age.  Pressed, he said, "It would have had to have been late 30s, early 40s."

Van Susteren asked what Cain did that led to the accusation.  There were reportedly more than one accusations in the complaint, but Cain said he recalled just one incident.  "She was in my office one day, and I made a gesture saying — and I was standing close to her — and I made a gesture saying you are the same height as my wife.  And I brought my hand up to my chin saying, 'My wife comes up to my chin.'"  At that point, Cain gestured with his flattened palm near his chin.  "And that was put in there [the complaint] as something that made her uncomfortable," Cain said, "something that was in the sexual harassment charge."

Van Susteren asked whether the woman complained at the time.  "I can't recall any comment that she made, positive or negative."

Cain also offered new information about the settlement of the case.  Politico, which broke the sexual harassment allegation story, said that the woman received a money settlement "in the five-figure range."  When van Susteren asked about that, Cain said, "My general counsel said this started out where she and her lawyer were demanding a huge financial settlement…I don't remember a number…But then he said because there was no basis for this, we ended up settling for what would have been a termination settlement."  When van Susteren asked how much money was involved, Cain said.  "Maybe three months' salary.  I don't remember.  It might have been two months.  I do remember my general counsel saying we didn't pay all of the money they demanded."

As for reports that a second woman also complained about his behavior, Cain said, "I am totally unaware as to any formal charges coming from this other person."  Cain said he was told the woman's name by reporters at Politico. "I have no knowledge that she made a formal complaint," Cain said.
It's a simple question, really. Either Cain knew about the settlement or he didn't. This morning and this afternoon he said he didn't. Tonight, on Fox News Channel he is basically going to say that he did, which makes sense given the fact that he was the CEO of the NRA. I doubt that van Susterin will point out the seeming contradiction, she simply isn't that good of a journalist and Fox News is friendly territory for Cain. Nonetheless, everyone else is going to notice it. And Cain is going to have to explain this all over again.
This is a trap that many politicians fall into. Rather than getting the whole story, and the truth, out at once, it comes out in dribs and drabs, and you end up starting to contradict the earlier vigorous denials that you made when the story first broke. At that point, the story no longer becomes the underlying allegations, but the way the campaign, and the candidate reacted to it, and the perception of a cover-up.
Personally, I don't know that the question of what Cain knew about the settlement and when he knew it is all that important, but it's a data point in the story and it guarantees that this will be at least a two-day story. Will it hurt Cain in the GOP primaries? Who knows? Turning him into a guy being chased by the media might actually help him here, and it honestly doesn't seem like anything that he's being accused of here is something that should disqualify him from office. Nonetheless, these rolling disclosures and seeming contradictions are not helping Cain at all.