Did The White House Pressure A General To Change His Testimony To Help A Campaign Donor?
More pay for play at the White House?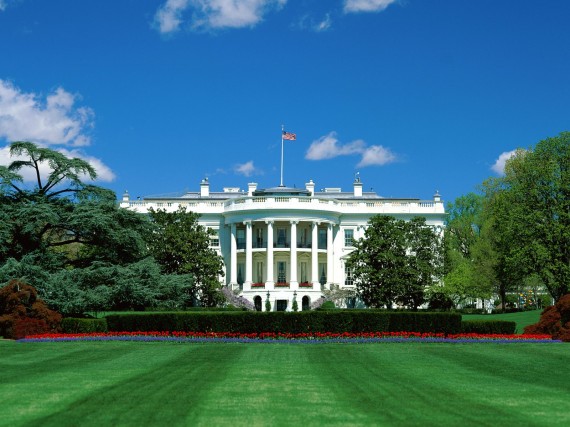 Eli Lake is out with a story at The Daily Beast that at the very least raises an eyebrow:
The four-star Air Force general who oversees U.S. Space Command walked into a highly secured room on Capitol Hill a week ago to give a classified briefing to lawmakers and staff, and dropped a surprise. Pressed by members, Gen. William Shelton said the White House tried to pressure him to change his testimony to make it more favorable to a company tied to a large Democratic donor.

The episode—confirmed by The Daily Beast in interviews with administration officials and the chairman of a congressional oversight committee—is the latest in a string of incidents that have given Republicans sudden fodder for questions about whether the Obama administration is politically interfering in routine government matters that affect donors or fundraisers. Already, the FBI and a House committee are investigating a federal loan guarantee to a now failed solar firm called Solyndra that is tied to a large Obama fundraiser.

Now the Pentagon has been raising concerns about a new wireless project by a satellite broadband company in Virginia called LightSquared, whose majority owner is an investment fund run by Democratic donor Philip Falcone. Gen. Shelton was originally scheduled to testify Aug. 3 to a House committee that the project would interfere with the military's sensitive Global Positioning Satellite capabilities, which control automated driving directions and missile targeting, among other things.

According to officials familiar with the situation, Shelton's prepared testimony was leaked in advance to the company. And the White House asked the general to alter the testimony to add two points: that the general supported the White House policy to add more broadband for commercial use; and that the Pentagon would try to resolve the questions around LightSquared with testing in just 90 days. Shelton chafed at the intervention, which seemed to soften the Pentagon's position and might be viewed as helping the company as it tries to get the project launched, the officials said.

"There was an attempt to influence the text of the testimony and to engage LightSquared in the process in order to bias his testimony," Rep. Mike Turner (R-OH) said in an interview. "The only people who were involved in the process in preparation for the hearing included the Department of Defense, the White House, and the Office Management and Budget."

(…)

The White House confirmed Wednesday that its Office of Management and Budget suggested changes to the general's testimony but insisted such reviews are routine and not influenced by politics. And it said Shelton will be permitted to give the testimony he wants, without any pressure.

OMB "reviews and clears all agency communications with Congress, including testimony, to ensure consistency in the administration's policy positions," said White House spokesman Eric Schultz. "When an agency is asked by a congressional committee to testify, OMB circulates the agency's proposed [draft] testimony to other affected agencies and appropriate [executive office of the president] staff. If a reviewer has a comment to the proposed testimony, that suggestion is typically conveyed to the agency for their consideration. When divergent views emerge, they are often reconciled through discussions at the appropriate policy levels of OMB and the agencies."

The general's office declined to comment, and LightSquared did not return calls seeking comment. Harbinger Capital Partners, Falcone's investment firm, said it would provide a comment Thursday.

LightSquared has previously acknowledged it met with administration officials as it tried to shepherd the project, which is consistent with President Obama's goal of trying to expand broadband wireless access nationwide.
If it sounds familiar, that's because it is:
Melanie Sloan, who runs the nonpartisan ethics groups Citizens for Responsibility and Ethics in Washington, said the emerging allegations about possible White House involvement in LightSquared's matter seemed to mirror earlier allegations in the Solyndra case.

"With this new set of facts, it starts to sound like a pattern of the White House improperly pressuring people at agencies involving decisions that affect companies tied to donors and fundraisers," Sloan said. "It's always a problem when the White House is pressuring anyone's testimony. I don't care if you are a four-star [general] or a GS-15 [career employee], you should be giving your true opinion and not an opinion the White House is seeking for political expediency."

Sloan recalled similar instances during the Bush administration, when officials were accused of trying to meddle with climate scientists' testimony. "It doesn't matter what party is in charge, money frequently trumps good policy in Washington," she said
At the very least this is something that should be investigated but, if it's even remotely true, it would seems pretty clear that the Administration of "Hope and change" and the candidate who promised to clean up Washington is, not surprisingly, no different that his predecessors.
Again, as I said yesterday, the problem here isn't so much the issue of the how money influences politics and the access that being a donor buys, although that's certainly a legitimate concern. The real issue that when you have a government that has its hands in so many different parts of the economy, handing out subsidies, loans, licenses, and the like, it's inevitable that private industry is going to do what it can to advance its interests. It's a perfect example of the crony capitalism that I've been talking about lately, and it exists in both parties. The answer, I would submit, isn't to increase campaign finance regulations in some naive attempt to reduce the influence of money in politics (as if that would ever be possible) but to reduce the extent to which government is involved in handing out benefits to business as much as possible, and to resist its expansion. If there's less to give out then there will be less influence peddling.
Will things like this ever be eliminated? Of course not. Politics is a profession for the people who work in it and, like the world's oldest profession, its practitioners have perfected many different ways to sell themselves. As long as we hold on to the idea that government and business should be "partners," though, we'll continue to see things like this.