Does A Bad (Or Good) Debate Performance Prove Anything?
Are we placing far too much importance on how someone does in a two hour so-called "debate"?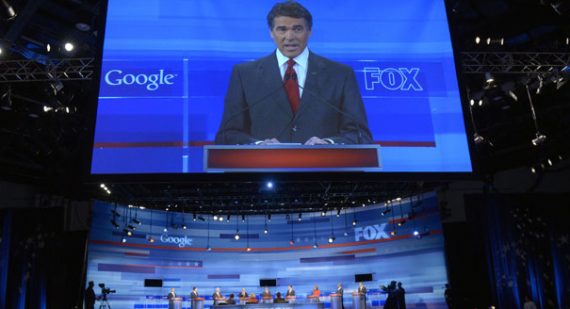 Former Arkansas Governor Mike Huckabee, who foreswore his own opportunity to run for President earlier this year, isn't very pleased with Rick Perry's debate performances:
Mike Huckabee, the former presidential candidate and certified non-fan of Rick Perry, says the Texas governor isn't ready for the 2012 primetime.

Perry's latest debate performance showed he is "not prepared for the pressure of the presidential stage yet," Huckabee said on Fox News Saturday. "Rick Perry's got a struggle ahead of him."

(…)

The former Arkansas governor said Perry fumbled the debate question about his support for giving in-state college tuition to the children of illegal immigrants. Perry's problem, Huckabee said, was that he positioned himself "really in opposition to the [GOP] base."

"Rick Perry could have answered that in a way that could have defused it," Huckabee said. "We're not talking about people who just showed up to go to college, we're talking about people we educated in our schools."

Instead, Huckabee jabbed: "He just looked dumbfounded."
Now, it's worth noting that there isn't very much love lost between Perry and Huckabee. Back in 2008, Huckabee courted Perry for an endorsement in the Presidential race and the Texas Governor ended up endorsing Rudy Giuliani instead. Nonetheless, Huckabee is far from alone in raising questions about Perry in the wake of a third consecutive debate appearance in which he was, to say the least, underwhelming. William Kristol seemed to be leading the laments of the conservative pundits with a Weekly Standard  Editorial that pretty much threw Perry under the bus and Philip Klein joined in the chorus of lamentation over at The Washington Examiner:
Mitt Romney is an incredibly vulnerable Republican candidate, from his numerous policy reversals to his championing of the Massachusetts health care law that served as the basis from Obamacare. But for him to lose, somebody else has to beat him. And like Tim Pawlenty before him, Texas Gov. Rick Perry is blowing his chances to exploit Romney's weaknesses.

The defining moment in this debate may well have been the point at which Perry went on the attack against Romney for being a flip flopper. As I noted earlier, there's a long file to choose from. And Perry had clearly rehearsed such an attack – you can tell he was starting to go through the list of issues Romney had reversed on, and even used the "for it before he was against" phrasing, a not-so-subtle reference to the infamous Massachusetts flip flopper, Sen. John Kerry. But the exchange came toward the end of the debate, and as has been his habit, Perry began to fade as the debate wore on. During this particular answer, he wrestled for words and stammered. He couldn't finish his sentences. If you weren't a political junkie who knew all of the background, you'd have no idea what Perry was mumbling about. And Romney's smooth response made him come off as more steady and reassuring, even though on substance, Perry should have owned him.
The words of Klein and Kristol were echoed by conservative pundits across the web, and quickly picked up by political reporters who are beginning to speculate that Perry's weak debate performances are starting to worry the very Republicans who were pining for him to get into the race to begin with. Whether this is true or not, it's pretty clear that Perry's poll numbers have declined since the debates started at the beginning of the month and while some of this may be attributable to a natural drop after such a quick rise in the polls,  it's quite probable that some of it happened because some Republicans are beginning to question whether Perry really is the right many to take on Barack Obama next year.
If they're worried, the Perry campaign isn't showing any signs of it. In the Spin Room after the debate, they acknowledged the weak performances but attributed them to the fact that their candidate has only been in the race for a short period of time whereas Romney has essentially been running for President since 2008 and has a lot of debate experience under his belt. Former Kansas Senator Sam Brownback, a Perry backer, brushed off a question from Politico by comparing Perry to Republican royalty:
"People said that about Ronald Reagan in debates," Brownback claimed. "They'd say, 'You know he's not as strong as he needs to be. He doesn't seem to quite have the factual control the way I would like to see it.' But you knew what was in Reagan's heart, and that's the thing about Rick Perry."
Perhaps, but it also helped that Ronald Reagan had decades of acting experience to fall back on in his televised appearances, and that he only ended up winning the GOP nomination on his third run for the Presidency. Perry himself, meanwhile, suggested today that people are placing too much importance on how someone performs in a debate situation:
After another rocky debate performance, Texas Gov. Rick Perry, a candidate for the White House, said in a Friday speech that Republicans should not necessarily back "the smoothest debater" for president.

"As conservatives we know that values and vision matter. It's not who is the slickest candidate or the smoothest debater that we need to elect. We need to elect the candidate with the best record and the best vision for this country," he said at a speech at the Conservative Political Action Conference in Florida. "The current occupant of the White House can sure talk a good game, but he doesn't deliver."
This is the kind of thing you'd expect to hear from a candidate who's being criticized for bad debate performances, but it strikes me that Perry has a point here and that the fact that a political candidate doesn't perform well in a stage managed debate probably shouldn't have nearly as much importance to their political fortunes as a it does.
There's no question that Perry's had some bad moments over the past three weeks, especially in Thursday's debate. His rambling attempt to engage Mitt Romney for being a flip-flopper, a line of attack that he had clearly been rehearsed on before the debate, was cringe worthy and destined to be the subject of jokes for some time to come. His bizarre answer to a question about how he'd respond to threats to Pakistan's nuclear weapons stockpile by a terrorist group was an incoherent Palinesque word salad. And, his attempt to defend himself on in-state tuition for the children of illegal immigrants ended up coming back to hurt him when he decided it would be a good idea to call his opponents heartless. To a large degree, all of these seem to clearly be the results of bad debate preparation. Whether that's attributable to the candidate or his campaign staff I don't know, but it's worth noting that since he launched his campaign, Perry has resisted calls from national Republicans to bring in advisers experienced in running national campaigns. Instead, he's sticking with the same group of Texas political advisers he's been relying on for the past decade. That's probably a mistake.
The real question, though, is whether Perry's bad debate performances prove anything about what kind of President he'd be or, conversely, whether a candidate who performs  well in national televised debates also necessarily makes a good President. The answer seems to be a rather emphatic no, and that we place far more importance on these debates than they are entitled to.
First of all, the format that most of these debates end up adopting does not lend itself at all to finding out much about what, and how, a candidate thinks or how they would handle any one of the numerous unexpected problems that might arise during their Presidency. Instead, they end up being opportunities for candidates to repeat, sometimes verbatim, the same talking points they hit in their stump speeches. That's why most of the coverage of the debates ends up being about which candidate managed to get off the funniest zinger, or which one had the most embarrassing malapropisms. While that provides plenty of opportunities for cable news outlets to rerun clips and have their talking heads comment on them, it doesn't really provide any useful information to voters. Moreover, it's worth noting that when someone is speaking extemporaneously they are bound to get tongue-tied at some point. I see it happen in Court all the time. What you do is pause, gather your thoughts, and proceed forward. Of course, you can't do that on live television with the cameras rolling and a "ding-ding" reminding you that your time is up. The whole thing ends up being entertaining, and there's plenty for bloggers and pundits to talk about the next day, but I'd submit that we haven't really learned anything about the candidates when its over.
The multi-candidate format of these early debates is certainly partly to blame for the way the turn out, but as the quadrennial Presidential Debates in September and October of an election year show us, even a two person "debate" doesn't become very useful when it's rules are so stringent that it doesn't allow the candidates to really engage each other on the issues being discussed. Even in those debates, where you would think that the focus would be on the issues rather than the style, the media tends to focus on how each candidate performed rather than what they actually said. The classic example is 1984 when, after a disastrous and disengaged performance in the first debate Ronald Reagan essentially won the debate within the first few minutes with a one-liner that put the age issue to rest once and for all, and likely ended any chance that Reagan would not be re-elected.
Ed Morrissey argued yesterday that these debates are important:
Some might argue that debates don't prove anything about how a candidate will function as President, but that's not entirely true.  First, one has to win the election, and offering incoherent ramblings on television is no way to do that.  Second, voters have to have confidence in a candidate's abilities to win their support, and anyone watching this part of the debate had to be wondering whether Perry is really up to the task of debating Barack Obama, or dealing with the media in a press conference, which is most certainly part of the job.
In some sense, I suppose, there's a point here. A candidate who consistently appears to be unable to provide coherent responses to questions about the issues of the day does raise some obvious concerns not only about their electability, but also their competence. One doesn't haven't to be an Oxford debater to be President, but one should at least be able to discuss the issues with some degree of knowledge. A candidate who isn't able to do so doesn't belong on the stage to begin with. Similarly, Republicans should be rightly concerned with the question of how a candidate like Perry is going to look sharing a stage with President Obama in 12 months, although that point just seems to reinforce the idea that its the superficialities of the election that matter. At the same time, though, it strikes me that we're placing far too much importance on the superficial things and not enough on the substance.
Much of this emphasis on debate performance is due, of course, to the fact that we live in a media obsessed culture. A candidate who does not come across well on television simply isn't going to go very far in American politics. That may not be fair, especially when one takes into account the fact that men like Thomas Jefferson and Abraham Lincoln were not known for possessing the most powerful speaking voices of their day, but it's the world we live in. We have to accept it, I suppose, but we don't have to reinforce it by giving these debates more importance than they deserve.
Yea, Rick Perry's done badly in these past couple debates, but is that really more important than where he stands on the issues and who he'd appoint to the Supreme Court?