Dominique Strauss-Kahn And "Innocent Until Proven Guilty"
Further thoughts on Dominique Strauss-Kahn and our justice system.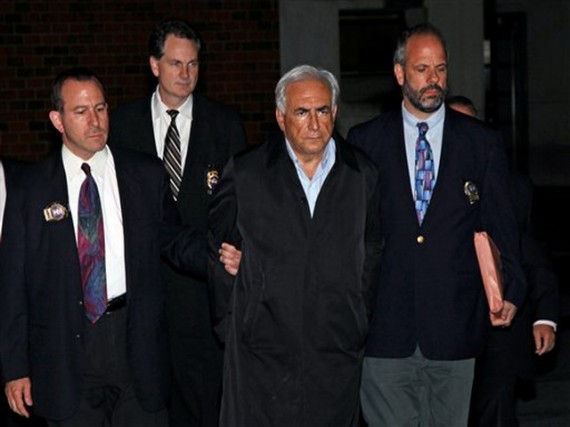 The revelations about the accuser in the Dominique Strauss-Khan case, which James Joyner wrote about this morning, brings this comment by Tim Cavanaugh:
Presumption of innocence is serious business, and the penumbral right not to have your reputation ruined by crusading prosecutors is also somewhat serious. If I were presuming DSK's guilt, I would say that the supposed credibility problems with the accuser (which include association with a marijuana dealer, lying on an asylum application, and discussing the gold-digging possibilities after the alleged assault) do not bear on her allegation about the incidents of May 14. That allegation, backed up by physical evidence, was considered persuasive enough to her co-workers, her employers and police officers.

(…)

The best you can say of Vance is that he may have walked back a misbegotten case against a big politician from another country. Even that would require an expression of no confidence in the police, multiple witnesses after the fact, and a plaintiff whose personal record may not be good but whose credibility on the incident at hand has not been impeached. And even after all that, Vance would be left with having destroyed the reputation and career of an innocent man.
Cavanaugh's points are well taken, however it's also important to put yourself in the shoes of the cops and the prosecutors on May 14th. At that point, they had a woman making an allegation of a violent sexual attack in a hotel room. There was physical evidence that at the very least confirmed that sexual activity had taken place. More importantly, there was a person being accused of a crime who was sitting on an airplane to Paris. For all the NYPD knew, Strauss-Kahn would be flying away never to return to their jurisdiction. Based on the evidence they had, and the fact that time was of the essence, I don't think they acted improperly at all. If there had been time to investigate the case further, as would happen with a rape allegation made against someone who actually lives in New York, these discrepancies might (or might not) have been uncovered sooner. His bail conditions, as I said at the time, fairly standard for someone who has the ability to post a large monetary bail but no ties to the community.
Some will argue that Strauss-Kahn has been treated unjustly, and there's certainly some evidence for that. He's lost his job at the IMF and, most likely, any chance of a future political career in France and it's unlikely that either of those things will ever be restored regardless of what happens to the criminal charges in this case. Certainly, there is a lesson here for those who assumed that he was guilty. While the concept of "innocent until proven guilty" only applies in a legal context and we are all free to make our own conclusions about the guilt or innocence of a person (i.e., everyone with a modicum of common sense knows O.J. did it), rushing to judgment in a high profile case like this is never a good idea. The fact that someone is charged with a crime doesn't mean they're guilty, and the fact that someone accuses another person of attacking them doesn't mean they're telling the truth. In an era where the criminal charge makes the front page headlines and the acquittal/dismissal gets relegated to Page A10, it's a good idea not to jump to conclusions every time you see someone brought in via a perp walk.
One final thought is raised by this case. Under long standing journalistic practice, the names of accusers in rape and sexual assault cases are typically not made public. There are good reasons for this, including the idea that the knowledge that their name will become public may cause some women to stay silent about a rape. Nonetheless, this is the type of case where one wonders if that anonymity should always be preserved. If this case goes forward, this woman's credibility will be the central question of the trial. Why should she not be identified? Frankly, I can't think of a good reason.
CODA: It's worth noting that Cavanaugh gets one point wrong here, and I've seen several other people do it. The Times story states that this woman told police that she had claimed a previous rape on her immigration application, and that they discovered she was lying when they checked the actual application. She did not, it appears, lie on the application itself.