Donald Trump's First General Assembly Address Strikes Belligerent Tone
In a marked departure from previous American Presidents, Donald Trump delivered a highly belligerent speech to the U.N. General Assembly.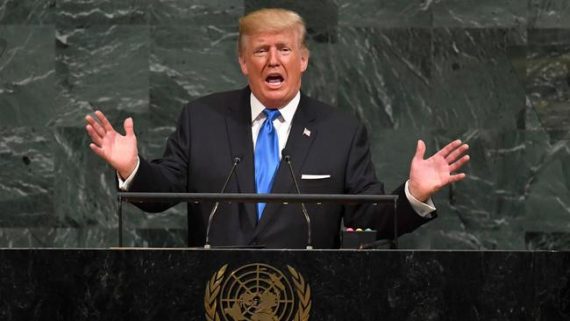 During his campaign for President and at several points during his still-young Presidency, Donald Trump has proven to be a sharp critic of the United Nations. As has often been the case with Republican candidates for President, for example, Trump criticized the organization as being too bloated and bureaucratic and argued that the United States was bearing an unfair portion of the financial burden of financing U.N. organizations. He also followed the standard conservative practice of claiming that the organization was acting in a manner contrary to American interests and of being unfair to American allies such as Israel in many of its policy positions. During campaign speeches, he would often threaten to withhold or cutback on the amount of money the United States provides to U.N. operations and asserted an "America First" policy that seemed to reject the idea of working together with allies or in concert with international organizations such as the U.N. For those reasons and more, his first speech as President before this year's United Nations General Assembly has been greatly anticipated.
Trump delivered that speech this morning and to say it raised eyebrows is something of an understatement:
NEW YORK — President Trump warned the United Nations in a speech Tuesday that the world faces "great peril" from rogue regimes with powerful weapons and terrorists with expanding reach across the globe, and called on fellow leaders to join the United States in the fight to defeat what he called failed or murderous ideologies and "loser terrorists."

"We meet at a time of immense promise and great peril," Trump said in his maiden address to more than 150 international delegations at the annual U.N. General Assembly. "It is up to us whether we will lift the world to new heights or let it fall into a valley of disrepair."

The president's address was highly anticipated around the world for signs of how his administration would engage with the United Nations after he had criticized the organization during his campaign as being bloated and ineffective, and threatened to slash U.S. funding.

Trump offered a hand to fellow leaders but also called on them to embrace "national sovereignty" and to do more to ensure the prosperity and security of their own countries. Over and over, he stressed the rights and roles of "strong, sovereign nations" even as they band together at the United Nations.

"I will always put America first just like you, the leaders of your countries, should put your countries first," Trump said, returning to a campaign theme and the "America First" phrase that has been criticized as isolationist and nationalistic.

The president warned of growing threats from North Korea and Iran, and he said, "The scourge of our planet is a group of rogue regimes."

The North Korean delegation was seated, by chance, in the front row, mere feet from the U.N. podium.

Trump praised the United Nations for enacting economic sanctions on Pyongyang over its nuclear and ballistic missile tests. But he emphasized that if Kim Jong Un's regime continued to threaten the United States and to destabilize East Asia, his administration would be prepared to defend the country and its allies.

"The United States has great strength and patience, but if it is forced to defend itself or its allies, we will have no choice but to totally destroy North Korea," Trump said, before calling Kim by a nickname he gave the dictator on Twitter over the weekend. "Rocket Man is on a suicide mission for himself."

Trump added, "If the righteous many do not confront the wicked few, then evil will triumph."

(…)

Trump also called the U.N.-backed Iran nuclear deal "one of the worst and most one-sided" agreements ever, and "an embarrassment" to the United States. His voice rising, Trump strongly hinted that his administration could soon declare Tehran out of compliance. That could potentially unravel the accord. Trump and his top aides have been critical of Iran for its support of terrorism in the Middle East.

"I don't think you've heard the end of it," Trump said.

Israeli Prime Minister Benjamin Netanyahu beamed as he and his wife, Sara, listened to Trump speak. The Israeli leader, an opponent of the international nuclear deal with Iran, was also addressing the world body later Tuesday, a day earlier than usual because he is leaving the gathering in time to spend the Jewish holy days in Israel.

In his speech, Trump pledged that his administration would support the United Nations in its goals of pursuing peace, but he was sharply critical of the organization, and its member nations, for not living up to the promise of its founding in 1945.

"We do not expect diverse countries to share the same cultures, values or systems of government," he said. "But we do expect all nations to uphold their core sovereignty and respect the interests of their own people and rights of every other sovereign nation. This is the beautiful vision of this institution and the foundation for cooperation and success."

The president also focused on the growing threats of "radical Islamic terrorism," a phrase he had left out of other recent speeches, including a prime time address to the nation on his Afghanistan strategy. He declared that his administration would not allow "loser terrorists" to "tear up our nation or tear up the entire world."
Daniel Larison is particularly critical of Trump's speech:
U.S. foreign policy already suffers from far too much self-congratulation and excessive confidence in our own righteousness, so it was alarming to hear Trump speak in such stark, fanatical terms about international affairs. Paired with his confrontational rhetoric directed towards North Korea, Iran, Venezuela, and Syria, Trump's choice to cast these states as the "wicked few" portends more aggressive and meddlesome policies and gives the leaders of all of these governments reason to assume the worst about our intentions. It was similar to Bush's foolish "axis of evil" remarks in 2002. The statement itself is also rather odd in that it talks about the many being righteous, when religious texts normally present the righteous as being the relatively few and embattled against the wicked multitude. If the "wicked" are so few, they must be badly outnumbered and don't pose as much of a threat as Trump claims elsewhere. It also strains credulity that Trump speaks on behalf of righteousness when he embraces so many abusive despots and enables Saudi-led coalition crimes in Yemen.

(…)

All of this belligerent and confrontational rhetoric just raises tensions in several different parts of the world, and it appears to commit the U.S. to more meddling around the world and potentially risks getting the U.S. into more avoidable wars. None of that has anything to do with putting American interests first. Much of Trump's speech was an assertion of a desire to dictate terms to other states, and as such it is likely to be poorly received by most of the governments of the world.
Larison is largely correct, I think, and it seems clear that what we saw from the President today is unlikely to undo many of the doubts that allies and other foreign leaders have expressed privately and publicly since Trump took office in January. On perhaps the most important foreign policy issue on his plate rate now, for example, Trump seemed to say that nothing short of complete denuclearization on the part of the North Koreans would be acceptable to the United States. As Larison points out in a separate post, this position is both unrealistic and seemingly guaranteed to cause Pyongyang not only ignore Trump's rhetoric but continue along its current path as far as nuclear weapons development is concerned. For better or worse, North Korea is now clearly a nuclear power. That is a fact that isn't going to change absent a complete collapse of the Kim regime, which doesn't seem likely anytime soon. This is especially true given the fact that the North Koreans have no doubt noticed the differences between the fates of nations such as Iraq and Libya, both of which largely gave up their weapons development programs, and what has happened to Iran. In the first two cases, the leaders of both nations were driven from power and ultimately killed after their regimes were toppled. The Iranians, meanwhile, were far enough along in their weapons research program that they were brought to the negotiating table and given a deal that has largely resulted in the removal of any existential threat from the West for the time being. Given those differing results, it would be utterly irrational to expect that the North Koreans would voluntarily give up their nuclear weapons without some guarantee that the territorial integrity of the DPRK will be preserved and the Kim regime would be safe from being targeted.
Trump's speech this morning was a marked departure from what we've come to expect from previous Presidents such as former Presidents Bush and Obama. The speeches that both of these former Presidents gave before the General Assembly during the course of their respective tenures often hit on serious topics and were forceful when it came to issues such as terrorism and the nuclear weapons programs in places such as Iran and North Korea, of course. At the same time, though, both men continued the long tradition of giving addresses that largely embraced the ideals that the United Nations was founded upon and called upon the international community to work together to combat the threats that the world faced from terrorism and nuclear proliferation. Trump, by contrast, spoke far more bluntly and on several occasions made it clear that he believed the United States will to act to protect its interests and its allies without consulting or seeking approval of any kind from the Security Council or any other United Nations body. While there are certainly times when such a position is called for, the extent to which Trump appeared to reject the idea of international cooperation on issues such as North Korea was far different from anything that we've seen from an American President in a very long time and it raises the prospect of a world where the United States pursues a far more belligerent foreign policy than we've seen in decades.
You can read the transcript of Trump's speech at the link, or watch the video embedded below:
;