Elizabeth Warren Ends Campaign
The inevitable has happened.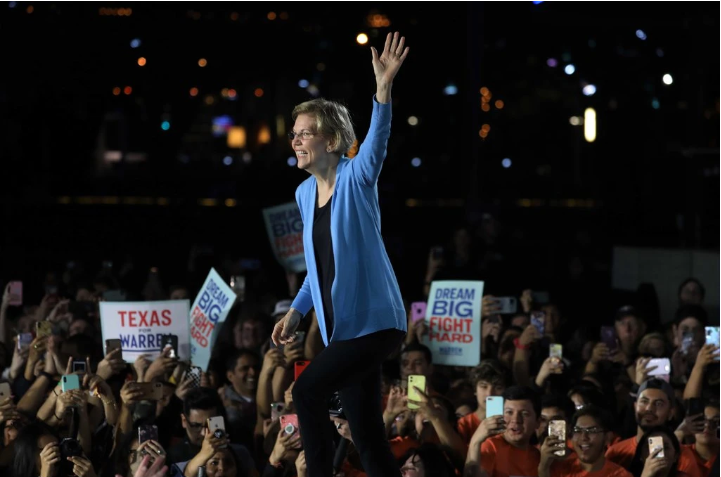 NYT ("Elizabeth Warren, Once a Front-Runner, Will Drop Out of Presidential Race"):
Senator Elizabeth Warren of Massachusetts plans to drop out of the presidential race on Thursday and will inform her staff of her plans later this morning, according to a person close to her, ending a run defined by an avalanche of policy plans that aimed to pull the Democratic Party to the left and appealed to enough voters to make her briefly a front-runner last fall, but that proved unable to translate excitement from elite progressives into backing from the party's more working-class and diverse base.

Though her support had eroded by Super Tuesday, in her final weeks as a candidate she effectively drove the centrist billionaire, former New York Mayor Michael R. Bloomberg, out of the race with debate performances that flashed her evident skills and political potential.

She entered the race railing against the corrosive power of big money, and one long-term consequence of her campaign is that Ms. Warren demonstrated that someone other than Senator Bernie Sanders, and his intensely loyal small-dollar donors, could fund a credible presidential campaign without holding fund-raisers.

Her potential endorsement is highly sought after in the race and both Mr. Sanders and former Vice President Joseph R. Biden Jr. have spoken with Ms. Warren since Super Tuesday, when the end of her campaign appeared imminent.

Ms. Warren's political demise was a death by a thousand cuts, not a dramatic implosion but a steady decline. Last October, according to most national polls, Ms. Warren was the national pacesetter in the Democratic field. By December, she had fallen to the edge of the top tier, wounded by a presidential debate in November where her opponents relentlessly attacked her.

She invested heavily in the early states, with a ground game that was the envy of her rivals. But it did not pay off: In the first four early voting states, Ms. Warren slid from third place in Iowa to fourth in New Hampshire and Nevada to fifth in South Carolina. By Super Tuesday, her campaign was effectively over — with the final blow of a third-place finish in the primary of her home state, Massachusetts.
The news clarifies that a Democratic field that began with a record number of female candidates has now become a contest between Mr. Biden, 77, and Mr. Sanders, 78.
CNN ("Elizabeth Warren is ending her presidential campaign"):
Elizabeth Warren is dropping out of the presidential race, a source familiar with her plans tells CNN, following another round of disappointing finishes in primary contests across the country on Super Tuesday.

The Massachusetts senator, who centered her bid on a promise to wipe out corruption in Washington, is announcing her decision on a staff call Thursday morning.

Warren's path to the nomination has been narrowing since the first round of voting in Iowa, where she placed third. In subsequent contests in New Hampshire and Nevada, she dropped down to fourth. In South Carolina, she came in a distant fifth.

[…]

Despite the mounting setbacks, Warren's campaign was as recently as Sunday touting a plan to amass delegates through the late spring and make a play for the nomination, as a unity candidate, during the Democratic National Convention this summer. But those hopes were effectively dashed on Super Tuesday, when she failed to win her home state of Massachusetts, finishing third behind former Vice President Joe Biden and Sen. Bernie Sanders, and mostly underperformed in a series of key states.
I've written a lot about the inevitability of this outcome since her poor finish in South Carolina—and literally just finished a post before seeing this announcement. So I'll likely not have much more to say about it until and unless she endorses either Sanders or Biden.