Explaining the House Republicans
A recent poll provides some insight into congressional behavior.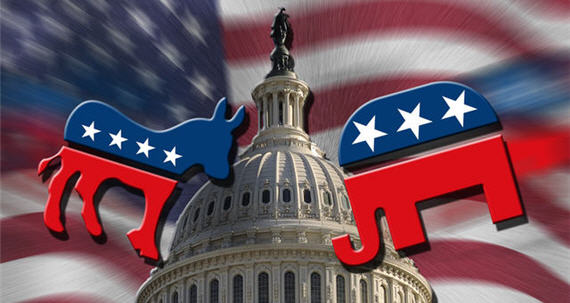 The Economist's Democracy in America blogs points to a point that show that Red means recalcitrant.  Specifically, the poll notes that Republicans tend to prefer that their representatives stick to principle, while Democratics tend to prefer compromise:
(The question represented above was part of poll that can be found here [PDF]).
The graph is quite striking, as the two parties are a mirror image of one another.  Further, it is reflective of the general commentary on this topic.  The generally pro-Democratic commentators have been marked by a desire to see compromise, with a minority upset that Obama and Reid aren't sticking to their guns on cuts.  Likewise, the vast majority of pro-Republican commentators have been in favor of sticking to principles and eschewing compromise with a minority thinking that compromise was needed.
In terms of explaining the behavior of Republicans in the House, this tracks with what Chris Lawrence was discussing yesterday:
Political scientist David Mayhew once wrote that members of Congress are "single-minded seekers of re-election"; in other words, if we want to understand Congress, we need to understand the electoral incentives that members face.
If the constituents who are responsible for your re-election don't want compromise (i.e., primary voters in particular), then it stands to reason that a given legislator will not want to compromise.