Explaining What's Wrong With The Paycheck Fairness Act
The arguments behind the Paycheck Fairness Act do not hold up to scrutiny.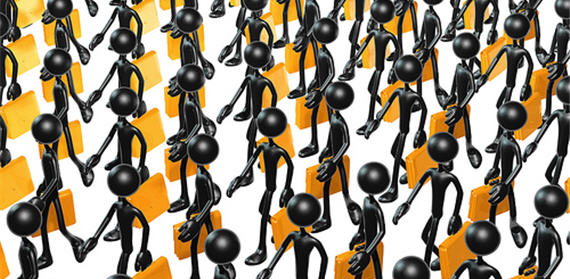 As everyone expected, the so-called Paycheck Fairness Act, supposedly meant to deal with the problem of a "wage gap" between men and women failed to get enough votes in the Senate yesterday to invoke cloture. Everyone involved knew this was going to happen, and that the Democratic sponsors of the bill were engaging in nothing more political games designed to extend the "war on women" meme that started in February.
To listen to the advocates of the bill, any difference between the wages of men and women for similar positions should be considered per se evidence of gender discrimination, and anyone who opposes the bill is therefore helping to perpetuate discrimination against women in the workplace.
As David Harsayni notes in Reason, however, there's far more to this argument than meets the eye, and far less merit to the PFA than its proponents like to think:
Apparently, we live in a country dominated by misogynists rather than in one resembling a meritocracy. If there's anything business owners love more than money, it's hating women. Alas, without government, you can never reach your potential. After all, the argument presupposed that the gender pay gap is the result of widespread "discrimination" and "unfairness" — a matter so serious that a half-dozen senators were driven to news conferences this week to explain how terrible the problem is. Sen. Dick Durbin, D-Ill., said, "There will be Democrats in favor of ending this discrimination, and virtually all Republicans — and I hope that I'm wrong on this — are going to vote against it."

So now, if you don't support a bill that allows lawyers to bore into the souls of employers and discern their motivations, you, my friend, favor discrimination. You know, just like Susan Collins of Maine and the woman haters on the editorial boards of The Boston Globe and The Washington Post.

Women earn only 77 cents for every dollar men do. Period. When there is moral preening to be done, even people who think of themselves as the most thoughtful, sophisticated, non-ideological people on earth — Democrats in Washington — won't surrender to the complexity of an issue.

It is irrelevant that the pay gap may be the result of innocent hiring practices. It doesn't matter if women more often — and more wisely — take on fewer unpleasant or physically demanding jobs or that they may often choose careers that weigh the importance of salary differently than the ones men choose or that women — and blame God or nature or both — give birth, take career breaks and are more inclined to take part-time jobs to be able to mother those pesky kids.

(…)

Do Democrats really believe there is a war on women in the workplace — in their own offices, no less — or do they simply want to lord over every aspect of the employer-employee relationship? What's most vitally "fair," it seems, is that Washington try to make the private sector run like a public-sector union shop.
This pay equity debate has been around for quite some time now. I remember it being debated back and forth when I first started paying attention to political issues in the mid-80's. On its surface it sounds like there's a good argument that there's gender discrimination going on when it comes to how much men and women are paid. However, once you start actually looking into the studies, it becomes fairly clear that most of the differences between men and women can be explained by the different life choices that the two genders make, on average, over the course of their lifetimes.
If one gender is more likely to take time off from work to raise a family, or spend less time at the office so that can spend it at home, or the the like, then it's rather obvious that their compensation is going to be lower. In fact, if it wasn't lower then it would be a sign that someone is getting underpaid, and it wouldn't be the person working fewer hours.
Looking at the fact that there is a 23 cent difference, on average, and immediately assuming that it means there is gender discrimination, or even that it is the result of "unfairness," is fairly intellectually dishonest because one is willfully ignoring the fact that there are a number of factors, taking place over the course over a number of years, that play into what one's compensation is later in life. It also ignores the fact that individuals are, well, individuals, not members of some clearly defined group.
Christina Hoff Sommers, who has studied this issue for years, wrote about the 2010 version of the PFA and put it this way:
The bill isn't as commonsensical as it might seem. It overlooks mountains of research showing that discrimination plays little role in pay disparities between men and women, and it threatens to impose onerous requirements on employers to correct gaps over which they have little control.

The bill is based on the premise that the 1963 Equal Pay Act, which bans sex discrimination in the workplace, has failed; for proof, proponents point out that for every dollar men earn, women earn just 77 cents.

But that wage gap isn't necessarily the result of discrimination. On the contrary, there are lots of other reasons men might earn more than women, including differences in education, experience and job tenure.

When these factors are taken into account the gap narrows considerably — in some studies, to the point of vanishing. A recent survey found that young, childless, single urban women earn 8 percent more than their male counterparts, mostly because more of them earn college degrees.

Moreover, a 2009 analysis of wage-gap studies commissioned by the Labor Department evaluated more than 50 peer-reviewed papers and concluded that the aggregate wage gap "may be almost entirely the result of the individual choices being made by both male and female workers."

In addition to differences in education and training, the review found that women are more likely than men to leave the workforce to take care of children or older parents. They also tend to value family-friendly workplace policies more than men, and will often accept lower salaries in exchange for more benefits. In fact, there were so many differences in pay-related choices that the researchers were unable to specify a residual effect due to discrimination.
The links in Sommers' Op-Ed go to the studies she references and I encourage you to take a look at them, because they make a pretty effective case that the entire pay "equity" issue is largely a canard and that the latest move to try to expand a law that has been in place since 1963 are directed more at the desires of the trial attorney lobby to gin up some business for itself than any real concern for the truth.
The advocates of this bill have rallied, unsurprisingly, around the slogan "equal pay for equal work." It's catchy, short, and probably politically effective, but it's also completely misguided. How, exactly, do you define what "equal work" is? It's one thing to compare men and women doing the exact same job if you can find such examples, but once you start comparing the compensation paid to one profession dominated by men versus another dominated by women, you are comparing apples and oranges. In such a situation, any conclusion you make about what is "equal" is entirely subjective and based solely on the prejudices of the person doing the choosing. That's not the way laws are supposed to be made, enforced, or interpreted, and a court case based on such comparisons would be, I would submit inherently unjust and unfair to the Defendant.
Sommers also addressed this part of the argument in her 2010 Op-Ed:
Universities, for example, typically pay professors in their business schools more than they pay those in the school of social work, citing market forces as the justification. But according to the gender theory that informs this bill, sexist attitudes led society to place a higher value on male-centered fields like business than on female-centered fields like social work.

The bill's language regarding these "lingering effects" is vague, but that's the problem: it could prove a legal nightmare for even the best-intentioned employers. The theory will be elaborated in feminist expert testimony when cases go to trial, and it's not hard to imagine a media firestorm developing from it. Faced with multimillion-dollar lawsuits and the attendant publicity, many innocent employers would choose to settle.

The Paycheck Fairness bill would set women against men, empower trial lawyers and activists, perpetuate falsehoods about the status of women in the workplace and create havoc in a precarious job market.
Well isn't that what this is really all about? Empowering the trial lawyers and the professional activists, not to mention the Democratic Party? It sure seems like it, because the Paycheck Fairness Act has nothing to do with reality.