FBI To Review Faulty Forensic Testimony In Death Penalty And Other Cases
How can anyone possibly support the death penalty?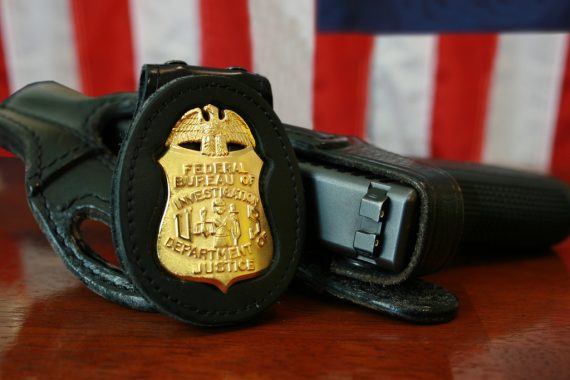 The Washington Post reports that the F.B.I. is reviewing as many as 27 death penalty cases in which Bureau forensic experts may have testified based on faulty or improper evidence that may have contributed to convictions that put people on death row improperly:
An unprecedented federal review of old criminal cases has uncovered as many as 27 death penalty convictions in which FBI forensic experts may have mistakenly linked defendants to crimes with exaggerated scientific testimony, U.S. officials said.

The review led to an 11th-hour stay of execution in Mississippi in May.

It is not known how many of the cases involve errors, how many led to wrongful convictions or how many mistakes may now jeopardize valid convictions. Those questions will be explored as the review continues.

The discovery of the more than two dozen capital cases promises that the examination could become a factor in the debate over the death penalty. Some opponents have long held that the execution of a person confirmed to be innocent would crystallize doubts about capital punishment. But if DNA or other testing confirms all convictions, it would strengthen proponents' arguments that the system works.

FBI officials discussed the review's scope as they prepare to disclose its first results later this summer. The death row cases are among the first 120 convictions identified as potentially problematic among more than 21,700 FBI Laboratory files being examined. The review was announced last July by the FBI and the Justice Department, in consultation with the Innocence Project and the National Association of Criminal Defense Lawyers (NACDL).
The primary problem seems to be with the analysis of hair evidence, which is often one of the most common methods used to put a suspect at the scene of a crime, or tie them to other evidence relevant to a case:
The unusual collaboration came after The Washington Post reported last year that authorities had known for years that flawed forensic work by FBI hair examiners may have led to convictions of potentially innocent people, but officials had not aggressively investigated problems or notified defendants.

At issue is a once-widespread practice by which some FBI experts exaggerated the significance of "matches" drawn from microscopic analysis of hair found at crime scenes.

Since at least the 1970s, written FBI Laboratory reports typically stated that a hair association could not be used as positive identification. However, on the witness stand, several agents for years went beyond the science and testified that their hair analysis was a near-certain match.

The new review listed examples of scientifically invalid testimony, including claiming to associate a hair with a single person "to the exclusion of all others," or to state or suggest a probability for such a match from past casework.

Whatever the findings of the review, the initiative is pushing state and local labs to take similar measures.

For instance, the Texas Forensic Science Commission on Friday directed all labs under its jurisdiction to take the first step to scrutinize hair cases, in a state that has executed more defendants than any other since 1982.

Separately, FBI officials said their intention is to review and disclose problems in capital cases even after a defendant has been executed.
Of course, it would be preferable that any relevant errors be discovered before a defendant has been executed, otherwise the matter becomes somewhat academic. Nonetheless, there are some unusual aspects to the effort that the FBI is undertaking here. For example, under agreements with defendants' advocacy groups, the Bureau will notify prosecutors and defendants in all cases where its found that the FBI analysis involved "exceeded the limits of science," and will even take the highly unusual step of assisting defendants and their attorneys in waiving statutes of limitations and other time limits placed on seeking post-conviction relief because of flaws discovered in trial testimony. In that regard, I suppose, the Bureau is to be applauded for its efforts and, if it actually does follow through on its agreement to assist defendants in getting appropriate post-conviction relief when it appears that improper testimony played a role in their convictions. In most cases, of course, that will likely result in a new trial being granted rather than the defendant simply walking free, but so long as that new trial follows the proper rules of evidence and the expert testimony doesn't rely on pseudoscience.
Every time matters like this come up, of course, the problems in our justice system are laid bare, and the reasons why the death penalty is such a bad idea become ever more apparent. Let's say it turns out that there are men sitting on death row right now who were put there partly, if not primarily, because of this unscientific FBI testimony. Odds are that we'd find that most of them were represented by overworked and underpaid Public Defenders, that they couldn't afford the kind of expert witnesses who might have been able to counter the testimony of an expert from the FBI, who carries a tremendous amount of reputational influence just because of who the happen to work for. Their appeals were probably slip-shop at best, and they've likely spent a decade or more sitting on death row just waiting for whatever's going to happen next. Now, at least if we discover that the expert testimony was flawed, we'll be able to do something about it by either releasing them or granting a new trial. If they've been executed already, though, then the experts errors just become another notation in a case file somewhere. The potential for errors like this, errors that even the FBI itself are now beginning to recognize and remedy, is one of the reasons that I don't see how anyone can possibly support the death penalty.