Federal Government Won't Provide Flu Vaccine To Migrants Held In Border Facilities
The Trump Administration has apparently decided that it will not be providing the flu vaccine to migrants being held in facilities at the southern border.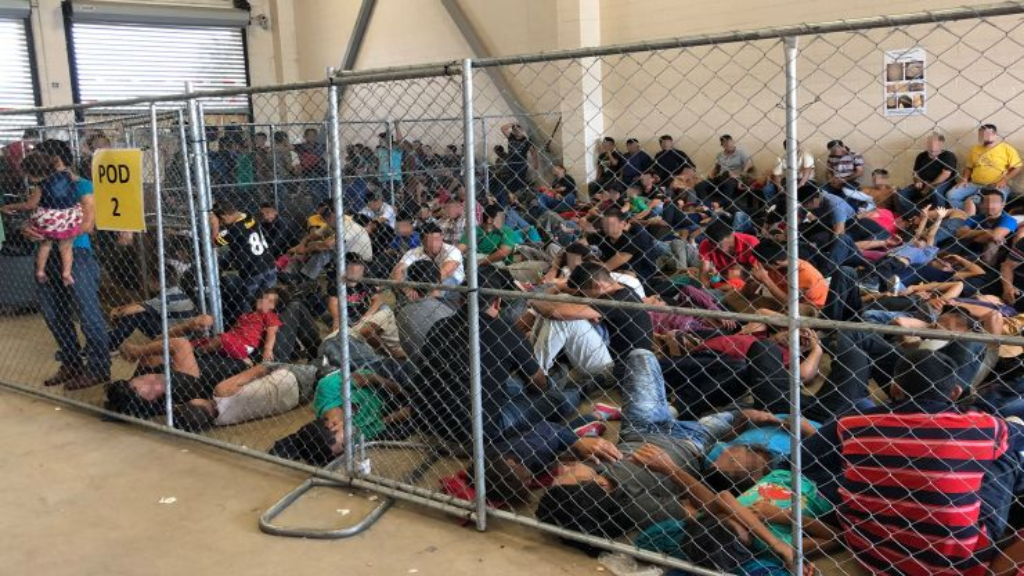 Continuing what can only be described as a pattern of outrageous neglect aimed at people who are being held in camps at the southern border pending resolution of their asylum claims, the Federal Government is now saying it will not provide the flu vaccine to these migrants, seemingly guaranteeing a potential pandemic for people already living in inhumane conditions:
The U.S. won't be vaccinating migrant families in holding centers ahead of this year's flu season, despite calls from doctors to boost efforts to fight the infection that's killed at least three children at detention facilities in the past year.

"In general, due to the short-term nature of CBP holding and the complexities of operating vaccination programs, neither CBP nor its medical contractors administer vaccinations to those in our custody," a Customs and Border Protection spokeswoman said in an emailed statement.

At least three children who were held in detention centers after crossing into the U.S. from Mexico have died in recent months, in part, from the flu, according to a letter to Reps. Rosa DeLauro, D-Conn., and Lucille Roybal-Allard, D-Calif., from several doctors urging Congress to investigate health conditions at the centers.

The U.S. had previously gone almost a decade without any children dying while under U.S. immigration custody.

"I can tell you from personal experience that child deaths are rare events," Harvard pediatrics professor Dr. Jonathan Winickoff said in an email. Winickoff, who is also the director of pediatric research for Harvard's Tobacco Research and Treatment Center, signed on to the Aug. 1 letter with forensic pathologist Judy Melinek and Johns Hopkins public health professors Dr. Joshua Sharfstein and Dr. Paul Spiegel.

They said the U.S. death rate in children from the flu is about one in 600,000. So far, three children have died out of 200,000 people held at detention facilities along the border, they wrote.

"When I learned that multiple children had died in detention from potentially preventable causes, it truly disturbed me," Winickoff said. "The country needs urgent answers to that question so that children stop dying in detention."

Winickoff said that current holding conditions, like being placed in close proximity to other immigrants, make it easy to spread infectious diseases from person to person. He added that contracting the flu weakens a child's immune system, making it harder to fight off other illnesses.

"A child might start out with flu but then die of another infection," he added.

If conditions don't improve, Dr. Julie Linton, chair of the American Academy of Pediatrics Council on Immigrant Child and Family Health, said more children will needlessly die.

"There's a number of things that we can do to prevent deaths and infection. Those do not include holding children in cage-like facilities and warehouses altogether," Linton said.

Children come into holding centers with a sense of resilience, Linton said, and potentially stronger immune systems. But the stress from being held against their will can cause immune systems to tank, she said.

That, paired with unsanitary conditions, such as open toilets and "insufficient supplies" to wash hands, is a breeding ground for infection, Linton added.

The Centers for Disease Control and Prevention also recommends annual flu shots for everyone over 6 months old in the U.S.


To call this decision insane, cruel, and fraught with potential disaster is a vast understatement. We are dealing with facilities in which large numbers of people, many of them children or adults with compromised immune systems, are living in incredibly close quarters. It has already been documented in court proceedings dealing with the conditions in these facilities that they have been denied soap and other personal items, that there have been shortages of water and sufficient food at times, and that the medical personnel at the facilities are quite frankly overwhelmed by the number of people they have to deal with on a regular basis. There are few signs that these conditions are going to improve any time soon, and we are headed into the flu season. One can easily see the conditions being created where someone with the flu is detained at one of these facilities and it spreads like wildfire through an unvaccinated population, or where a guard or other employee who has the flu infects people being held under their watch before realizing that they're sick.
I don't think I have to go much further with the scenario. Suffice it to say that we could end up with a situation where hundreds of people, if not more are suffering from the flu while being held in deplorable and unsanitary conditions, thus making it easier for the virus to spread. While most people will just get sick, others could develop complications like bronchitis and pneumonia that increases the risk that people could die.
Hopefully, the lawyers who continue to fight in the Federal Courts for the rights of this migrants will be able to convince a Judge that this is a horribly bad decision that violates the rights of the migrants under Federal and international law. Before we even get there, though, one has to wonder why the Federal Government would take this position. The Administration has already gotten enough bad press from the conditions in these facilities. If people start getting seriously ill or dying, then we'd be talking about an entirely man-made humanitarian crisis that could easily be averted via an aggressive and smart vaccination policy. At the very least, that would seem to mean that children above the recommended age for flu shots, the elderly, and other adults with compromised immune systems would be vaccinated as a first step. It may also require a more widespread vaccination program to ensure the infection doesn't spread among the migrant population at large. It would not only be the smart thing to do, but it would also seem to be the only thing a decent and humane person would do.