Fight Brewing Over Defense Cuts
The defense spending lobby is already engaging in fear-mongering over very modest defense cuts.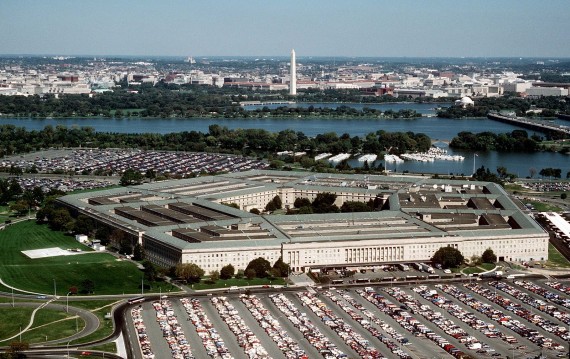 It's becoming clear that a major point of contention in the upcoming debate about future budget cuts will be additional cuts in defense spending. The first volley in that fight was fired on Thursday by Secretary of Defense Leon Panetta:
Defense Secretary Leon Panetta on Thursday signaled that the Pentagon will push hard against future spending cuts, saying that up to $500 billion in cuts that could come later this year would be a "doomsday mechanism" that would endanger national security.

"We are already taking our share of the discretionary cuts as part of this debt ceiling deal, and those are going to be tough enough," Panetta said at his first press conference since taking office July 1.

He cited $350 billion in defense cuts over the next decade that are part of the debt ceiling compromise, adding, "I think anything beyond that would damage our national defense."

Panetta and Pentagon budget officials say that first round of cuts could actually jump to as much as $400 billion. They also worry that a new super committee tasked with mapping out a second round of deficit reduction this fall will further slash defense spending. And if the committee can't reach an agreement, the Pentagon could face an automatic reduction of an additional $500 billion.

"The discretionary budget has taken some pretty serious cuts both as a result of the continuing resolutions from last year as well as the decision that was made in the debt agreement," said Panetta, a former White House budget chief. "When you look at national security, I think you have to look at the broader context. It's not just dependent on the defense budget. It is also dependent on the quality of life in this country."

Panetta also repeated that it would be "completely unacceptable" if the committee can't reach a deal and the $500 billion in cuts takes effect.

"We do not have to choose between fiscal discipline and national security," Panetta said, indicating that cuts should happen elsewhere.

"I didn't come into this job to quit, I came into this job to fight. And my intention is to fight to make sure that hopefully some common sense prevails here and that the committee that is established does its work in looking at these areas of the budget."
Panetta's position is supported by Admiral Mike Mullen, not surprisingly as well as neoconservatives on the right who argue that cutting defense as deeply as the automatic cuts would constitutes a threat to national security. On the other side of the argument, though, there's people like Fareed Zakaria, who argues we need to take a hatchet to a bloated defense budget:
It is not unprecedented for defense spending to fall substantially as we scale back or end military actions. After the Korean War, President Dwight Eisenhower cut defense spending 27 percent. Richard Nixon cut it 29 percent after Vietnam. As tensions declined in the 1980s, Ronald Reagan began scaling back his military spending, a process accelerated under Presidents George H.W. Bush and Bill Clinton. Given the enormous run-up in spending under George W. Bush, even if President Obama made comparable cuts to that of those presidents today, defense spending would remain substantially above the levels under all those presidents. The Bowles-Simpson commission's plan proposed $750 billion in defense cuts over 10 years. Lawrence Korb, who worked at the Pentagon for Ronald Reagan, believes that a $1 trillion cut over 10 to 12 years is feasible without compromising national security.

Serious conservatives should examine the defense budget, which contains tons of evidence of liberalism run amok that they usually decry. Most talk of waste, fraud and abuse in government is vastly exaggerated; there simply isn't enough money in discretionary spending. Most of the federal government's spending is transfer payments and tax expenditures, which are — whatever their merits — highly efficient at funneling money to their beneficiaries. The exception is defense, a cradle-to-grave system of housing, subsidies, cost-plus procurement, early retirement and lifetime pension and health-care guarantees. There is so much overlap among the military services, so much duplication and so much waste that no one bothers to defend it anymore. Today, the U.S. defense establishment is the world's largest socialist economy.
Zakaria goes on to note that defense spending cuts would also force American politicians to re-examine America's foreign policy and our priorities going forward. That is a debate that we need to have because we really never addressed that issue after the Cold War ended. Instead we allowed the status quo to largely stay in place, to the point where military action became the first response when problems developed in countries like Haiti, Somalia, or the Balkans. Then, September 11th happened and we geared up for two wars, one of which is seemingly endless. Now, we're faced with a situation where we have to cut Federal Government spending, and there's no good reason that defense spending should not be on the table.
Zakaria's column generated a number of response from"pro-defense" quarters, not surprisingly. Max Boot, for example, found Zakaria's suggestions dangerous:
Zakaria might decry the high cost of new weapons systems. So do I. But I have no idea how to procure top-of-the-line weapons systems for less, and neither does he. Nobody does. Washington has been implementing "procurement reforms" for years, but many of them have made weapons more expensive, not less. It seems fair to say the pressure of today's budget crisis will not produce a magic wand someone like Zakaria could wave to miraculously cut the cost of our weapons while maintaining their superlative quality. Like it or not, we must take it as a given weapons will continue to be costly. The choice is whether we pay or not—and that choice will not be avoided by painlessly erasing the (nonexistent) line item for "waste, fraud and abuse."

(…)

Simply because something has happened in the past doesn't mean it's a good idea for the future. And if history shows anything, it is there are few ideas worse than cutting defense spending precipitously. What is likely to happen as a result is we will not be ready for some unexpected crisis. While we slowly build up our resources, we will suffer needless defeats and our troops will spill needless blood—as we have in wars ranging from the Civil War to World War II, Korea and most recently, Iraq.
Michael O'Hanlon and Joseph Nye are less alarmist than Boot but nonetheless disagree with Zakaria's conclusion that we can afford to cut defense spending significantly without affecting national security. These points are all well-taken, and the idea of across the board cuts in defense spending without consideration of what it is that you're cutting is fairly foolish. Nonetheless, it's attitudes like theirs that have made it impossible to cut any Federal spending over the years. Somebody can always come up with a good argument for why we should spend $X on a program, but the fact of the matter is that we've reached a point now where we cannot afford to pay for everything. Cuts will have to be made, choices will have to be made, and some of those choices are going to have to come in Pentagon spending.
Jonathan Tobin seems to recognize this fact when in notes in a recent post that there isn't much of a constituency left to fight defense cuts:
With Republicans rightly dug in to oppose tax increases and Democrats set to fight against any cuts in Social Security or Medicare, it's not likely the next step in the great compromise reached this past weekend will actually work. But whatever comes out of that committee, it appears cutting defense might be the one thing both sides appear ready to do. While Democrats can be counted on to approve any defense cuts (except for those that affect particular states or constituencies), the question is whether the GOP, traditionally a bastion of support for a strong defense, will sacrifice the Pentagon in order to hold their ground on fiscal issues.

This trend has been reflected in the GOP presidential race, where foreign policy and defense have been put on the back burner by all of the candidates. Unless there is some radical alternation in the political climate that will re-focus our attention on foreign policy — a development made all the more unlikely by the recent disastrous economic news — it's hard to see how a coalition to oppose defense cuts can be assembled.

(…)

That means the ayatollahs in Iran and their nuclear scientists may have more influence on the budget process in the next couple of years than anything said by Panetta or Mullen. But the problem with such an equation is if a nuclear Iran does wake up America to its need to fund defense, the cost of that wake-up call may be paid in blood, a commodity still more precious than budgetary allocations.
That last part is simply absurd. For one thing the cuts that would be imposed on defense spending won't be solely directed at the Pentagon since the Department of Homeland Security will also be included in those cuts. For another, the cuts themselves are relatively modest given the size of the DoD budget:
Rather than cutting $400 billion in defense spending through 2023, as President Barack Obama had proposed in April, the current debt proposal trims $350 billion through 2024, effectively giving the Pentagon $50 billion more than it had been expecting over the next decade.

With the wars in Iraq and Afghanistan winding down, experts said, the overall change in defense spending practices could be minimal: Instead of cuts, the Pentagon merely could face slower growth.

"This is a good deal for defense when you probe under the numbers," said Lawrence Korb, a defense expert at the Center for American Progress, a left-leaning research center. "It's better than what the Defense Department was expecting."
So this is far from the "crisis" that Boot and others make it out to be. In fact, the Pentagon actually makes out better under this deal than it would have under President Obama's budget plan, or Paul Ryan's for that matter. We aren't going to sacrifice our national security, and we aren't handing a gift to the ayatollahs. If that kind of fear-mongering is all that the neoconservatives have left, then they're going to lose this fight.