For June, A Jobs Report That Basically Reads As 'Meh'
The June Jobs Report was okay, but it certainly doesn't inspire much confidence.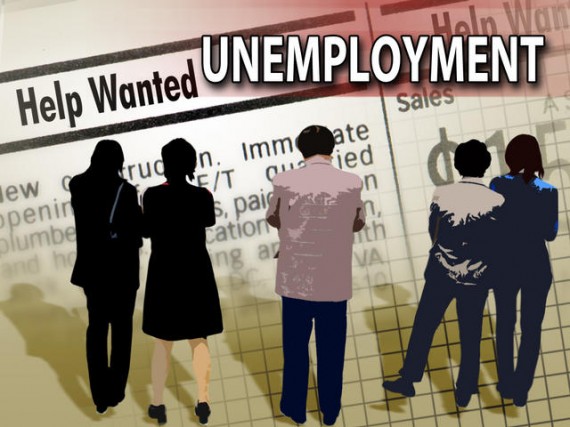 The June Jobs Report, released a day early today due to the impending 4th of July Holiday Weekend, follows the pattern of many recent reports in that it is good news, but hardly anything spectacular:
Total nonfarm payroll employment increased by 223,000 in June, and the unemployment rate declined to 5.3 percent, the U.S. Bureau of Labor Statistics reported today.  Job gains occurred in professional and business services, health care, retail trade, financial activities, and in transportation and warehousing.

The unemployment rate declined by 0.2 percentage point to 5.3 percent in June, and the number of unemployed persons declined by 375,000 to 8.3 million. (See table A-1.)

Among the major worker groups, the unemployment rates for adult men (4.8 percent), adult women (4.8 percent), and blacks (9.5 percent) edged down in June, while the rates for teenagers (18.1 percent), whites (4.6 percent), Asians (3.8 percent), and Hispanics (6.6 percent) showed little change. (See tables A-1, A-2, and A-3.)

The number of long-term unemployed (those jobless for 27 weeks or more) declined by 381,000 to 2.1 million in June. These individuals accounted for 25.8 percent of the unemployed. Over the past 12 months, the number of long-term unemployed has declined by 955,000. (See table A-12.)

The civilian labor force declined by 432,000 in June, following an increase of similar magnitude in May. The labor force participation rate declined by 0.3 percentage point to 62.6 percent in June. The employment-population ratio, at 59.3 percent, was essentially unchanged in June and has shown little movement thus far this year.

The number of persons employed part time for economic reasons (sometimes referred to as involuntary part-time workers), at 6.5 million, changed little in June. These individuals, who would have preferred full-time employment, were working part time because their hours had been cut back or because they were unable to find a full-time

(…)

Total nonfarm payroll employment rose by 223,000 in June, compared with an average monthly gain of 250,000 over the prior 12 months. In June, job gains occurred in professional and business services, health care, retail trade, financial activities, and in transportation and warehousing.

(…)

The average workweek for all employees on private nonfarm payrolls was 34.5 hours in June for the fourth month in a row. The manufacturing workweek for all employees edged down by 0.1 hour to 40.7 hours, and factory overtime edged up by 0.1 hour to 3.4 hours. The average workweek for production and nonsupervisory employees on private nonfarm payrolls was unchanged at 33.6 hours. (See tables B-2 and B-7.)

In June, average hourly earnings for all employees on private nonfarm payrolls were  unchanged at $24.95. Over the year, average hourly earnings have risen by 2.0 percent. Average hourly earnings of private-sector production and nonsupervisory employees edged up by 2 cents to $20.99 in June. (See tables B-3 and B-8.)

The change in total nonfarm payroll employment for April was revised from +221,000 to +187,000, and the change for May was revised from +280,000 to +254,000. With
these revisions, employment gains in April and May combined were 60,000 lower than previously reported. Over the past 3 months, job gains have averaged 221,000 per month.
This isn't bad news, of course, but as The New York Times puts it's not exactly great news either:
Good, but hardly great.

The economy added a healthy 223,000 jobs last month, the Labor Department reported Thursday, but other indicators, showing wages growing slowly and jobless Americans remaining on the sidelines, painted a grayer picture.

Indeed, while the unemployment rate fell to 5.3 percent, the lowest in seven years, that was driven largely by an exodus of people from the work force, rather than more Americans finding work. Moreover, the strong job gains for April and May, which had led many analysts to predict that the economy was picking up steam, were revised downward by 60,000 jobs.

Despite the drop in the unemployment rate, from 5.5 percent in May, average hourly earnings stayed flat, disappointing hopes that wages were finally increasing for many workers and suggesting that the labor market still has plenty of slack.

The share of American adults either working or looking for a job, which in many ways is a better gauge of economic robustness than the oft-cited jobless rate, fell 0.3 percentage point in June. With June's drop, the labor participation rate is now at its lowest level since 1977.

"This was an okay report, but the unemployment rate didn't go down for the right reasons," said Liz Ann Sonders, chief investment strategist at Charles Schwab,

Still, after bottoming out in March as the overall economy stalled, hiring has been reasonably strong if not spectacular inrecent months, along with other indicators like home sales and consumer spending. In the first half of the year, employers added workers at an average rate of 208,000 a month, compared with a monthly gain of nearly 260,000 jobs in 2014.

While the American economy is not delivering as many gains to workers as expected six years into the recovery conditions here stands in sharp contrast to the situation overseas. Europe has been rocked by the continuing drama over whether Greece will exit the eurozone, and concerns are rising about the fallout from the slowdown in China's once white-hot economy.

Policy makers at the Federal Reserve are keeping a close eye on conditions abroad and volatility on Wall Street and overseas bourses, which could shift the timetable for the central bank's long-awaited increase in short-term interest rates if markets show signs of panic.

So far, anything resembling the contagion of 2008 has not materialized, despite Greece's slow-motion descent into financial chaos. Although the jobs data for June suggest a September rate increase by the Fed is still possible, experts caution that it is far from a lock given the uncertainty overseas.
Obviously, an increase of more than 220,000 jobs is nothing to dismiss easily, although I'd suggest waiting until the revisions that will come out over the next several months to determine just how good that number really is in the end. Of more concern is the underlying data. Once again, we see the number of people participating in the labor force drop to where it is now at a point where it hasn't been since 1977. As I've said before, at least some of this can be attributed to the retirement of the Baby Boom Generation, but that doesn't account for all of it. When the unemployment rate goes down not because more people are employed, but because fewer people are even bothering to look for work, that's hardly good news. Additionally, the average work week remains stagnant, as do average hourly earnings. So, while cheering the good news of the topline numbers, which will be all the media concentrates on today, it's worth keeping in mind that the data inside the report isn't quite as cheerful.
As James Pethokoukis suggests in his first look at today's report, the one takeaway from these numbers is that there seems to be little reason for the Federal Reserve to begin raising interest rates. Granted, those rates have been set at historically low levels for years now and, after inflation is factored in, the rates for some of the short-term debt issued by the United States is effectively below zero. However, there have been no signs whatsoever of any inflationary impact from those low rates. Economic growth has not entered territory that you'd expect it see if there was inflationary pressure on the economy. Price levels as measured by CPI and PPI are not moving at an unusual rate. We also haven't seen much evidence of an inflationary impact on Wall Street, in the real estate market, or in other areas. The Fed ended its Quantitative Easing program months ago, which was probably long overdue given the fact that there was no real evidence that the policy was accomplishing anything other than boosting stock prices, and it has been signaling for some time that an interest rate hike may be just around the corner. Given economic statistics like this, which clearly seem to show that the economy is moving slowly at best, I'm not so sure that even a modest increase would be appropriate at this time. Add into this the fact that we don't know at this point what the impact of the situation in Europe will be here in the United States, and the seeming eagerness of Janet Yellin and her fellow Board members to start turning the ship on interest rates for some reason doesn't make much sense at all.