Former Microsoft CEO Steve Ballmer To Buy Clippers For $2 Billion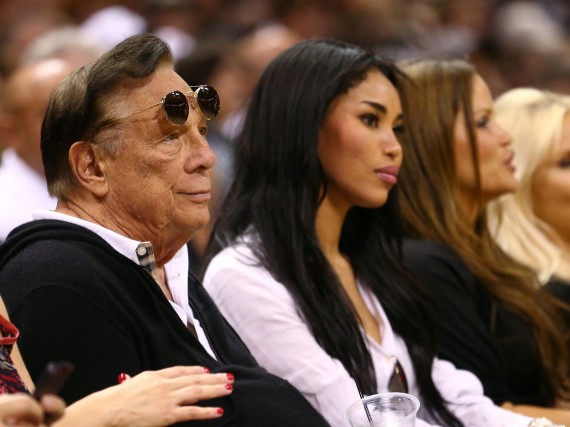 Steve Ballmer, who took over as CEO of Microsoft after Bill Gates ended day-to-day involvement with the company, has apparently agreed to purchase the Los Angeles Clippers for $2 billion, possibly averting a move next week by the NBA to strip the franchise from Donald Sterling and his family:
The former Microsoft chief executive Steve Ballmer has agreed to pay $2 billion for the Los Angeles Clippers, according to a person briefed on the negotiations. If approved by the National Basketball Association, the sale would end a troubling situation for the league and rank as one of the largest deals in sports history.

Mr. Ballmer emerged Thursday night as the last suitor standing in a dizzying bidding process that started when the N.B.A. announced last month that it would try to force Donald Sterling to sell the team. Mr. Sterling had been recorded making racist comments in a private telephone conversation, an episode that touched off a national discussion about race and delivered a public-relations blow to the league during its showcase period, the playoffs.

Rochelle Sterling, Mr. Sterling's wife and a co-owner of the Clippers, signed the deal with Mr. Ballmer, and their contract will be sent to the N.B.A. for final approval, the person briefed on the negotiations said. Mr. Ballmer, 58, was already vetted by the league in 2013 when he was part of an investor group seeking to buy the Sacramento Kings, which means the process could be expedited.

But the deal faces possible obstacles.

Mr. Sterling's position remains uncertain. He was said to have authorized his wife to negotiate with potential buyers, but she needed his power of attorney to sign off on an agreement. Mr. Sterling's lawyer, Maxwell Blecher, said Wednesday that Ms. Sterling did not have it. Mr. Blecher also said that, as incentive to agree to sell the team, Mr. Sterling wanted the N.B.A. to drop its charges that he had violated the league's constitution.

Mr. Sterling, who has vowed to fight the league in its efforts to terminate his ownership of the Clippers, is scheduled to appear at a special hearing Tuesday to answer to charges that he damaged the N.B.A. by making the racist statements. He was barred from the league for life last month.

Commissioner Adam Silver said last week that he would prefer for the Sterlings to sell the team voluntarily. A vote of the league's other owners could force them to sell.

The Los Angeles Times was the first to report that Mr. Ballmer had reached an agreement with Ms. Sterling.

If the Clippers sell for $2 billion, the price would be the highest paid for an N.B.A. team, far exceeding the $550 million that the Milwaukee Bucksrecently sold for. Major League Baseball's Dodgers, the Clippers' Los Angeles neighbors, sold for $2.15 billion two years ago.

But a critical difference is that the Dodgers' buyers received much more for their money: the team, as well as Dodger Stadium; an expiring local television contract that the new owners flipped into a long-term, multibillion-dollar payout from Time Warner Cable to start their own network; and a joint venture on the parking lots and land around the stadium with the former owner, Frank McCourt.

In addition to a suddenly ascendant team with a miserable past, Mr. Ballmer would have a training center and a lease at Staples Center that excludes luxury-suite revenue. The team, under new ownership, would benefit from the boons expected in their next local cable contract and the N.B.A.'s next round of national deals. The new local and league contracts will start in the 2016-17 season.
However, since it wouldn't be a story about Donald Sterling and the L.A. Clippers if it weren't totally bizarre at some point, things might not be that easy. When they announced the deal last night. Shellie Sterling's representatives asserted she was acting as the sole controlling Trustee of the Family Trust that apparently has legal title to the team at this point, even though her and Donald Sterling are apparently co-Trustees. Lawyers for Donald Sterling, who earlier in the day had said through representatives that he would fight the NBA's efforts t force him to sell the team, has apparently been declared mentally incompetent:
I imagine Donald Sterling is going to fight this one too, but…

Shelly Sterling has been granted the authority to sell the NBA's Los Angeles Clippers to Steve Ballmer because her husband and co-owner Donald Sterling has been declared mentally incapacitated under the terms of the trust the couple owns the team through. That made her the sole trustee and decision maker.

That according to the tapped in Ramona Shelburne of ESPN.

There have been reports and rumors that Donald Sterling has been battling dementia, which is the reason his former mistress claimed to make the recordings that sparked the controversy in the first place (he would forget what he had previously said). Donald also is reportedly battling prostate cancer.

Donald Sterling had publicly flip-flopped between saying, "Why would I want to fight my partners?" as he did on CNN and promising to "fight to the bloody end" in court as he did through his lawyer in an official response to the charges against him from the league.

However if he has been declared mentally incapacitated that would take him out of the picture. Under the terms of the trust he did not have to be declared incapacitated by a court of law, the structures are different, Shelburne reports.

We do not know how recently this incapacity was declared, under what circumstances, and how it would hold up to a legal challenge in court. It seems fair to assume that Donald Sterling's first move would be to fight this ruling.

However if this holds up it seems as if the saga of the Sterlings could have a path to ending. Which is what everyone wants (except possibly Donald Sterling).
This last part has me a bit typically. As a legal matter, in order for someone to be declared legally incompetent there would have to be a hearing before a Judge and testimony from medical experts from both sides. Since that doesn't appear to have happened in this case, I would imagine that what's really at play here is that there's some provision of the Trust Agreement that allows for the removal of a Trustee under some circumstances, and that Mrs. Sterling is relying on this provision to assert that Donald has no authority to prevent the sale since he is no longer a Trustee. That, however, is a matter that would obviously be subject to review in a court should Sterling choose to fight the matter. Even if he did so, it would quite obviously only be a delaying tactic. Whether it's via this deal announced yesterday or one essentially closed by the NBA itself, the sale of the Clippers franchise is a fait accompli. 

Don't feel too sorry for Sterling, though. He bought the Clippers for $12.5 million dollars some 43 years ago. Even after having to spilt the 1,987,500,000 profit with his estranged wife and paying taxes and incident expenses, he'll still walk away from this with quite a lot of money in his pocket.