Gabrielle Giffords For Senate?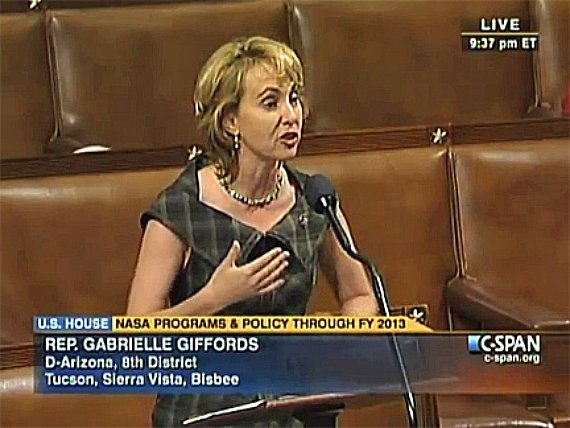 The retirement of Jon Kyl means that there will be an open Senate race in Arizona in 2012, and some Democrats there think that Gabrielle Giffords would be the perfect candidate if she's willing and able to run:
The race for Arizona's open Senate seat has quickly focused in on one question: What will Gabrielle Giffords do?
ru
The Democratic congresswoman, who survived an assassination attempt in Tucson last month, is still undergoing rehabilitation in Houston for a gunshot wound to the head. Physicians have warned that her recovery will proceed at its own pace.

But even though questions about her health remain, Giffords's astonishingly rapid recovery has left Democrats in Arizona and Washington looking to her as a potential candidate to replace retiring GOP Sen. Jon Kyl.

Giffords was mentioned as one possible contender for the 2012 race during a closed-door meeting of Senate Democrats on Thursday, two sources with knowledge of the meeting said.

In Arizona, strategists continue to view Giffords as a compelling candidate for higher office. That's a distinction few Democrats in the state can claim after last November, when Republicans captured two U.S. House seats and won every statewide office on the ballot.

"Congresswoman Giffords's name was clearly at the top of the list of potential candidates against Sen. Kyl, or if Sen. Kyl stepped down, over the past couple years. Given that, a lot of people of course thought immediately of her for this seat," Arizona Democratic Party Chairman Andrei Cherny said.
The most important consideration, of course, is whether Giffords would be physically and mentally up for the task of  running for office, or serving if she won. We've heard nothing but good news from doctors regarding her recovery, but the truth likely is that her recovery is more difficult than the press clippings make it seem, and will likely take longer than it many seem to be expecting.  While anything is possible, it seems unlikely that she'd be fully recovered enough to launch a Senate campaign in the time required, even if it is likely that she'd be unlikely to face significant opposition in a Democratic primary if she did.
Giffords was an up and coming politician in Arizona before January's events, and it's only natural that the circumstances have elevated her stature in the state. Nonetheless, I can't help but think that Democrats are rushing things a little bit here.