General McChrystal Crosses The Line
General Stanley McChrystal is opening his mouth again and, this time, it could cost him his job.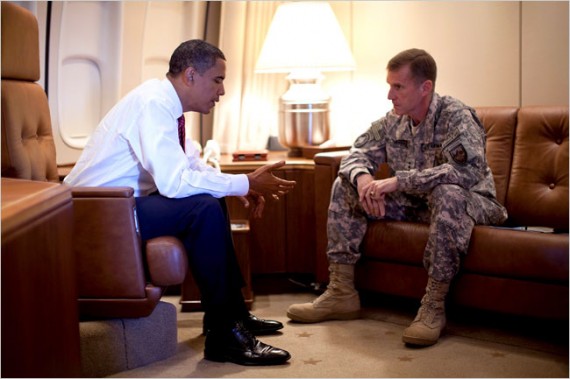 General Stanley McChrystal is in some pretty hot water after giving what can only be called a bizarre interview to Rolling Stone:
KABUL — The top U.S. general in Afghanistan apologized Tuesday for a magazine article that portrays him and his staff as flippant and dismissive of top Obama administration officials involved in Afghanistan policy.

The profile in Rolling Stone magazine, titled the "Runaway General," is certain to increase tension between the White House and Gen. Stanley McChrystal.

It also raises fresh questions about the judgment and leadership style of the commander Obama appointed last year in an effort to turn around a worsening conflict.

McChrystal and some of his senior advisors are quoted criticizing top administration officials, at times in starkly derisive terms. An anonymous McChrystal aide is quoted calling national security adviser James Jones a "clown."

Referring to Richard Holbrooke, Obama's senior envoy to Afghanistan and Pakistan, one McChrystal aide is quoted saying: "The Boss says he's like a wounded animal. Holbrooke keeps hearing rumors that he's going to get fired, so that makes him dangerous."

On one occasion, McChrystal appears to react with exasperation when he receives an e-mail from Holbrooke, saying, "Oh, not another e-mail from Holbrooke. I don't even want to read it."

U.S. ambassador to Afghanistan Karl Eikenberry, a retired three-star general, isn't spared. Referring to a leaked cable from Eikenberry that expressed concerns about the trustworthiness of Afghan President Hamid Karzai, McChrystal is quoted as having said: "Here's one that covers his flank for the history books. Now if we fail, they can say, 'I told you so.'"

A U.S. embassy spokeswoman said she had no immediate comment on the piece.

The magazine hits newsstands Friday. The Washington Post received an advance copy from the profile's author, Michael Hastings, a freelance journalist who has written for the Post.

"I extend my sincerest apology for this profile," McChrystal said in a statement issued Tuesday morning. "It was a mistake reflecting poor judgment and it should have never happened."
Here are a few highlights, if that's the right word, from the interview:
On Joe Biden:

"Are you asking about Vice President Biden?" McChrystal reportedly joked. "Who's that?"

(…)

On Jim Jones:

Another aide reportedly called White House National Security Adviser Jim Jones, a retired four star general, a "clown" who was "stuck in 1985."

On Richard Holbrooke:

"The boss says he's like a wounded animal," one of the general's aides was quoted as saying. "Holbrooke keeps hearing rumors that he's going to get fired, so that makes him dangerous."

On Obama:

"Obama clearly didn't know anything about him, who he was. The boss was pretty disappointed," the adviser told the magazine.
MSNBC is reporting this morning that McChrystal has been summoned to Washington for a meeting in the White House Situation Room that is likely to be even more tense than his Air Force One meeting with President Obama only six months ago.
This isn't the first time that McChrystal's outspokenness has seemed to stray very close to the line of insubordination, of course. Last year, a report he wrote for the Joint Chiefs that was supposed to have been confidential was leaked to the public, some news sources reported that McChrystal had threatened to resign if the President did not grant him all the troops he requested, McChrystal allowed himself to be dragged into an absurd conservative blog meme about how many times he had met with the President, and McChrystal made a very public speech in London criticizing the Administration.
As James wrote at New Atlanticist at the time of that last incident:
This isn't exactly Douglas MacArthur territory.  Obama has yet to outline a competing strategic vision and McChrystal is essentially just making a full-throated defense of the doctrine he was sent to carry out.  But it does put his commander-in-chief in a rather awkward position.

His approach is at stark contrast to that of Kip Ward, commander of United States Africa Command, who repeatedly deflected questions about strategic priorities in his Atlantic Council appearance earlier in the week.  Each time such a query was posed, he simply noted that he takes his orders from the president and the secretary of defense.

Somewhere in between these tacks strikes me as the proper mode for four-star commanders. They should work within the commander's intent — which in McChrystal's case means that of CENTCOM chief David Petraeus as well as the president and SECDEF  — but also use their professionaljudgment in how best to carry out their mission.  When it's obvious that the president and his senior advisors are seriously considering a major policy change, however, it's probably best for the generals to provide their inputs in private to avoid giving the appearance of undermining civilian control of policy.
That was then, of course. Now, I think things are different. This time, McChrystal is openly criticizing his civilian superiors, including not only the President but, according to summaries of the article, the Vice-President, the Ambassador to Afghanistan, and the National Security Advisor.
Does this stray into MacArthur territory ? Well, it sure as heck comes close.
What happens to McChrystal at this point is up to Obama, but given the General's public statements it's hard for me to see how the White House and Pentagon can keep him in place. This is insubordination, and there's really only one appropriate response.
Update: Via Mark Halperin, here is the complete article.