Generic Republican Ties Obama In New Gallup Poll, Actual Republicans Not So Much
President Obama isn't unbeatable in 2012. but it's clear even now that he's going to be a far more formidable opponent than many Republicans seem to think.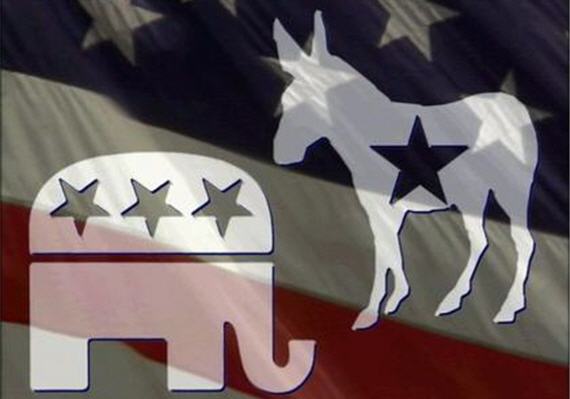 If you're a Republican and you want to defeat President Obama in 2012, the best option may be to nominate The Unknown Candidate:
PRINCETON, NJ — U.S. registered voters are evenly split about whether they would back President Barack Obama for re-election in 2012 (45%) or "the Republican Party's candidate" (45%). This is similar to the results for the same question when it was asked a year ago.

Results from a parallel question Gallup asked during the presidencies of George W. Bush and George H.W. Bush show both of those presidents performing better on this re-elect measure at comparable points in their third years in office than Obama does today.

In polling from October 2001 through January 2004, George W. Bush consistently led an unnamed Democratic opponent, although by a shrinking margin as his job approval rating descended from a post-9/11 reading of 87% to the 50s and 60s. In February 2003, the point in Bush's presidency comparable to Obama's presidency today, Bush beat a generic Democrat among registered voters by 47% to 39%.

Gallup trends during George H.W. Bush's tenure were asked mostly during his third year in office, and show a similar descent in the elder Bush's standing vis-à-vis an unnamed Democrat. However, Bush's position switched from a strong lead — 54% to 33% — in February 1991, during the Persian Gulf War, to a slight deficit (39% to 43%) in early January 1992.
The results are similar in a new Public Policy Polling survey (PDF), but the situation is different once you put the President up against a Republican with a name:
He may be tied with a generic Republican but Obama leads against all of the named candidates in this poll. He has a 3 point advantage over Mike Huckabee at 47-44, a 5 point one over Mitt Romney at 46-41, a 9 point one over Newt Gingrich at 49-40, a 9 point one also over Ron Paul at 48-39, a 12 point one over Sarah Palin at 52-40, a 14 point one over Jeb Bush at 50-36, and a 14 point one over Donald Trump at 48-34.

Obama does better against the real Republicans than the generic ones for a very simple reason: with the exception of Huckabee voters just don't like any of those folks. Huckabee does have a positive favorability rating, at 36/30. The rest are all in negative territory: Jeb Bush's net favorability is -8 (29/37), Mitt Romney's is -9 (33/42), Ron Paul's is -21 (24/45), Sarah Palin's is -22 (34/56), Newt Gingrich's is -25 (27/52), and Donald Trump's is -29 (27/56).

(…)

The big takeaway from this poll: Obama is certainly still vulnerable but whether the GOP's going to be able to take advantage of that vulnerability is an open question. And the Republican base might be its own worst enemy when it comes to whether it's willing to nominate the kind of candidate who can win in November.
Obama may be vulnerable, but he's far stronger than you'd think a President in power when the unemployment rate hovers near 10% and the economy remains anemic at best ought to be. In fact, despite the continued unpopularity of his signature health care bill and the fact that his party suffered historic losses in the midterm elections, Barack Obama's job approval is higher now than it was a year ago: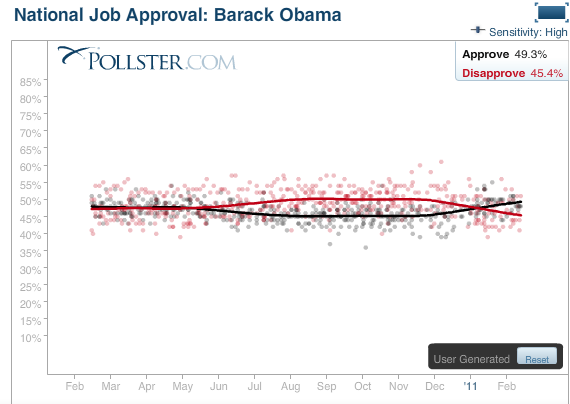 If the economy improves over the next eighteen months, as most analysts expect that it will, then the President's approval numbers are only going to rise, and he is going to become and even more formidable candidate than he is now. That's not to say he's unbeatable, of course, but if the GOP is going to beat him they're going to have to come up with a better candidate than what they've got now.
Or, maybe they just need to find a guy named "Generic Republican."