George H.W. Bush Highly Critical Of Rumsfeld And Cheney In New Book
In a new book, former President George H.W. Bush is highly critical of two of his son's closest advisers in the White House.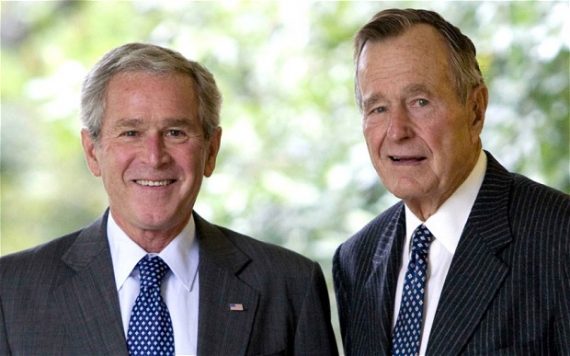 A new biography of former President George H.W. Bush is making news for the comments that the former President, and father of a President, has to say about many of the men that were his son's closest advisers in the White House:
WASHINGTON — After years of holding back, former President George Bush has finally broken his public silence about some of the key figures in his son's administration, issuing scathing critiques of Vice President Dick Cheney and Defense Secretary Donald H. Rumsfeld.

In interviews with his biographer, Mr. Bush said that Mr. Cheney had built "his own empire" and asserted too much "hard-line" influence within George W. Bush's White House in pushing for the use of force around the world. Mr. Rumsfeld, the elder Mr. Bush said, was an "arrogant fellow" who could not see how others thought and "served the president badly."

Mr. Bush's sharp assessments, contained in a biography by Jon Meacham to be published by Random House next week, gave voice to sentiments that many long suspected he had harbored but kept private until now. While he continued to praise his son, he did tell Mr. Meacham that the younger Mr. Bush was responsible for empowering Mr. Cheney and Mr. Rumsfeld and was at times too bellicose in his language.

"I do worry about some of the rhetoric that was out there — some of it his, maybe, and some of it the people around him," Mr. Bush told Mr. Meacham. "Hot rhetoric is pretty easy to get headlines, but it doesn't necessarily solve the diplomatic problem."

Asked for specifics, Mr. Bush cited his son's State of the Union address in 2002, when he described an "axis of evil" that included Iraq, Iran and North Korea. "You go back to the 'axis of evil' and these things and I think that might be historically proved to be not benefiting anything," he said.

The biography, "Destiny and Power: The American Odyssey of George Herbert Walker Bush," is coming out as the country is focused once again on the Bush family and its place in the American firmament. With Jeb Bush, Mr. Bush's second son, struggling in his campaign for the White House, the family that has held the White House the longest in the modern age now faces the possibility that its time has passed.

(…)

[I]t may be Mr. Bush's views of his son's administration and advisers that will draw the most attention. In his interviews with Mr. Meacham, the former president returned several times to the topic of Mr. Cheney, who handled the role of vice president very differently from the way the first Mr. Bush did under Ronald Reagan.

"He had his own empire there and marched to his own drummer," Mr. Bush said. "It just showed me that you cannot do it that way. The president should not have that worry."

He said he thought Mr. Cheney had changed since serving in his cabinet. "He just became very hard-line and very different from the Dick Cheney I knew and worked with," Mr. Bush said. He attributed that to the attacks of Sept. 11, 2001. "Just iron-ass. His seeming knuckling under to the real hard-charging guys who want to fight about everything, use force to get our way in the Middle East."

He speculated that Mr. Cheney was influenced by his wife, Lynne, and his daughter Liz, both strong conservatives. "I've concluded that Lynne Cheney is a lot of the eminence grise here – iron-ass, tough as nails, driving," he said.

Still, he called Mr. Cheney "a good man" who pushed boundaries too far. "The big mistake that was made was letting Cheney bring in kind of his own State Department," Mr. Bush said. "I think they overdid that. But it's not Cheney's fault. It's the president's fault."

By that, he meant his son. "The buck stops there," the elder Mr. Bush said.

He was even harsher about Mr. Rumsfeld, who had been a rival of his since the 1970s, when both served in Gerald R. Ford's administration. "I think he served the president badly," Mr. Bush said. "I don't like what he did, and I think it hurt the president having his iron-ass view of everything. I've never been that close to him anyway. There's a lack of humility, a lack of seeing what the other guy thinks. He's more kick ass and take names, take numbers. I think he paid a price for that."

He added, "Rumsfeld was an arrogant fellow and self-assured, swagger."
The elder Bush's remarks are at times both surprising and entirely unsurprising. It's somewhat surprising, for example, that he would be so harsh on former Vice-President Cheney given the fact that Cheney was, more than a decade before becoming President, one of Bush's closest foreign policy and the man who, along with the former President and General Colin Powell, stood at the top of the planning and decision making process for the Persian Gulf War. At the time, it seemed fairly clear that then-President Bush had real confidence in the former Wyoming Congressman notwithstanding the fact that he was, in fact, his second choice to be Secretary of Defense. Of course, it's also the case that the Dick Cheney who served as Secretary of Defense in the first Bush Administration was quite different from the man who ended up becoming Vice-President a decade later. By all accounts, as Defense Secretary Cheney was fully behind Bush's approach to the Persian Gulf War, including his ultimate decision to not follow the Iraqi Army back to Baghdad after it had been expelled from Kuwait and seek the removal of Saddam Hussein from office. That's not the same Dick Cheney who served as Vice-President under George W. Bush, who was pushing for moves against Iraq almost immediately after the September 11th attacks and continued to push the idea of an Iraq connection to the attacks even after it had been thoroughly discredited, who advocated for hard line positions on issues like warrantless surveillance and torture, and who in many respects seemed to have set up his own little fiefdom in the Vice-Presidents office that often butted heads with President George W. Bush's aides in a number of areas.
It's also worth noting that while the former President has until now been largely silent in public about his son's time as President and those who advised him, others who were part of the first Bush Administration were not so silent even while Bush's son was still in office. The most notable example out of that group, of course, was Bush 41's former National Security Adviser Brent Scowcroft, who was calling the Iraq War a "failure" as early as October 2004 when the younger Bush was in the final weeks of a bid for re-election. There were other comments of a similar nature from former Bush 41 advisers during that time and afterwards, but the former President understandably remained silent in public about what was happening even while many speculated about what he might be saying to his son and others behind closed doors.
Finally, it's worth noting that Bush's assessments here aren't very surprising given the very obvious differences between the type of foreign policy that he and his advisers represented, and that which was typified by his son's Presidency. Foreign policy in the Bush 41 sense was very much in what has been called the realist camp, which played a large role not only in his time as President but also during the Reagan Administration and even earlier during his time as United Nations and even as CIA Director. In the George W. Bush Administration, on the other hand, American foreign policy was far more interventionist and aggressive than anything we saw from the Bush 41 Administration. Of course, many of the differences can be attributed to the fact that Bush 41 was making his decisions, and framing his thinking, in the context of the Cold War and implications of the collapse of the Soviet sphere of influence and the Soviet Union himself that began at nearly the same time as he entered office. Bush 43, meanwhile, was operating in a much different environment in which the United States stood essentially alone as the world's superpower and which changed significantly on September 11, 2001. Even taking those differences into account, though, these different ways of thinking, shaped by different events, make it understandable why the elder Bush would have problems with some of the men whispering in his son's ear.
At the same time, Bush the elder doesn't go so far as to repudiate the central foreign policy decision of his son's Presidency, which was of course heavily influenced by both Cheney and Rumsfeld:
But that did not mean Mr. Bush disagreed with his son about the Iraq war, as many have assumed. Toppling and capturing Saddam Hussein were "proud moments" in American history, he said, and he did not like comparing his son's war with his. "Different wars, different reasons," he said. He denied that he shook his head in disapproval at his son's decisions. "Saddam's gone, and with him went a lot of brutality and nastiness and awfulness," he said.

He would not be drawn into a blow-by-blow discussion of his son's presidency. "He's my son, he did his best and I'm for him," Mr. Bush said. "It's that simple an equation."
I disagree, of course, with the elder Bush's assessment of the Iraq War, but I suppose it's understandable that he would not be critical of what is arguably the most consequential decision of his son's Presidency, or that he'd at least be loathe to express disagreement publicly. For one thing, Bush 41 has never really used his post-Presidency to speak ill of his successors, so it would be unusual. For another, the fact that this book is being released in the midst of a Presidential campaign in which another son is a candidate, Bush may figure that appearing to express anything that would dredge up memories of an era that Jeb Bush is trying to put behind him would just cause problems for the campaign. Add into that, the idea of a father just being a father and not wanting to attack either of his sons publicly, and I'm willing to get the elder Bush a pass on this point.
Notwithstanding his comments about the Iraq War itself, though George H.W. Bush's comments about the people closest to his son who were the primary advocates for that war to begin with, though, speak volumes, and tell us a lot about the differences between father and son.