George Lucas To Continue Killing Star Wars In Blu-Ray Release
George Lucas is once again "enhancing" his epic films for the upcoming Blu-Ray release.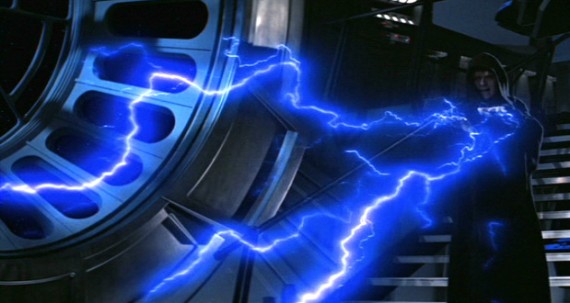 George Lucas has become notorious for making changing to subsequent releases of his iconic Original Trilogy Star Wars films, with the most infamous being his alteration of the Cantina confrontation between Han Solo and Greedo to make it appear that, unlike in the original film, Greedo shot first when everyone knows that it was Han who shot first, in a scene that in some sense defined his character from the start. Now, with the Blu-Ray release of all six movies set for later this month there's word of even more changes, including one that fundamentally alters the climatic scene of the entire story:
It's an event that seems to happen in the "Star Wars" world about as often as Wookiees celebrate Life Day, and which fans await with just as much dread. New versions of George Lucas's space-fantasy films are released, and with them come changes to the movies – alterations to audio and video, characters' actions and even dialogue that is very different from what fans remember seeing in theaters a long time ago and far, far away.

So it goes for the latest editions of the six "Star Wars" live-action features that are being prepared for a Blu-ray home video release on Sept. 16. Previously, it was reported that the version of "Star Wars – Episode I: The Phantom Menace" included in this release would replace the puppet version of the Yoda character with a computer-generated creation. Then on Tuesday, an online report by Devin Faraci suggested a revelation almost as troubling as the news that Luke and Leia had been brother and sister all along: in a climactic scene from "Return of the Jedi," when Darth Vader hurls the evil Emperor to his demise on the Death Star, he would now shout "No!" (In all previous versions of "Jedi," Vader has committed this crucial deed in silence.)

On Wednesday, a press representative for Lucasfilm confirmed that this change will be included in the Blu-ray release, writing in an e-mail: "Yes — Darth says NO."
Kelsey Williams at the San Francisco Chronicle isn't pleased at all:
The new line is a fairly obvious reference to the abysmally comedic moment in "Revenge of the Sith" (2005), when Darth Vader makes his debut in the chronology of the series, learns of his wife Padme's death and cries cartoonishly, "Noooo!" This moment, clearly meant to evoke tragedy and empathy for the newly made Dark Lord, mostly drew mocking laughter (at least that was the case in my theater).

But hey, Lucas has been futzing with his work for years. Adding in ghostly Hayden Christenson at the end of "Return of the Jedi," putting a CGI Jabba the Hut into "A New Hope," changing the sequence of events, updating graphics for aliens and monsters, and even making three prequels that are pretty much universally considered the unwanted-stepchildren of the Star Wars bunch by fans.

Most of these changes spawn frenetic online activity from the Star Wars fanbase, and bring Lucas into the limelight for yet another 15 minutes of Google trending fame.
And, to be fair, some of the changes are either minor or relatively acceptable. The addition of CGI effects to the Special Edition release of Episode IV didn't really alter the story significantly, and gave more of an alien feel to many of the scenes. Lucas said at the time, that he had intended to have these effects in the original movie, but they were either too expensive at the time, or simply technologically impossible in the late 1970s. That's one thing, altering the plot of the movie, though, is something different. It would be like Francis Ford Coppolla suddenly deciding to add a digital comedic character into The Godfather, or changing the horse's head to a pot of spaghetti sauce. As Allahpundit, put it, say what you will about Paul McCartney's post-Beatles careers but at least he hasn't released an "enhanced" version of Abbey Road with an accordion added into the mix. It detracts from the movie, and it's usually just profoundly dumb.
Lucas has the right to do this, of course. They're his movies and he can do pretty much whatever he wants to them. In the end, it probably won't even impact the sales of the Blu-Ray edition all that much since all the fanboys will buy it anyway because they'll want to have a complete set of everything Star Wars related. But anyone who hits "play" that DVD of Episode IV, V, or VI should realize that the movie they'll be watching isn't the same one that audiences flocked to 35 years ago. If  Lucas were smart, he'd offer a Blu-Ray version of those original releases, including that scene where Han shoots first. I know I'd buy it.
Anyway, judge what is likely to become the most infamous Lucas alteration for yourself.
Here's the original scene from Return of the Jedi where Vader throws off the shackles of the Dark Side:
And here's the new version:
Frankly, the original strikes me as clearly superior, and Lucas's "enhancement" turns the climatic scene of a six-part story into something slightly cheesy. Pretty sad.