George W. Bush Speaks Out Against President Trump
Well, at least someone has a backbone.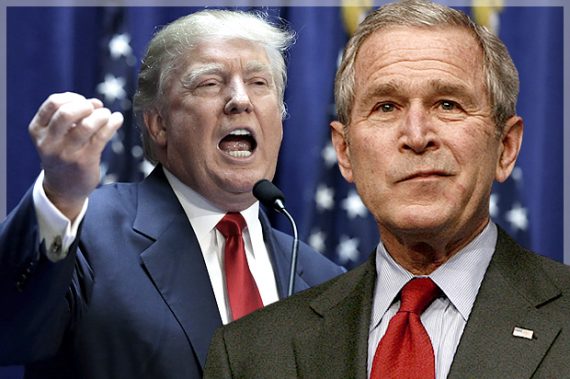 Former President George W. Bush was seemingly critical of President Trump on a number of fronts in an interview yesterday that is certainly raising some eyebrows:
WASHINGTON — Former President George W. Bush implicitly criticized President Trump on Monday, taking issue with his approach to immigration and the news media, and suggested that any ties between the new president's team and Russia should be investigated.

In a television interview to promote a new book of his paintings, Mr. Bush indicated that important questions were raised by reported contacts between Russian officials and Mr. Trump's associates during last year's election campaign. Mr. Trump forced out his national security adviser for withholding information about a call with Russia's ambassador.

"I think we all need answers," Mr. Bush said on the "Today" show on NBC. He said he would defer to Senator Richard M. Burr, Republican of North Carolina and chairman of the Senate Intelligence Committee, about how such an investigation should be conducted. He is a "really good guy, and an independent thinker," Mr. Bush said of Mr. Burr, "and if he were to recommend a special prosecutor, then it would have a lot more credibility with me."

Like other members of his family, Mr. Bush did not support Mr. Trump during last year's campaign against Hillary Clinton, although in public he largely kept his views to himself. Mr. Bush congratulated Mr. Trump after his victory and attended the inauguration last month, but the interview on Monday made clear that the most recent Republican president still had serious disagreements with his party's incumbent commander in chief.

Although he did not mention Mr. Trump by name, Mr. Bush expressed disapproval of the president's assertion that "fake news media" organizations are the "enemy of the American people."

"I consider the media to be indispensable to democracy," Mr. Bush told Matt Lauer, the "Today" host. "We need the media to hold people like me to account. I mean, power can be very addictive and it can be corrosive and it's important for the media to call to account people who abuse their power, whether it be here or elsewhere."

He seemed to suggest that language like Mr. Trump's made it more difficult to press authoritarian leaders like President Vladimir V. Putin of Russia to tolerate a free press. "It's kind of hard to, you know, tell others to have an independent free press when we're not willing to have one ourselves," he said.

Mr. Bush also urged tolerance when asked about Mr. Trump's efforts to temporarily ban travelers from seven predominantly Muslim countries. As president, Mr. Bush made a point of visiting a mosque after the attacks of Sept. 11, 2001, and regularly insisted that the United States was not at war with Islam.

"It's very important for all of us to recognize one of our great strengths is for people to worship the way they want to or not worship at all," Mr. Bush said. "I mean the bedrock of our freedom — a bedrock of our freedom is the right to worship freely."

Asked if he supported a ban on Muslim visitors to the United States, the former president said, "I am for an immigration policy that's welcoming and upholds the law."
While Bush stopped short of criticizing Trump directly by name, it doesn't take much to figure out who or what he was talking about, and the fact that this is essentially the first time he's spoken out at all about the policies of either of his successors is certainly significant. It's also not a secret that there's no real love lost between Trump and the Bush family in general, especially after last year's campaign for the Republican nomination during which Trump directly attacked not only his opponent former Florida Governor Jeb Bush's, but also Bush's wife, the 43rd President, and family patriarch George H.W. Bush. Additionally, the Bush clan was noticeably absent from 2016 Republican National Convention despite the fact that at least one of the former Presidents has attended or delivered a message to the event each of the previous years it has occurred. To cap it all off, the public statements from Texas made it clear that not only were the last two Republican Presidents not supporting Trump in the General Election but that they were voting against him. Given this history, it seems that the grudges from the campaign trail still exist and that the younger Bush is taking no small degree of satisfaction in the fact that Trump is largely proving the family right in his first month in office.
In reality, of course, this is unlikely to change the opinion of Donald Trump very much inside the Republican Party where it counts. For the most part, the corners of the GOP where the Bush name still carries some influence are already largely opposed to the Trump agenda. Among the Trump supporters that, unfortunately, are seemingly taking over the party to a greater and greater extent every day, Bush is viewed even worse than he is by many Democrats. Nonetheless, it's good to have someone speaking out against the current occupant of the White House and, at least to some extent, Bush has seemingly redeemed himself by being willing to speak truth to power, something that is sadly lacking in the Republican Party at the moment.