George Will Has A Question For Republicans About Iraq, And So Do I
Some questions for the Republicans who would be President about the actions of the last Republican President.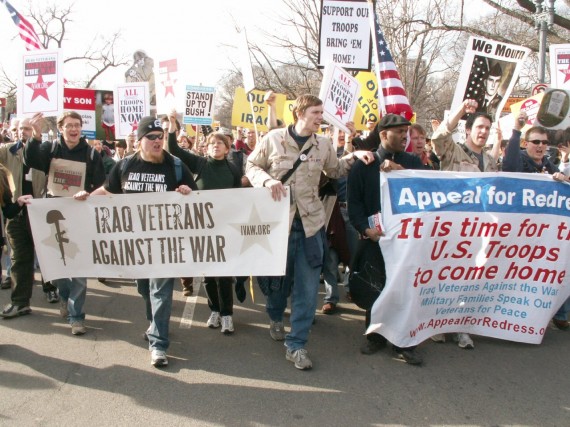 George Will has a question for Republican candidates for President:
Here is a question for Republican presidential aspirants:

Given the absence of Iraqi weapons of mass destruction, and given that we now know how little we know about "nation-building" and about the promotion of democracy in nations that need to be "built," and given that Saddam Hussein's horrific tyranny at least controlled Iraq's sectarian furies, and given that Iraq under him was Iran's adversary, and given that 10-year wars make Americans indiscriminately averse to military undertakings — given all this, if you could rewind history to March 2003, would you favor invading Iraq?
On some level, of course, one could argue that this isn't a relevant question. The Iraq War started eleven years ago and the last American forces withdrew from the country two and a half years ago. On some level, the wisdom and consequences of the Iraq War are a matter for historians to debate rather than the kind of hot button political issue that we usually ask candidates for President. We don't ask candidates in 2014 what they think about President Johnson's decision to escalate the military involvement in Vietnam that his predecessor had begin, for example, so what's the point of asking them about something that happened in the past that we can't really change?
As Will suggests in his column, though, the question is important because it provides a clue into how a candidate might view foreign policy questions going forward. If we know that a candidate would still launch the Iraq War today even knowing what the consequences would be, and that the justification for war would turn out to have been false, then it raises legitimate doubts about how they would approach a decision about whether or not to intervene elsewhere in the world in the future. Indeed, I would argue that anyone who would answer "yes" to Will's question is questionable at beast, and possibly not fit to be Commander in Chief at worst. Saying that you would willfully engage in activity that you know has no legitimate basis, and which would have disastrous consequences in the future shows what can only be described as an appalling lack of judgment.
It strikes me, though, that Will isn't asking the right question. Hindsight, after all, is 20/20 and it's easy for a politician to say that, if they knew then what we know now, that wouldn't launch the invasion of Iraq in 2003. The more interesting question, and one that perhaps has more potential to tell us how a candidate thinks about these issues is to ask them if, knowing only what was available to the President at the time, they would have followed President Bush's example and invaded Iraq.
Let's keep in mind what this means. Yes, there was evidence at the time suggesting that Saddam Hussein was continuing to operate some kind of WMD program in Iraq in violation of the treaty that ended the Persian Gulf War more than a decade earlier and other international agreements. However, there was also reason at the time to call into question the veracity of much of this evidence, including evidence that called into serious doubt the veracity of the man who was one of the West's chief intelligence sources on Iraq at the time.  Additionally, although Sadddam was not fully cooperating with UN weapons inspectors, apparently in large part due to his efforts to maintain the illusion of a WMD program that no longer existed, there were inspections prior to the invasion that disputed the Bush Administration's assertions regarding Iraqi WMDs. Indeed, Hans Blix, the head of the UN inspection program, said publicly that no evidence of an ongoing WMD program existed that the UN inspectors could find during the time in Iraq.  Other evidence that didn't become public until much later also called those claims into question.  In addition to all of that, former Bush advisers such as Richard Clarke have said that they lobbied against a war that would depose Saddam precisely because it would lead to the kind of destabilization that we are seeing play out before our eyes today. In an interview yesterday on CNN, as a matter of fact, Clarke noted that Dick Cheney was one of the main people to raise that very argument in 1991 when the question of whether or not to proceed to Baghdad after pushing Iraq out of Kuwait came up in the closing days of the Persian Gulf War. As Clarke put it, Cheney seems to have forgotten about those concerns entirely when he became Vice-President. The point of reciting all of this is to make clear that there were as many reasons not to go to war in 2003 as there were arguments in favor of it, perhaps more, but that the Bush Administration chose to ignore the critics and proceed with a plan that seemed to pop up out of nowhere in the wake of the September 11th attacks.
It would be interesting, indeed quite important, to know whether candidates running for President now or in the future would be able to recognize the fact that even with the evidence available in 2002-2003, and without any ability to see the future consequences of an invasion, there was still an argument against war in Iraq that was, arguably, stronger than any of the arguments in favor of it. That's the kind of question that might actually be able to tell us something about how a candidate thinks. Something tells me, though, that most of the Republicans who do run for office in 2016 will spend more time blaming President Obama for whatever happens in Iraq over the next two years than they will considering the possibility that all of this could have been avoided if one President had made a better choice a decade earlier.