Gingrich SuperPAC's Anti-Romney Film Fails The Fact Check Test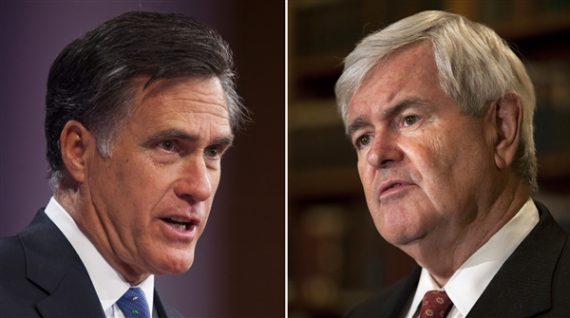 The Washington Post's Fact Checker took a look at "King Of Bain," the 27 minute film released yesterday by the pro-Gingrich SuperPAC attacking Mitt Romney's career at Bain Capital, and found it wanting:
Newt Gingrich, meet Michael Moore!

The 29-minute video "King of Bain" is such an over-the-top assault on former Massachusetts governor Mitt Romney that it is hard to know where to begin. It uses evocative footage from distraught middle-class Americans who allege that Romney's deal-making is responsible for their woes. It mixes images of closed factories and shuttered shops with video clips of Romney making him look foolish, vain or greedy. And it has a sneering voice-over that seeks to push every anti-Wall Street button possible.

Here's just a sampling of what Romney and Bain Capital, which he once headed, is accused of: "Stripping American businesses of assets, selling everything to the highest bidder and often killing jobs for big financial rewards . . . high disdain for American businesses and workers . . . upended the company and dismantled the work force; now they were able to make a handsome profit . . . cash rampage . . . contributing to the greatest American job loss since World War II . . . turn the misfortune of others into their own enormous financial gain."

The video ends with a crescendo of images of despair, with voices of the victims adding emotional punch: "A lot of lives were ruined . . . he took away our livelihoods . . . he took away our future . . . he destroyed a lot of homes . . . it all gets back to greed." (Irritatingly, few of these ordinary citizens are identified.)
First, as Joe Friday used to say, just the facts ma'am:
First of all, it is a stretch to portray Romney as some sort of corporate raider, akin to Carl Icahn (whose image is briefly seen).  Bain Capital initially was in the business of providing venture capital — seed money — for start-ups, such as Staples. Then it moved to the more lucrative business of private equity, in which Bain won control of firms, reorganized them and then sold them for profit. (Our colleague Suzy Khimm earlier this week did an excellent job of explaining the two sides of Bain Capital.)

Private equity deals, such as leveraged buyouts in which the company borrows lots of debt, can be more rewarding but also more risky. Some of those deals went bad for Bain, which sometimes happens in finance, though the company usually made money anyway. New York magazine, which the film cites as a source, recently ran an excellent profile of Romney in which it explored Romney's pioneering role in the then-emerging field of private equity. Private equity revolutionized American business, demanding efficiencies (which can mean layoffs) and helping place much more emphasis on increasing shareholder value.

The movie pejoratively claims that the "Bain Way" was shorthand for being able to "turn the misfortunes of others into their enormous financial gains." Bain Capital was actually an offshoot of Bain & Company, a consulting firm, and the "Bain Way" refers to its heavily analytical and data-driven approach to problems.
The article goes on to review each of the four transactions that were covered in the film, and it's very clear the the film distorts the truth about the deals, and leaves out any mention about the positive benefits that the injection of private equity had for each of these company. As the article goes on to note, whether or not the private equity business as a whole is a good thing is an entirely different question, but it seems fairly obvious that this attack film is full of distortions and outright lies. Hence, it gets the lowest rating possible:
Romney may have opened the door to this kind of attack with his suspect job-creation claims, but that is no excuse for this highly misleading portrayal of Romney's years at Bain Capital. Only one of the four case studies directly involves Romney and his decision-making, while at least two are completely off point. The manipulative way the interviews appeared to have been gathered for the UniMac segment alone discredits the entire film.
Wasn't Gingrich complaining about unfair SuperPAC ads in Iowa just two weeks ago?