Giuliani Subpoenaed In Impeachment Inquiry
The President's attorney Rudy Giuliani is among the first to be served with a subpoena in connection with the newly-launched impeachment inquiry.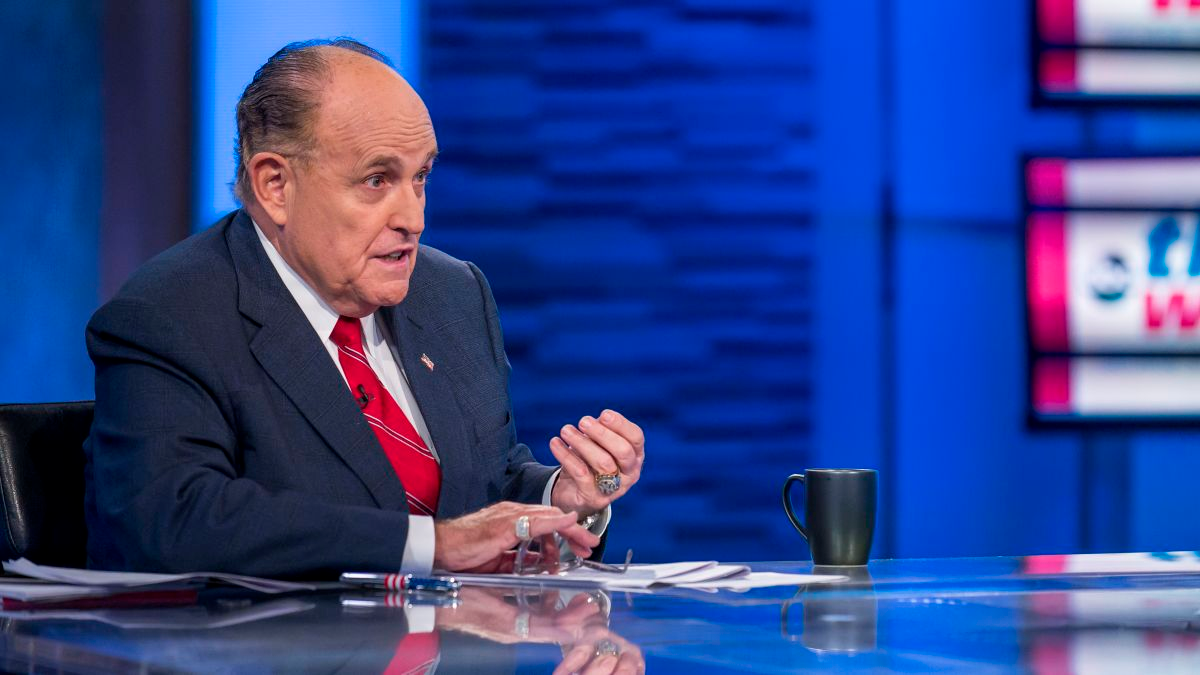 As part of its investigation of the President's phone call(s) with Ukrainian President Volodymyr Zelensky and the efforts to get him to reopen an investigation aimed at former Vice-President Joe Biden and his son, the House Intelligence Committee has issued subpoenas against Rudy Giuliani, the President's personal lawyer who has played a key role in pressuring Ukrainian officials to act:
WASHINGTON — House Democrats on Monday subpoenaed President Trump's private lawyer, Rudolph W. Giuliani, a key figure in their impeachment inquiry, even as the president vowed to learn the identity of the anonymous whistle-blower whose accusations of presidential impropriety toward Ukraine lie at the center of the scandal.

The Giuliani subpoena punctuated another day of confrontation in the capital, rife with accusations by both Democrats in Congress and an increasingly combative president.

"Our inquiry includes an investigation of credible allegations that you acted as an agent of the president in a scheme to advance his personal political interests by abusing the power of the office of the president," three Democratic House chairmen wrote in a letter to Mr. Giuliani, who has served as Mr. Trump's personal representative in Ukraine.

Democrats also requested documents and testimony from three of Mr. Giuliani's associates who are said to be connected to an effort to pressure the Ukrainians into investigating Democratic rivals of Mr. Trump. They promised more subpoenas for other witnesses in the coming days.

(…)

For now, though, Democrats remain focused on Ukraine and what efforts were made there on behalf of Mr. Trump. In targeting Mr. Giuliani, Democrats are aiming directly at the man who appears to be at the center of the pressure campaign against the Ukrainian government.

Mr. Giuliani is mentioned frequently in the whistle-blower's complaint and in recent weeks, he has admitted in interviews to trying to gather damaging information in Ukraine on Democrats, including Mr. Biden, that would help the president politically. He has also said the State Department was aware of some of his actions.

Mr. Giuliani has now been asked by House investigators for a range of communications and documents going back to January 2017. They include anything related to $391 million in American security aid that the Trump administration temporarily withheld from Ukraine and that Democrats have speculated may have been part of an effort to pressure the Ukrainian government.
Giuliani acknowledged receipt of the subpoena, but was not clear on whether or not he'd comply with it:
President Trump's personal attorney, Rudy Giuliani, wouldn't say Monday if he will comply with House Democrats' subpoena related to the administration's interactions with Ukraine, which are now the subject of an impeachment inquiry.

"I have received a subpoena signed only by Democrat Chairs who have prejudged this case," Giuliani said in a statement on Twitter.

Giuliani is facing mounting scrutiny over accusations that he tried to influence Ukrainian officials to investigate former Vice President Joe Biden or Biden's son as part of a broad effort to aid Trump's 2020 re-election efforts.
He also commented about it on Fox News last night:
Just hours after being issued a subpoena from top congressional Democrats, Rudy Giuliani appeared on Fox News to defend his involvement with Ukraine, actions that have become central to an impeachment inquiry of President Donald Trump.

Trump's personal attorney appeared on Sean Hannity's program as part of his latest effort to distance himself from the political whirlwind surrounding Trump's July 25 call with the Ukrainian president.

During the "Hannity" segment, Giuliani appeared to question the motives behind the subpoenas while defending his communications with officials in Ukraine about investigating former Vice President Joe Biden, a top Trump rival in the 2020 presidential campaign. He also reminded viewers that he was a professional lawyer as he pushed unfounded conspiracy theories targeting a spate of his boss's political rivals.

"These people are such intellectual heavyweights, I don't know if I could handle Schiff," Giuliani said Monday, appearing to joke about Rep. Adam Schiff (D-Calif.), the chair of the House Intelligence Committee who recently sent him a subpoena.

Giuliani went on to push unfounded claims about the Biden family, Trump's 2016 political rival Hillary Clinton and former President Barack Obama.
Here's the video of the appearance:
The fact that Giuliani has been subpoenaed so soon in the investigation is not surprising, of course. For months now, the former New York Mayor and United States Attorney has traveled to and from Ukraine seeking to pressure Ukranian officials to provide more information about the business dealings of Hunter Biden and the role, if any, that former Vice-President Joe Biden had in the alleged, but unproven, corruption at the company where the younger Biden was a member of the Board of Directors. He has talked openly about these trips in his all-too-frequent appearances on various news channels, including both CNN and Fox News Channel, and has even taken to claiming recently that he was working at the behest of the State Department, something that Foggy Bottom has not verified.
In his initial response, Giuliani has not made clear whether he will comply with the subpoena, but in reality, he has no choice in the matter. He cannot claim Executive Privilege because he was not working for the government at the time of his trips to Ukraine. In fact, since he has said he was serving as a personal attorney for the President it would potentially be a conflict of interest for him to work for both the government and the President at the same time. With respect to his communications with Ukrainian officials, he cannot claim any kind of Attorney/Client privilege because they were not his client. Indeed, it's unclear if he can even claim Attorney/Client Privilege with respect to conversations with the President since he has spoken publicly about the contents of his talks with the President and therefore arguably already waived that privilege. Finally, there does not appear to be any other privilege that he could claim here.
Copies of the Chairmen's letter and the list of documents that accompanied the subpoenaed:
House Letter to Giuliani by Doug Mataconis on Scribd
Giuliani Schedule of Documents by Doug Mataconis on Scribd