Golf Legend Arnold Palmer Dies At 87
A golf legend passes away.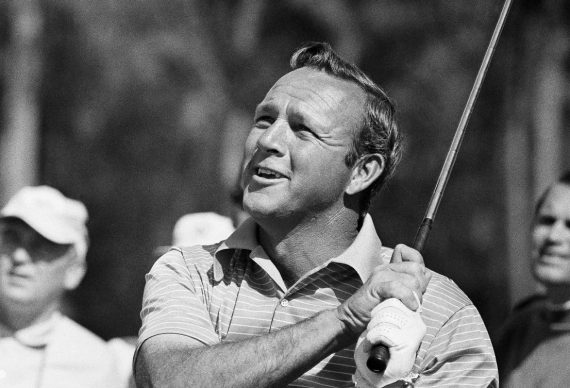 Arnold Palmer, a legend of modern professional golf who became the one of the sports major media stars, has died at the age of 87:
Arnold Palmer, the champion golfer whose full-bore style of play, thrilling tournament victories and magnetic personality inspired an American golf boom, attracted a following known as Arnie's Army and made him one of the most popular athletes in the world, died on Sunday, according to a spokesman for his business enterprises. Palmer was 87.

The spokesman, Doc Giffin, said the cause of death was complications from heart problems. Paul Wood, a spokesman for the University of Pittsburgh Medical Center, confirmed that Palmer died Sunday evening at UPMC Shadyside Hospital in Pittsburgh.

From 1958 through 1964, Palmer was the charismatic face of professional golf and one of its dominant players. In those seven seasons, he won seven major titles: four Masters, one United States Open and two British Opens. With 62 victories on the PGA Tour, he ranks fifth, behind Sam Snead, Tiger Woods, Jack Nicklaus and Ben Hogan. He won 93 tournaments worldwide, including the 1954 United States Amateur.

But it was more than his scoring and shotmaking that captivated the sports world. It was how he played. He did not so much navigate a course as attack it. If his swing was not classic, it was ferocious: He seemed to throw all 185 pounds of his muscular 5-foot-10 body at the ball. If he did not win, he at least lost with flair.

Handsome and charming, his sandy hair falling across his forehead, his shirttail flapping, a cigarette sometimes dangling from his lips, Palmer would stride down a fairway acknowledging his army of fans with a sunny smile and a raised club, "like Sir Lancelot amid the multitude in Camelot," Ira Berkow wrote in The New York Times.

And the television cameras followed along. As Woods would do more than 30 years later, Palmer, a son of a golf pro at Latrobe Country Club in the steel town of Latrobe, Pa., almost single-handedly stimulated TV coverage of golf, widening the game's popularity among a postwar generation of World War II veterans enjoying economic boom times and a sprawling green suburbia.

His celebrated rivalry with Nicklaus and another champion, the South African Gary Player — they became known as the Big Three — only added to Palmer's appeal, and more often than not, he, not the others, had the galleries on his side.

"Arnold popularized the game," Nicklaus said. "He gave it a shot in the arm when the game needed it."

Hitching up his pants as he marched down the fairways or before lining up a crucial putt, Palmer put the word "charge" into golf's vocabulary in 1960. In the final round of that year's Masters, he birdied the 17th and 18th holes to win by one stroke. Two months later, in the United States Open at Cherry Hills, near Denver, he shot a final-round 65 to win by two over Nicklaus.

"I seem to play my best in a big tournament," Palmer said. "For one thing, my game is better adapted to the tougher courses. For another, I can get myself more keyed up when an important title is at stake. I like competition — the more rugged, the better."

And if he lost, his army did not desert him. In the 1961 Los Angeles Open at Rancho Park, he recorded a 12 on the par-5 ninth hole when he hit four balls out of bounds. Palmer's fans were deflated, like him, but somehow, his flubs enhanced his appeal. He was human; he could blow a lead or a shot like any duffer. And they liked that he went down swinging, with his lunging, go-for-broke play. If he hit a wayward tee shot to an awkward spot, he usually went for the green, rather than chip the ball safely back to the fairway, as other golfers would have done.

"You can make mistakes when you're being conservative, so why not go for the hole?" he said. "I always feel like I'm going to win. So I don't feel I'm gambling on a lot of shots that make other people feel I am."

His nickname among tour pros was the King, although he never basked in the title. But it fit. He was the first athlete to receive three of the United States' civilian honors: the Presidential Medal of Freedom, the Congressional Gold Medal and the National Sports Award. And he became a one-man multimillion-dollar conglomerate.

As the president of Arnold Palmer Enterprises, he supervised the design and development of more than 300 new or remodeled golf courses worldwide, as well as golf clubs and clothing.

He popularized a drink known as the Arnold Palmer, a mixture of iced tea and lemonade now sold under his name on supermarket shelves.

He was a major fund-raiser for the Arnold Palmer Hospital for Children and Women in Orlando, Fla., and for Latrobe Hospital. He was the original chairman of cable television's Golf Channeland was a longtime corporate spokesman, notably in a Pennzoil commercial featuring a tractor he had driven growing up on the Latrobe course.

After buying his first plane, a used twin-prop Aero Commander, for $27,000 in 1962, he became the first golf pro to pilot his own plane from tournament to tournament. He graduated to jets in 1966. The Latrobe airport is named for him.

With two co-pilots and an observer, he circumnavigated the globe in 1976 in 57 hours 25 minutes 42 seconds, a world record for jets in the 17,600-to-26,400-pound category. He spent more than 20,000 hours in the cockpit.

"Flying has been one of the great things in my life," he said. "It's taken me to the far corners of the world. I met thousands of people I otherwise wouldn't have met. And I even got to play a little golf along the way."

(…)

Arnold Daniel Palmer was born in Latrobe, southeast of Pittsburgh, on Sept. 10, 1929, the first child of Milfred and Doris Palmer. (A sister, Lois Jean, who was known as Cheech, was born when Arnold was 2.) His father, who was known as Deacon, then Deke, worked in the steel mills and as a laborer and greenskeeper at the Latrobe club, then a nine-hole course, until 1932 or '33, when he was named the club pro. Arnold's mother kept the pro-shop books. The family lived in a modest house on the edge of the course.

Arnold was about 3 when he began to swing a 3-iron with a sawed-off shaft. His father told him, "Hit it hard," and he did. At age 9, he shot a 45 for nine holes. He went on to win the Western Pennsylvania Junior three times and the Western Pennsylvania Amateur five times before he entered Wake Forest, after graduating from Latrobe High School. In college, he played on two Atlantic Coast Conference championship teams.

"I don't think I have any stronger nerves than the next man," he once said. "I suppose it's just the patience I got from my mother, Doris, and the ornery bullheadedness I got from Pap."

His relationship with his father ran deep, and Palmer would grow emotional in recalling him. Deke Palmer had polio as a child and walked with a limp, and in 2014 the P.G.A. of America made him the first recipient of an award established in his honor, citing a P.G.A. member who had overcome personal adversity to contribute to the game. He died of a heart attack at 71 in 1976 after playing 27 holes at Bay Hill.

As a Wake Forest student, Palmer was shattered by the death of his classmate and close friend Bud Worsham, the son of the 1947 United States Open champion, Lew Worsham, in an auto accident. Palmer soon withdrew from college during his senior year and served three years in the Coast Guard. After his discharge, he was working as a salesman in Cleveland (where he met McCormack) when he won the 1954 United States Amateur at the Country Club of Detroit.

At an eastern Pennsylvania tournament a few weeks later, Palmer met Winifred Walzer, a 19-year-old who was studying interior design at Pembroke College, an arm of Brown University, in Providence, R.I. Her father was an institutional food distributor in Bethlehem, Pa. She and Palmer hit it off at dinner the next evening, and he proposed to her three days later.

After eloping, they were married in Falls Church, Va., before a small group of Palmer family members and friends on Dec. 20, 1954. (The Walzers stayed away, convinced that their daughter had made a mistake.) The couple traveled the 1955 pro tour in a secondhand trailer.

"For years," McCormack said, "Winnie handled the family finances and handled them well while heeding certain rules set down by Arnold, whose ideas about money do not follow common practice. She balanced the books, paid the bills, made the travel arrangements, mailed the entry blanks and, in short, devoted her entire attention to one goal: making sure that her husband's mind was free to concentrate on golf."

On her husband's 37th birthday, in 1966, Winnie Palmer arranged for one of Arnold's special friends to attend the family party in Latrobe as a surprise guest — former President Dwight D. Eisenhower. Arnold and the president had occasionally played golf together at Augusta National, where the president, an avid golfer, was a member.

Winnie Palmer died of breast cancer in 1999 at 65. Arnold Palmer married Kathleen Gawthorp, a Californian known as Kit, in 2005 in Oahu, Hawaii. It was her second marriage as well.

She survives him, along with two daughters, Peggy Wears and Amy Saunders; two sisters, Lois Jean Tilley and Sandra Sarni, both of Latrobe; a brother, Jerry, a former general manager at Latrobe Country Club; six grandchildren, including Sam Saunders, a pro who has played in several tour events; and several great-grandchildren.
The peak of Palmer's carer came well before I was born, of course, and I can't say that I've ever been a fan of watching gold on television to begin with. That being said, Palmer was among those athletes who became a household name well outside his sport thanks to both his outgoing personality and a trove of media coverage that turned him into the first real star of the modern era in professional golf. In his later years, he became a constant presence on the tour even when he was no longer competitive and often served the role of hitting the first shot of a number of tournaments even after he officially retired some ten years ago. In recent years, though, and especially this year Palmer missed a number of those appearances  due to what was referred to as poor health, though. His absence left a hole in tradition and is likely to be noted on the tour in the months to come.