GOP Congressional Aide Resigns In Wake Of Remarks About Obama Daughters
Public Relations 101: When you have a job in public relations, don't say stupid things.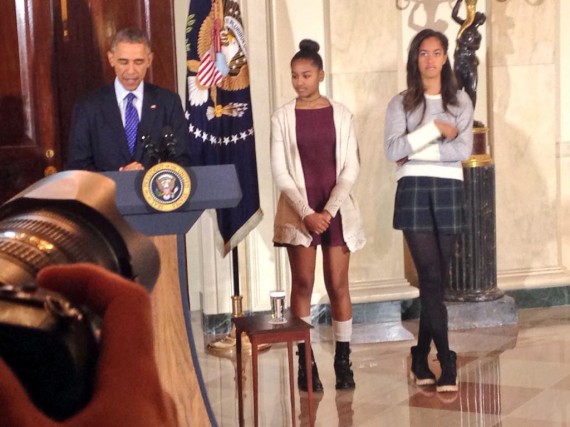 The Communications Director for a Republican Congressman has resigned after becoming the focus of a Thanksgiving weekend online kerfuffle over her comments about the President's daughters at Wednesday's "Turkey Pardoning" event:
Elizabeth Lauten, the Republican congressional aide who faced backlash after sharply criticizing the first daughters, has resigned, according to a report on NBC on Monday.cere

Lauten told NBC News that "she is 'resigning today' following her comments about Sasha and Malia Obama," according to a tweet from an NBC News Capitol Hill producer.

Reports of the resignation came after Sean Spicer, the RNC's communications director, took to Twitter early Monday morning to comment on a recent Facebook post made by Lauten, the communications director for Rep. Steven Fincher (R-Tenn.).

"Children, especially the first daughters, are off limits," Spicer tweeted before labeling the comments "inappropriate" and "insensitive."
The whole controversy started when Lauten took to Facebook to comment on the Obama daughters appearance at the ceremony where they at times appeared bored and not terribly amused at their father's jokes about pardoning turkeys, as teens are wont to do at times, and their expressions in the photograph above became the inspiration for some gentle mocking about the silliness of the entire "turkey pardoning" tradition to begin with. Lauten's comments, though, went in a different direction:
Over the weekend, a Facebook post made by Lauten after the White House's annual turkey pardoning ceremony surfaced where the aide sharply criticizes the Obama girls.

The post read, "Dear Sasha and Malia, I get you're both in those awful teen years, but you're a part of the First Family, try showing a little class. At least respect the part you play. Then again your mother and father don't respect their positions very much, or the nation for that matter, so I'm guessing you're coming up a little short in the 'good role model' department."

It continued, "Nevertheless, stretch yourself. Rise to the occasion. Act like being in the White House matters to you. Dress like you deserve respect, not a spot at a bar. And certainly don't make faces during televised public events."

She later issued on apology over Facebook that claimed she "reacted to an article and…quickly judged the two young ladies in a way that [she] would never have wanted to be judged…as a teenager." Lauten claimed that after "many hours of prayer" and speaking with her parents she saw that her words were "hurtful" and apologized to anyone she had "hurt and offended."
The initial comments were, of course, inappropriate and over the top, especially considering they were directed at teenage girls, but they ended up becoming something of a social media firestorm due, no doubt, to the fact that it was the slowest of slow news weekends. Lauten herself had avoided any comment on the matter all weekend and deleted the Facebook posts in question, but of course the damage had been done. Bloomberg's David Weigel likened the reaction to Lauten's comments that led to her resignation, which is of course your typical Washington firing, to a mob, but I have to largely disagree. First of all, if there's one rule that still applies in politics its that kids ought to be off limits, and that would seem to especially apply when we're speaking of the First Daughters, or any kids who aren't adults yet. Yes, it's true that the Bush daughters got some unfavorable press attention when they got caught trying to buy drinks with fake identification, but they at least were over 18 at the time and were engaging an activity that, technically at least, was a violation of the law. The Obama daughters were just standing there while their Dad engaged in the rather silly act of pardoning a turkey, obviously not there entirely voluntarily, and trying their best not to look awkward. Second, Lauten comments about their appearance —- specifically that they were dressed like they were looking for "a spot at the a bar" — were both dumb and completely inappropriate, as she herself recognized later on. Third, Lauten's comments about the President and First Lady not respecting "their positions very much" was the kind of absurd partisanship I'd expect of a talk radio host, not the Communications Director for a Member of Congress.
Did Lauten deserve to be fired over this? That really isn't for me to say, but obviously her employer thought so, and that leads us to the real lesson here. If you are the Communications Director for a politician, or indeed the public face for any important person in politics or the private sphere, and you say something that embarrasses your boss then there's at least a chance you're going to be "asked to resign." That's life, that's politics. So, the lessons today? Don't drag children into your political arguments, not even, or maybe better put especially not, the President's children. And, don't post things online that are going to embarrass you and the person you work for when your job involves public relations. These are, quite honestly, such elementary points that one wonders why they bear repeating.