Guns and Self-Protection
Some musing on guns: who uses them, how, and why.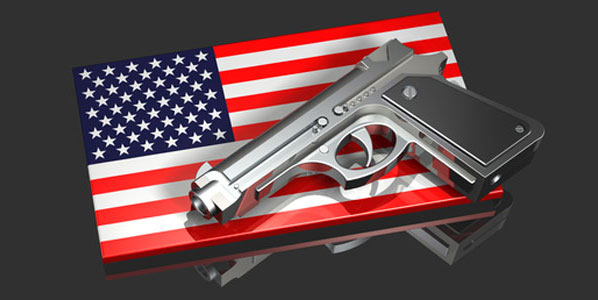 Via Matthew Shugart, I would recommend the following essay by political scientist MIguel Centellas:  Guns and Gangs.
Centellas relates his own personal context in the gun debate, pointing out first:
I'm not opposed to guns per se. Both my grandpa and dad were hunters (and I always wanted to go). I've shot guns of various kinds, enjoyed it, and was good at it (I have certificates to prove it). But growing up in Michigan, where hunting was a big deal, and where my grandpa and dad (and uncles, neighbors, etc.) went hunting, I rarely ever saw a gun. My grandpa kept his (a rifle, some shotguns, and a pearl handled .22 pistol) locked up in some remote corner of the basement. They were never in any way "readily accessible." Someone could've broken into his house and he'd be helpless, his guns a flight of stairs away in a dark corner. I only ever saw my father's gun once (a classic Mauser bolt action). That was my experience with "legal" gun ownership. It's also what I expect of people who advocate "responsible" gun ownership.
He also notes another bit of experience:
Ironically, in many ways, these gangbangers were ultimate libertarians (of a certain stripe). They were engaged in the free market, often selling products that were unregulated—and resisting any regulations. They took it upon themselves to protect themselves and their families—they didn't call 911. They were self-made men (and a few women). They were rugged individualists, relying only on themselves. Gangbangers don't have Social Security accounts. If their business fails, they don't get government bailouts. In short, they fend for themselves in a harsh world.
Hence:  "So that's my experience with guns. The people who were "responsible" gun owners kept their guns locked up and occasionally went hunting. The "criminals" used them for self protection and walked around armed. "
I would recommend the whole thing.
While I suspect that these observations will generate a wide variety of responses, I do think that the example is one that should provoke thought.  As Centellas notes:  the arguments that many make for why they need their guns are founded in logics not that dissimilar from the reasons that inner-city gangs walk around armed.  In both cases it is founded in a notion that the government is not to be trusted and that one's life is in one's own hands.
The photo montage that Centellas posted is also telling, especially the top two.  I expect that the armed African-American young man who appears to be in a gang evokes a different reaction than the smiling, likely middle-class white dude.
Of course, it is also worth pointing out that if, as I saw Ted Nugent say last night on Piers Morgan, "an armed society is a polite society" then shouldn't inner city America, especially where gangs abide, be the most polite parts of the country?