H.R. McMaster Gets Third Star, Charge of Army Future
A rather impressive recovery from a career that was mostly dead in 2007.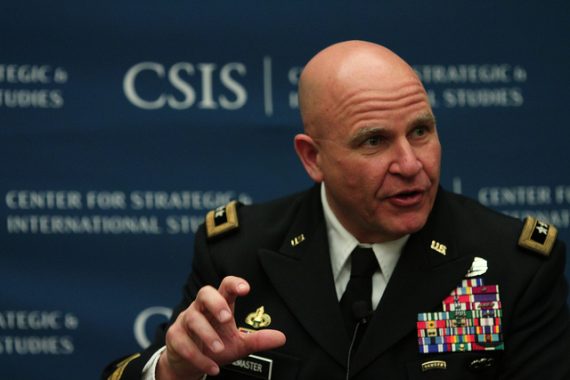 Herbert Raymond "H.R." McMaster has been selected for promotion to lieutenant general. That shouldn't be surprising. As a company commander during Desert Storm, he was the hero of the Battle of 73 Easting. Years later, as commander of the 3rd Cavalry Regiment, he again made a new for himself with innovative solutions in Tal Afar. In between, he earned a PhD in military history at the University of North Carolina and turned his dissertation into  Dereliction of Duty: Lyndon Johnson, Robert McNamara, The Joint Chiefs of Staff, and the Lies that Led to Vietnam, a groundbreaking critique.
Yet, as many will recall, McMaster's career was stalled seven years ago when he was passed over a second time for promotion from colonel to brigadier general. At the time, many of us were calling it the Peter Principle in reverse in which, as Matt Bennett put it, "genuinely gifted and brilliant public servants who are kept far below the level to which they should ascend." As I wrote at the time,
The military is a bureaucracy and, as in all bureaucracies, it's far easier to succeed by going along with the flow than by trying to change things. Being a gung ho maverick may well make a young officer stand out and get great evaluations; it's more likely to piss off at least one senior rater during a career, though, and end one's chances at promotions.

There's a, possibly apocryphal, story about a briefing presided over by General Creighton Abrams. When the time came for questions, a young major stood up and ripped the plan to shreds. When he realized that the room was silent, the major said, "Sir, I'm sorry if I've offended you. But I'm sure you didn't get to be a general by telling your superiors what they wanted to hear." Abrams is said to have replied, "That's true. But it's damned sure how I got to be a lieutenant colonel!"

I never served with McMaster and I've never heard anything but positive things about him. But it's hardly inconceivable that a rock star who is both a brilliant tactician and a leading scholar has managed to rub some people above him in the chain of command the wrong way — or even inspire a bit of jealousy at all the attention he's gotten. And the odds are more than even that those on the promotion board, who came up the ranks in a Big Wars Army, look askance at handing the keys to their institution over to people who want to make radical changes in it.
Well, a funny thing happened the next year: another PhD general who'd made a name in counterinsurgency operations was chosen to personally lead the next selection board to one-stars. McMaster finally got his star on the third try.
Army Secretary Pete Geren asked Petraeus to head the board, which convened in late 2007, and instructed it to stress innovation in selecting a new generation of one-star generals, the officers said. Several of the colonels widely expected to appear on the resulting promotion list, which has not yet been released, are considered unconventional thinkers who were effective in the Iraq campaign, in many cases because they embraced a counterinsurgency doctrine that Petraeus helped craft, the officials said.

They include Special Forces Col. Ken Tovo, a veteran of multiple Iraq tours who recently led a Special Operations task force there; Col. H.R. McMaster, a senior Petraeus adviser known for leading a successful counterinsurgency effort in the Iraqi city of Tall Afar, and Col. Sean MacFarland, who created a network of patrol bases in Ramadi that helped curb violence in the capital of Anbar Province, according to the officers.

In an article published this year on the lessons of Iraq and Afghanistan, McMaster challenged what he called the military's preoccupation in the 1990s with technology, to the neglect of the political and cultural dimensions of war. Military leaders must end the "self-delusion" that high-tech weapons and a "minimalist" commitment of forces can solve conflicts, he wrote.

The promotion list has attracted keen attention from younger Army officers who are weary from multiple tours in Iraq and Afghanistan. "This sends a signal to the junior officers who are laboring in the trenches, literally, that the Army is trying to cast itself in a new mold," said retired Army Maj. Gen. Robert H. Scales Jr., a defense consultant and former head of the Army War College. "The quickest way to change the Army is at the brigadier general level. That is the surest way to turn the ship, because those names are how those young officers intuit where the Army is going," he said.
As I added:
Why? Because, although Army promotions through lieutenant colonel have become almost automatic in these days of ridiculous OPSTEMPO, the math is stark: "the Army has 4,000 colonels and about 150 one-star generals." Who gets selected to cross that chasm between field grade and flag officer sends a powerful message, indeed.
Fast forward six years. McMaster got passed over once for major (two-star) general but ultimately made it and is now in command of the "Maneuver Center of Excellence" at Fort Benning. For the uninitiated (as I was just a few months ago), a couple years back the Army decided to move its Armor branch from its historic home in Fort Knox, Kentucky and co-locate it with the Infantry branch.
And now? As Breaking Defense's Syndey Freedberg explains,
As a lieutenant general, he will be TRADOC's deputy commanding general for "futures," in charge of something called the "Army Capabilities Integration Center" (ARCIC).

In English, ARCIC is the Army organization tasked to think full-time about the next war and how to win it. So McMaster's new position makes him point man for the entire Army as the service struggles to figure out its post-2014 role. What's more, he takes that mission at a time when both the Army's budget and its case for strategic relevance are coming under intense assault. If there was ever a time the Army needed a bare-knuckle intellectual like McMaster in the job, the time is now.
It's an outstanding choice. And, certainly, a rather impressive recovery from a career that was mostly dead in 2007.