Harry Reid Undergoes Surgery For Pancreatic Cancer
The former Senate Majority Leader had surgery in Maryland after an apparently early diagnosis.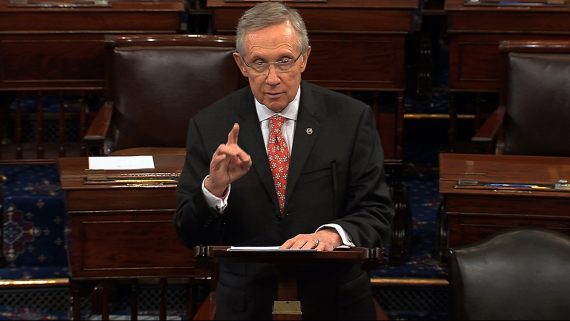 CNN reported this afternoon that former Senate Majority Leader Harry Reid, who retired at the end of the last session of Congress, has undergone surgery for pancreatic cancer:
Former Senate Majority Leader Harry Reid, a Nevada Democrat, underwent surgery for pancreatic cancer Monday, according to a statement from Reid's family.

"Today, Former Democratic Leader Harry Reid underwent surgery at Johns Hopkins Cancer Center to remove a tumor from his pancreas," the family's statement said. "His doctors caught the problem early during a routine screening and his surgeons are confident that the surgery was a success and that the prognosis for his recovery is good. He will undergo chemotherapy as the next step in his treatment. He is now out of surgery, in good spirits and resting with his family. He is grateful to his highly skilled team of doctors and to all who have sent and continue to send their love and support."

The news of Reid's cancer was first reported by a reporter at local station KLAS, a CNN affiliate.
Pancreatic cancer is among the more serious forms of intestinal cancer in no small part because it often doesn't manifest itself until it is later stages when it is far more difficult to effectively treat and when it is in danger of metastasizing and spreading to other parts of the body. Additionally, any cancer diagnosis in someone of Reid's age is certainly more concerning than it might be in someone who is younger. In this case, though, the reports seem to indicate that the condition was caught early, which bodes well for Reid's recovery. It's worth noting, for example, that Supreme Court Justice Ruth Bader Ginsburg was diagnosed with a similar form of cancer several years ago and appears by all accounts to be in very good health after going through her course of treatment. Hopefully, the same will be true for the former Senator. In any case, best wishes to Senator Reid and his family for a speedy and complete recovery.