HBO To Launch Stand-Alone Streaming Service In 2015
The start of a trend? Probably.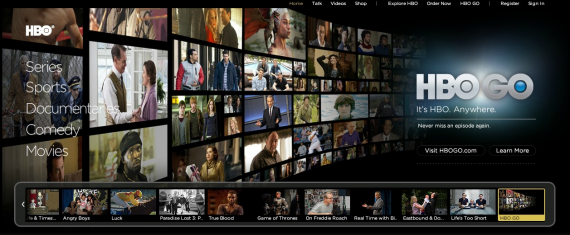 In a move that could have a significant impact on the cable television market, HBO will begin offering a stand-alone product allowing users to subscribe to its Internet streaming service without having to have a subscription to the channel via their cable provider:
HBO will launch a stand-alone online service in 2015 that doesn't require consumers to also have a cable or satellite subscription, chief executive Richard Plepler said Wednesday.

The plans will create a dramatic shift in the television industry that has long benefited from forcing ever-growing bundles of channels on consumers, who often only regularly view a fraction of the programs being offered.

HBO is one of the most valuable channels in cable and satellite packages, but the firm has long felt that its cable and satellite distribution partners haven't given it a big enough cut of the cable industry's highly profitable paid television subscriptions. New competition from Netflix and other digital entertainment platforms have put pressure on the cable model. But many consumers have been willing to stick with cable subscriptions to watch live sports on ESPN, for instance, and premium content on HBO.

"In 2015, we will be beyond the wall and launch a stand alone over-the-top service that will have the potential to produce hundreds of millions of dollars of additional revenues," Plepler said at parent company Time Warner's Investor Day meeting in New York. "And international opportunities can be just as large, if not larger. We will use all means at our disposal to go after it."

Plepler didn't provide details on the digital plans, but said the company will start off selling a stand alone service in the United States and two countries before expanding to all of the countries it current serves.

(…)

"There are 10 million broadband-only homes in the U.S. That number is expected to grow," Pepler said. "It's a large and growing opportunity. It's time to remove the barriers to those that want HBO." In all, he said 80 million U.S. homes don't have HBO — the company's new target for growth. He said HBO will work with current partners and with new partners on the stand-alone Internet service.

The announcement comes amid major restructuring at Time Warner, which has shed Time Inc. and dramatically cut staff in its Turner Broadcasting unit. Earlier this year, the company rebuffed a near $80 billion bid by 21st Century Fox. At its Wednesday day-long meeting with investors, top executives emphasized the company's renewed focus on core television and movie content. Time Warner chief executive Jeff Bewkes told investors and analysts at the meeting the company was poised to double earnings to $8 per share by 2018.

The company's plans for HBO mark a dramatic turn for Time Warner, which has been a leading proponent of keeping online access to its video content behind the television pay wall. Cable industry leaders in 2009 committed to a business model known as "TV Everywhere" that ensured the most popular programs would first be released for cable subscribers.
The price point is obviously going to be a big issue here, and it seems inconceivable that the initial price for online streaming will be cheaper than what it would cost to add the service to one's cable subscription, although that amount isn't always easy to determine since discounts and such are typically built into cable packages. Even if that's the case, though, there will likely be many people who will see the streaming service as more convenient that the channel itself and choose to go that route. I know it's an option that I'll be looking into when it becomes available if only because it will potentially free up DVR space and allow much more convenient time-shifting.
Given HBO's prominence in the cable business, the importance of this can't really be overstated. If the business model works, and I can't see why it wouldn't, I wouldn't be surprised to see Showtime and other premium channels follow suit. And if the premium channels succeed at streaming, then it won't be long before popular cable channels like Comedy Central, TBS, USA, and, most significantly, ESPN start thinking about following suit. The next step after that, of course, would be the four major broadcast networks moving their content online. It won't happen immediately, of course. Many of these networks have contractual obligations with the cable companies, and with sports leagues such as the N.F.L., N.B.A., and M.L.B. that would be impacted by such a move, and indeed the sports leagues themselves, all of which have their own channel would likely be interested in the streaming idea. This is especially true of Major League Baseball, which already runs a subscription streaming service. And if the sports leagues start streaming their own content, it probably wouldn't be long before the studios that produce the content that many networks air start thinking that maybe they should do so too. Eventually, though, the movement toward online viewing via the device of the users choosing seems to be an inevitable direction for much of the television we now consume, it's really just a matter of time at this point. The cable companies aren't going to like this one bit, I suspect, but I don't think there's much they'll be able to do stop it.