House Censures Charlie Rangel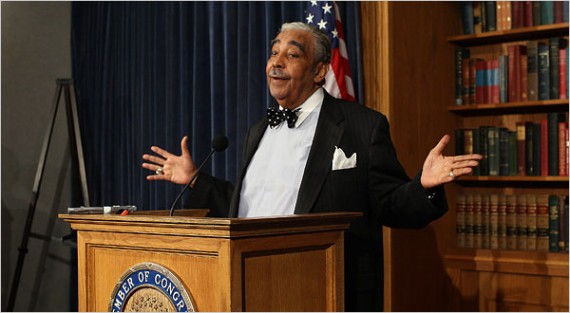 Late today the House of Representatives censured Charlie Rangel for a series of ethics violations:
Rep. Charles B. Rangel (D-N.Y.) faced the censure of his colleagues Thursday, the culmination of a two-year investigation of one of the most legendary figures on Capitol Hill for the past 40 years.

On a vote of 333 to 79, the House overwhelmingly approved the censure resolution condemning Rangel for a string of rules infractions that included 17 years of unpaid taxes on property in the Dominican Republic, more than $500,000 in undisclosed financial assets and inappropriately raising millions of dollars from corporations with business before his committee for a New York City college.

Censure represents the second highest form of congressional punishment, and it required Rangel – the 80-year-old former chairman of the powerful Ways and Means Committee – to march into the well of the chamber as House Speaker Nancy Pelosi (D-Calif.) read the resolution rebuking him in front of the entire chamber.

After the public rebuke — which took Pelosi just a few seconds — Rangel gave brief remarks, striking a somewhat defiant tone and reiterating his previous claims that he never tried to "enrich myself".

"I know in my heart I'm not going to be judged by this Congress," he said, ending by telling his colleagues that, despite the censure, he still has not "had a bad day since" 60 years ago when he was nearly killed on the Korean War battlefied.

Several dozen of Rangel's closest friends fell short in their effort to reduce the sanction to a reprimand, which would not have required the public rebuke by Pelosi. That amendment received 146 votes.

The historic proceedings began shortly after 4 p.m. Thursday, with the House chamber nearly full. The first speaker was Rep. Zoe Lofgren (D-Calif.), the chairman of the House ethics committtee, which investigated Rangel and recommended he receive Congress's second-most severe punishment.

"We found his actions, and accumulations of actions, reflected poorly on the institutions of the House," Lofgren said, with Rangel sitting 10 feet away. Lofgren noted that Rangel has served for years in Congress, and before that was decorated for heroism in combat during the Korean War. But, she said, "that service does not excuse the fact that Rep. Rangel violated laws. He violated regulations. He violated the rules of this House."
I had this naive hope that Rangel would resign. Yea that was a dumb thought.