House Passes Boehner Debt Ceiling Bill 218-210, Senate Defeat Tonight Certain
It's another Friday of drama in the debt ceiling crisis.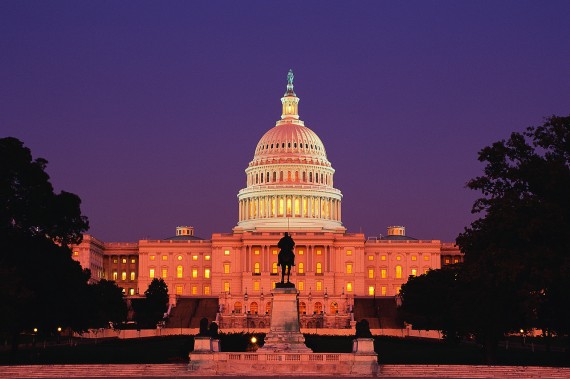 The House of Representatives just passed Speaker John Boehner's debt ceiling/deficit reduction bill on a strict mostly party-line vote. Now we're on to the Senate where a vote and defeat tonight are a certainty.
The House approved legislation on Friday by Speaker John Boehner, R-Ohio, to reduce the deficit by $915 billion over 10 years and increase the federal debt ceiling by $900 billion. The bill would allow for an additional $1.5 trillion increase in the debt ceiling early next year contingent on two outcomes: Congress enacting further deficit reductions and a balanced budget amendment sent to the states.

The latter condition was added after GOP leaders failed to secure enough votes for passage on Thursday. The language was added to appease hold-out fiscal conservatives. The speaker's proposal passed on a party line vote, 218-210.

Boehner's bill now heads to the Senate, where Majority Leader Harry Reid, D-Nev., has pledged its swift defeat. All Senate Democratic Caucus members are set to vote for a motion to table the Boehner bill. Reid has offered a counter proposal to reduce the deficit by $2.2 trillion over 10 years and provide for just one increase in the debt ceiling through the 2012 elections, which the White House favors. Reid was expected to file cloture on his plan, with a vote expected early Sunday morning.
Here's the roll call.
The rational thing to do at this point would be to forge a compromise between the Reid and Boehner bills, have the Senate adopt that as an amendment to the Boehner Bill, and send it back to the House where, one would think, a combination of House Democrats and Republicans should be able to find a way to get to the 216 needed to pass the bill. Of course, nothing that has happened in this entire process has been rational, so we could be in for a pointless weekend and a bad week next week.
There is some hope, it seems, in the Senate:
Senate Democratic and Republican leaders are having intense discussions to come up with a bipartisan solution for raising the debt ceiling.

Senate Majority Leader Harry Reid (D-Nev.) told reporters that he needs ideas from Republicans sometime Friday if Congress is to meet the Aug. 2 deadline.

A Senate GOP leadership aide said the two sides have until early Sunday morning to reach an agreement.

The two sides are discussing trigger mechanisms that could be used to build bipartisan support. Such triggers would force Congress to carry out another round of deficit reduction before the 2012 election.
Well, at least they're talking,