House Republicans Struggling To Get Votes To Pass Obamacare Replacement Bill
With a vote tentatively scheduled for this evening, House Republicans appear to lack the votes to pass the American Health Care Act.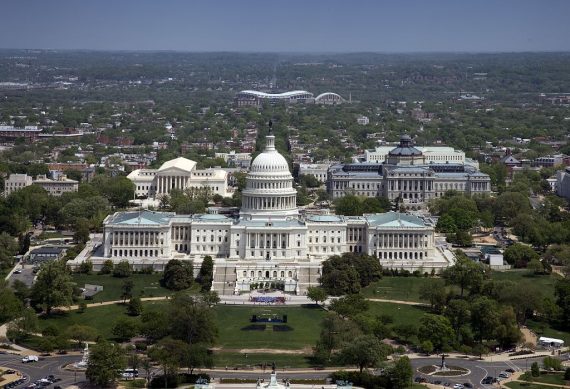 The House of Representatives is supposed to be voting later today on the American Health Care Act, the bill to 'repeal and replace' the Affordable Care Act that was introduced just two weeks ago, but it is far from clear that there are sufficient votes for it to pass:
The Republican health-care overhaul faces its greatest test ever Thursday as President Trump and House Speaker Paul D. Ryan (R-Wis.) work feverishly to persuade enough Republican lawmakers to back the measure and push it to a floor vote.

Late Wednesday, the White House and House leaders were still scrambling to boost support, and signaled at the 11th hour a willingness to rework the measure to mollify conservatives. On Thursday morning, House leaders postponed a 9 a.m. meeting of the entire GOP Conference, signaling that negotiations were still underway.

As of late Thursday morning, 36 House Republicans — mainly conservatives — had announced their opposition to the bill, known as the American Health Care Act.

After insisting for weeks that the changes sought by hard-right members would render the bill unable to pass the Senate, White House officials and GOP House leaders appeared to shift their thinking — and opponents agreed to keep working on a deal with the goal of holding a floor vote in the House by Thursday night.

Rep. Mark Meadows (R-N.C.), chairman of the conservative House Freedom Caucus, said he had taken personal calls Wednesday from Trump seeking a resolution, although he said no formal offer had been extended by the White House.

"We are working very diligently tonight to try and get there," Meadows said Wednesday.

"The president has been profoundly engaged," said Rep. Trent Franks (R-Ariz.). "I think things are going in a very good direction right now."

Trump is scheduled to meet with Freedom Caucus members at 11:30 a.m. at the White House, and will then host a "listening session" on health care with truckers there Thursday afternoon.

Thursday marks the seventh anniversary of the Affordable Care Act, and Republican leaders are eager to mark it with a historic vote demonstrating its evisceration has begun. In a sign of how high the stakes are for both parties, former president Barack Obama issued a statement noting that more than 20 million Americans have gained coverage since he signed the law, while the rise in health costs has slowed.

(…)

GOP leaders can afford only 22 defections, given that one Democrat is expected to be absent Thursday. A Freedom Caucus spokeswoman said that "more than 25" members of the group oppose the bill.

Wednesday's events laid bare party leaders' struggle to muster enough votes for one of their defining goals: to roll back the 2010 health-care law that helped galvanize conservatives in the years since to wrest control of both the legislative and executive branches from Democrats.

If Republicans fail this initial test of their ability to govern, Trump and Capitol Hill Republicans may face a harder time advancing high-priority initiatives on infrastructure, tax reform and immigration. They might also find themselves navigating strained relationships among themselves.

For much of Wednesday, the Freedom Caucus's message, spokeswoman Alyssa Farah tweeted, was: "Start over."

At the same time, four more Republican moderates — Reps. Charlie Dent (Pa.), Frank A. LoBiondo (N.J.), Daniel Donovan (N.Y.) and David Young (Iowa) — announced their opposition Wednesday, increasing pressure on leaders to win over the conservatives.

Ryan summoned more than a dozen members of the moderate Tuesday Group to his office late Wednesday in an apparent bid to curb further defections. One participant, who spoke on the condition of anonymity to describe the private meeting, said Ryan and other House leaders described the potential deal with the Freedom Caucus, which would strip essential health benefits but leave other ACA mandates, such as those dealing with preexisting conditions and coverage of adult dependents, in place.

"People got to say their piece and react to the proposal. It's safe to say people had concerns about stripping out essential health benefits, especially at this late hour," the Tuesday Group member said. "I think they're short [of votes], and I think they're considerably short … I'm not sure where all this goes tomorrow."

Conservatives are seeking to eliminate more of the ACA's insurance mandates, known as "essential benefits," which require plans to cover specific medical benefits, such as mental health care, prescription drugs and preventive care. That, conservatives argue, is the only reliable way to force down premiums.

Ryan warned in an interview Wednesday with conservative radio host Hugh Hewitt that fulfilling those GOP demands would violate Senate budget rules and leave the bill vulnerable to a blockade by Democrats.

"Our whole thing is we don't want to load up our bill in such a way that it doesn't even get considered in the Senate," the speaker said. "Then we've lost our one chance with this one tool we have."

That stance appeared to shift late Wednesday, when separate aides in the White House and the House GOP leadership said a new interpretation of Senate rules had raised the possibility that acceding to the Freedom Caucus's request might not threaten Senate consideration of the whole bill. But both aides said the provision could still be stripped out once the bill reaches the Senate.

Democratic Senate aides insisted that would be the case. "What the proponents aren't telling conservative House Republicans is that the plan to repeal essential health benefits will almost certainly not be permissible under Senate reconciliation rules," said Matt House, a spokesman for Senate Minority Leader Charles E. Schumer (D-N.Y.).
As things stand right now, there are more than enough House Republicans on record as opposed to the AHCA to prevent it from passing the House today, mostly due to the opposition of the House Freedom Caucus and the fact that several conservative activist organizations are "key voting" the bill and threatening to primary any Republican who votes in favor of the bill. Additionally, and largely in response to a threat from President Trump that opponents of the AHCA would pay a political price in 2018, the Koch Brothers and other top conservative fundraisers are pledging to create a multi-million dollar defense fund for Members of Congress who vote against the bill. Given all of this, the most likely outcome today would seem to be either that the bill does not get placed on the floor in order to avoid an embarrassing defeat so early in the new Administration or the bill gets changed sufficiently to meet the concerns of the House Freedom Caucus that Speaker Ryan and the leadership end up getting the votes they need to get the job done. Absent that, or a last-minute change of mind by members who have already announced their opposition, the bill is likely to go down to defeat in the House and Republicans will be forced to return to the drawing board. This is why it's likely that we won't see a vote at all unless leadership is as sure as they can be that they'll get the votes they need, and more, to pass the bill.
If Republicans do make changes to the bill to appease the Freedom Caucus, however, they may further doom whatever chance the bill might have in the Senate. As things stand right now, it's not at all clear that the bill could pass the Senate even under reconciliation rules that would allow the GOP to get around the requirement for sixty votes needed to invoke cloture and end a filibuster. So far, several Senators have announced their opposition to the bill in its present form and have either united behind Kentucky Senator Rand Paul, who has his own 'Repeal and Replace' bill that is unlikely to get more than a handful of supporters in the Senate, or have announced their opposition to the AHCA for other reasons, including how it treats states that took advantage of the Affordable Care Act's Medicaid expansion. Additionally, Republicans face the paradox that any changes they make to the current bill to appease the Freedom Caucus, which includes changes such as eliminating the minimum benefits requirements of the Affordable Care Act, make it more likely that Republican Senators will oppose the bill in the upper chamber, meaning that House leadership would essentially be asking members to put their seats on the line for a bill that has almost no chance of passing. Finally, there's a good possibility that if the House makes the changes the Freedom Caucus wants it will change the bill so much that it would no longer qualify for consideration under the Senate's reconciliation rules, meaning that it would be even more certain that the bill would die in the Senate.
As things stand, the leadership is planning for a vote around 7 pm tonight. Realistically, it's more likely that if there is a vote it would be much later tonight if not early tomorrow morning. And even more realistically, my guess is that we might not see a vote at all this week and that Republicans will pull the bill while they try to figure out what to do next.
Update: Politico is reporting that a morning meeting between President Trump and members of the House Freedom Caucus failed to produce a deal:
President Donald Trump failed to reach a deal with members of the conservative House Freedom Caucus to amend the Republican Obamacare replacement bill ahead of an expected vote later Thursday.

Many lawmakers from the three-dozen-member caucus huddled at the White House with Trump and his senior leadership team, but they emerged without guaranteeing their support for the GOP bill. With little margin for defections and eroding support from moderates, House leaders need most Freedom Caucus members to support the bill.

President Donald Trump will engage in the most high-stakes negotiation of his young presidency Thursday, as he tries to sell hard-line conservatives on a GOP Obamacare replacement they despise.

Trump will huddle with the arch-conservative House Freedom Caucus at the White House, just hours before Speaker Paul Ryan is set to bring the bill to the floor for a vote.

There were daunting obstacles to a deal heading into the decisive meeting.

A number of Freedom Caucus members have suggested Trump's latest concession — repealing Obamacare's mandate that insurance plans provide a minimum level of "essential" benefits — isn't enough. The group wants a complete repeal of all Affordable Care Act regulations — including popular provisions Trump promised he would maintain.

The conservatives' target list encompasses a prohibition against discriminating against people with pre-existing conditions and a requirement that adults up to age 26 can remain on their parents' health insurance.

"Repealing [essential health benefits], w/out making other substantial changes, would make the bill worse, not better," tweeted Freedom Caucus member Justin Amash (R-Mich.). "It would hurt the sickest people on exchanges."

If Trump fails to clinch an agreement with the group, the Republican effort to repeal Obamacare will be all but dead.
Additionally, White House Press Secretary Sean Spicer said in his briefing today that the White House has delivered its final offer to the Freedom Caucus and that there is no "Plan B" to amend the bill any further to try to get the votes needed for it to pass. As things stand now, this means the Freedom Caucus is not on board and the bill in its present form would not pass.
Update: Politico's Capitol Hill Bureau Chief is reporting on Twitter that there will be no vote on the AHCA today:
NEWS – No AHCA vote today, per GOP source. Still possible tomorrow

— John Bresnahan (@BresPolitico) March 23, 2017
/2 Notice will be going out to members in a couple minutes. There will be procedural votes

— John Bresnahan (@BresPolitico) March 23, 2017
/3 GOP Conference mtg at 7 pm

— John Bresnahan (@BresPolitico) March 23, 2017
This would be a big, early political loss for Republicans and the Trump Administration.