House Shutdown/Debt Ceiling Plan Already Falling Apart?
Well, so much for that plan.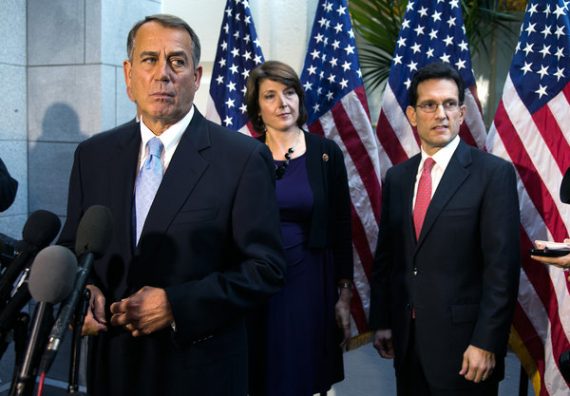 Just hours after presenting it to the House GOP Caucus, Speaker Boehner and the House GOP Leadership are finding their own shutdown/debt ceiling plan falling apart around them:
WASHINGTON — House Republican leaders struggled late Tuesday morning to forge a new proposal to reopen the government and change the president's health care law, after a plan presented behind closed doors to the Republican rank and file failed to immediately attract enough support to pass.

About two hours after the plan was presented Tuesday morning, Republican leaders backed off it. Speaker John A. Boehner told reporters that there were "no decisions about what exactly we will do."

"We're trying to find a way forward in a bipartisan way that would continue to provide fairness to the American people under Obamacare," Mr. Boehner said, but he also acknowledged that "there are a lot of opinions" among his fractious members.

House Republican leaders could still try to revise the proposal and take it to the membership for a possible vote. "We're going to continue to work with our members on both sides of the aisle to try to make sure that there is no issue of default, and to get our government reopened," Mr. Boehner said.

The apparent disarray left Mr. Boehner with a crucial decision to make as time ticked down toward a possible default on government obligations on Thursday: to accept whatever bipartisan plan emerges from the Senate, most likely on Tuesday, or to continue to try to get House Republicans in line behind a counterproposal.

Representative Kevin McCarthy of California, the House majority whip, said Republican leaders were "very cognizant of the calendar."

Representative Adam Kinzinger, Republican of Illinois, said that if House Republicans could not rally behind the proposal that their leadership rolled out Tuesday morning, they would most likely be forced to accept the plan taking shape in the Senate — something many Republican House members have already said is unacceptable.

"If our party can't pass this, then there's no doubt we're going to end up with what the Senate sends us," Mr. Kinzinger said. "Look, if my colleagues can't muster together and sometimes accept good because they're waiting for perfect, then that's on them."

But House Republicans appear intent to extract at least one concession: depriving members of Congress, the president, the vice president and White House political appointees of government contributions when they purchase health insurance under the law's new exchanges. Representative Eric Cantor of Virginia, the majority leader, said any proposal must reflect what he called "our position on fairness" — "no special treatment under the law."

Those words have become code for legislative language that denies employer contributions to politicians forced into the exchanges by a clause in the original health care law.
It became clear earlier today that there was trouble when Boehner declined to respond to a question about whether or not they'd be putting this matter up for a vote today. Since then, the White House has rejected the House proposal as it is being reported, as has Senator Reid, and rumors continue to float that Boehner and Cantor may not have the 217 votes to pass their own package at this point.  There are even reports that the House may pass its bill, assuming that the votes exist to do so, and then leave town. While that last move may be an example of what Hot Air's Allahpundit calls "toughness," it strikes me as something that the public in general would view quite negatively which doesn't seem to be something the GOP can afford to do at this point.
So, where does this leave us? Well, it seems clear that only one of two things can happen at this point.
The first possible outcome is that the House passes something resembling the proposal that was floated this morning, sends it to the Senate, and then ends up having the Reid/McConnell plan placed back in their laps. At that point, the leadership will have the choice of either playing another round of ping-pong with the Senate, and thus risking the wrath of world financial markets or sending the bill to the floor, where it would likely pass over strong Republican dissent. The second possible outcome is that the House does nothing and the Senate passes Reid/McConnell and sends it to the House, thus leaving Boehner and company with the same choice. In either case, they will have the same decision to make, and there really only seems to be one appropriate answer because the alternative sends us in territory that any sane person should want to stay away from.