Ideological Purism Is Making American Politics Stupid
The latest chapter in an all too familiar story.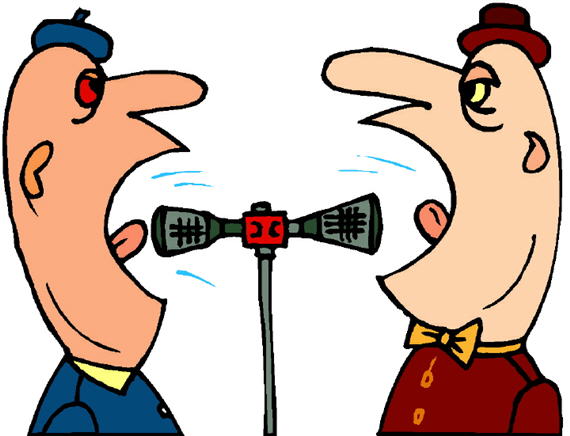 In a post titled "Ideology is making America stupid," Naval War College Professor John Schindler points out the extent to which the bitter partisan divide that has come to characterize American politics is negatively impacting the country:
The Right has developed the loathsome habit of stating that groups supporting the Left broadly and the Democratic Party particularly – here they cite blacks, women, gays, et al – are residing "on the Democratic plantation." If only they woke up and looked at their real interests, the FoxNews logic goes, they would suddenly become the "natural Republicans" that they actually are. It seems not to have occurred to the Right that African Americans, single women, LGBT people, and increasingly Hispanics too, support the Left because the Democratic Party is a better vehicle for their collective interests than the GOP, in its current guise, will ever be. Moreover, the use of "plantation" rhetoric, with its enormously freighted historical baggage, indicates how out of touch its rightist purveyors are. At best, such talk is deeply, unacceptably patronizing to vast swathes of the American people.

But the Left does the exact same thing. Rather than accept that there are lots of Americans, mainly white, often religious, many of them traditionalist in their views, who reject the progressive agenda, it's easier for the MSNBC set to mock them, while more erudite progressives will explain at great length how they are well-meaning but stupid people who sell out to corporate interests. This view has become so commonplace on the Left that back in 2008 then-candidate Obama felt it wise to talk about clinging to Bibles and guns to describe such fellow citizens, while more recently leading celebrities have told them they need to hurry up and die already, so the golden progressive future can be realized. As a historian, I can affirm that when such hatred for your fellow citizens becomes normative, your republic is in deep trouble. Yet, as I said, it's become entrenched on both the Left and the Right, the only difference I can tell being that if you're on the Leftyou can make a very lucrative celebrity career out of it, while doing the same on the Right makes you Larry the Cable Guy.

This really all comes down to ideology, meaning the substitution of preset cliches over actual thought. I'm not here to knock down the notion of ideology altogether, since all of us have some sort of one (and if you don't realize you do, the more powerful a hold over you it has), rather I want to point out the hazards of letting that framework shut down genuine thought, discussion, and debate, because you know the answer already. The German word Weltanschauung(worldview) comes closest to what I'm discussing here, and in 21st century America lots of people get their designer worldview, pre-fab, off TV and the Internet, without ever thinking critically about what it might actually mean. Contrary evidence is ignored, out of hand, as lies or propaganda – which of course only the other side has – and perhaps "hatred." The problem isn't that Americans have ideologies, it's that so many of them have embraced a worldview based on self-deception. Simply put, they devoutly, unshakably believe things that simply are untrue.
This isn't exactly a new observation, of course. Other pundits have made similar comments in the past about how the rise of strident ideologies on both sides of the left/right divide has poisoned the well of political discourse in the United States. Schindler goes on to cite specific examples of this in domestic politics, including the gun control debate, which I've already written about in the wake of the UC-Santa Barbara shootings last Friday. He also mentions the debate over the Affordable Care Act and health care reform in general, where we see people on the left claiming that conservatives don't care about the health care of the less fortunate and conservatives claim that it is "government-run health care" when, in fact, it is the biggest subsidize to the insurance and health care industries since the adoption of Medicare some 50 years ago. Anyone on either side of the aisle who takes a step toward the middle on these or any of the other hot button ideological issues — and are there any issues left in this country that aren't hot button ideological issues? — is immediately denounced as a traitor. More importantly, there's no real desire by any of the hardliners on either side of the divide to listen to opposing points of view and consider the possibility that their either their own views could be wrong, or that the others side's position may actually have some merit even if they disagree with it. Instead, the opposition is typically described as evil, stupid, racist, manipulated by outside forces, or any other number of epithets designed to demonize ideas by attacking the people who hold them.
Something else that zealous adherence to ideology seems to lead to is the rejection of factual arguments not so much on their merits but because you don't like the conclusions that they might lead to. Perhaps the best example of this, of course, is the near universal rejection on the right of any of the scientific evidence suggesting that average temperatures have been rising or that the climate is changing at a more rapid pace than it has in the past. The evidence in favor of these propositions seems to be indisputable, even if the role of human activity is a matter that remains up for debate, and yet the ideological divide on those questions is as stark as the divide between left, right, and middle on issues ranging from gun control to marriage equality. The left has its own willing blind spots when it comes to facts that tend to contradict a preconceived world view on issues ranging from the impact of the minimum wage or increased taxes, to the often deleterious effect of government welfare programs, to the evidence that tends to contradict the idea that more gun control leads to less gun crime.  In both cases, the ideology becomes a substitute for facts to the point where its adherents can't even see
Schindler goes on to point out the extent to which ideology, on both sides of the aisle,  has also had a negative influence on American foreign policy:
[F]oreign policy is where the confusion-masquerading-as-thought we call ideology really gets going. The Left seems to think – here President Obama bears his share of the blame – that mere words, especially dramatic speeches, can compensate for a lack of strategy or definable and implementable policy. Words, themselves, count only modestly. Churchill's inspirational "we shall fight on the beaches" speech in 1940, as Hitler stared with ill intent across the English Channel, would have been irrelevant had not the British military been up to the job, barely, to repel German efforts to subdue Britain by air. Additionally, many Democrats believe that hashtags can change the world. Hope is not a strategy, as I teach my students, and neither is Twitter.

Yet the Right is besotted with equally powerful delusions, namely that what hashtags cannot do, the application of firepower can. This is not to malign the transformative effect of military force – I teach at a War College, after all – rather to observe that, in 2014, there are distinct limits on what it can achieve. The blow-it-all-up approach that prevailed as late as 1945 is simply not on the table anymore while the world is watching; even the Russians have toned down their mayhem, and their soft-touch aggression in Ukraine now, what I term Special War, bears little resemblance to the high-explosive horrors that Moscow's forces inflicted on Chechnya as recently as the mid-1990s. Moreover, the failure of U.S.-led forces to subdue frankly third-rate insurgencies in both Iraq and Afghanistan in the past decade, thanks largely to a basic political illiteracy about those societies, has seriously eroded the prestige of American military might around the world. Only American right-wingers, who continue to fantasize about using kinetic force to fix problems everywhere on the globe, seem to have missed that memo.

Political illiteracy, misguided by ideology, is the core of the problem. When they look at the world, Left and Right in America today both see several billion people who are either very much like us, or want to become just like us as soon as possible. This, of course, is the WEIRD conceit I've discussed before, and it seems to be second nature to Americans in 2014. The only real difference is how we want to help the world to become just like us. While the Right prefers using American capitalism with periodic injections of UAVs and TLAMs   – drones and cruise missiles, that is – the Left likes employing "values," which in most places boils down to dispatching platoons of activists pushing present-day American views on race, gender, and sexuality. It seldom occurs to either Left or Right that both approaches generate considerable push-back around the world.  My family is more European than American, and over the past decade, I've watched many of them transition from strong support of America in the world to various forms of discomfort and worse, thanks to policies enacted by Washington, DC. And if Europeans, who share enormous political, cultural, and historical ties with the United States, feel this way, you can imagine what poorer countries around the world, who have much less ability to tone down U.S. policies they dislike than Europeans do, must feel.
All of the policy areas that have been impacted by the ideological blindness that Schindler points out are serious in their own way, of course, but this strikes me as being potentially the most important of them all. As much as his supporters may not wish to admit it, the damage that was done to America's international reputation by the Bush Administration has not been significantly repaired under Barack Obama. The drone war, the inconsistency when it comes to the civil war in Syria, the fact that Guantanamo Bay is still open, the revelations about NSA spying on allies and the citizens of allied nations, and what some have criticized as muted responses to events in Russia, China, Iran, and North Korea have all served to just reinforce the negativity that pervaded the world when Barack Obama took office. Meanwhile, here in the United States, the same ideological blindness that pervades domestic politics plays an even bigger role when it comes to foreign policy, as Schindler quite succinctly notes. The fact that neither side realizes the dangerous game they're playing is really quite astounding.
As Schindler puts it in his own post, none of this is to suggest that people shouldn't have political ideologies. In fact, I'm not even sure that's even possible because people are always going to have certain worldviews that are going influence their opinions on political and cultural issues. The problem arises when, as has been the case here in the United States in the past several decades, those ideologies become so rigid that they make rational discussion and compromise essentially impossible. I'm not sure what the solution is, but I do believe that if we continue down this road much longer we're going to pay the price for it. At that point, it won't matter how "pure" you were in your political ideology.