In Wake of Newtown Shootings, Gun Sales Are Skyrocketing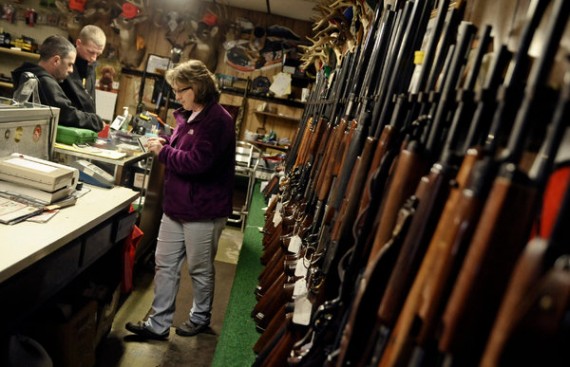 The nation's gun dealers are reporting record business in the wake of the latest school shooting and increased calls for gun control:
Rainier Arms, a gun dealer in Auburn, Wash., receives great Yelp reviews for its responsiveness. But a call to the dealer on Friday led to a full voice mail box, and an e-mail to its sales team drew this automatic response: "Thank you for contacting Rainier Arms for your AR-15 needs.  Due to an overwhelming response to the latest political climate, we are experiencing longer-than-normal response times."

At Bud's Gun Shop in Maryland, a message on the Web site said that customer service was "completely overwhelmed" and it discouraged customers from calling or e-mailing.

And on GunBroker.com, an Oracle .223 that normally retails for around $650 had been bid up to $1,175 with three days left in the auction.

With gun-control legislation getting more serious discussion than it has in years, gun sales are spiking as enthusiasts stock up in advance of possible restrictions.

Gun sales have been increasing over the past five years, with marked increases around the 2008 and 2012 elections, and after mass shootings like the one in Aurora, Colo., and now in Newtown, Conn.

"The largest factor by far is fears over a potential change in gun laws — that's what's driving most guns enthusiasts or even first-time buyers to go buy a gun," said Nima Samadi, senior guns and ammunition analyst for the research firm IBISWorld.

There is increasing demands for guns in the United States. Last year, the Federal Bureau of Investigation conducted 16.45 million background checks for firearm sales through the National Instant Criminal Background Check System, a 14 percent jump from the previous year. In the first 11 months of this year, the bureau conducted 16.8 million background checks, a record since the system's founding in 1998.

Since the shootings at Sandy Hook Elementary School in Newtown, though, a few companies associated with gun sales have backed away. Cerberus Capital Management put the company that makes the Bushmaster, a gun used in the shootings, up for sale on Tuesday, saying, "The Sandy Hook tragedy was a watershed event that has raised the national debate on gun control to an unprecedented level."

Dick's Sporting Goods temporarily ceased selling all guns in its location closest to Newtown, and has also put a hold on sales of so-called modern sporting rifles, which include semiautomatic guns, nationwide.

And Deseret Digital Media, which owns KSL.com, a Web site that has been criticized by Mayor Michael R. Bloomberg for allowing unregulated gun sales, said it was suspending classified advertisements for guns.

Elsewhere, though, consumers are hurrying to buy guns, leading to some models being out of stock, warnings of shipping and customer-service delays, and significant premiums on assault rifles.

"We are seeing a total madhouse of buying everything in sight," said Bob Irwin, owner of the Gun Store, a Las Vegas shooting range and retailer. Thursday, he said, was the largest sales day in the history of the store, which has been open for 30 years. "We have not only a run on the guns, but a run on ammunition."

Mr. Irwin has begun limiting how much of some types of ammunition customers can buy, and he has canceled employees' days off to handle the demand.

Walmart, the largest retailer of guns and ammunition in the United States, indicated that several semiautomatic guns were out of stock at locations across the country. Kory Lundberg, a spokesman, said the company was not sold out of guns altogether, but had low inventory in some situations. Walmart carries guns in about half its stores, and about one-third carry so-called modern sporting rifles, the category including the Bushmaster and other AR-15 weapons.

Other retailers around the country were selling out of guns and accessories.
We've seen this after other, similar, incidents, most recently the movie theater shootings in Aurora. To a large extent, this buying boom seems to be motivated in no small part by the talk of increased regulation of gun ownership in the future, with people obviously concluding they should buy what they want know before they can't do it anymore. More than that, though, I think this is a reflection of the fact that Americans like guns. In some cases, they own them because they enjoy target shooting, at either competitive or non-competitive level. In other cases it's because they enjoy hunting. In many cases, they own weapons for self-defense. There are millions of Americans who own weapons of one kind or another, and the vast majority of them are peaceful law abiding people. Depriving them of their 2nd Amendment rights based on the actions of a few lunatics makes no sense to me.
Photo via New York Times