Initial GDP Report Shows Economy Contracting In Final Quarter Of 2012
Some surprisingly bad economic news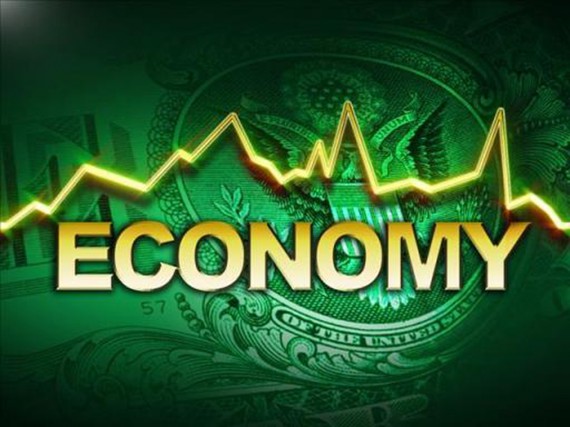 Going into today's release of the initial estimates of Gross Domestic Product for the final quarter of 2012, analysts were expecting a bad number. The economic factors that had led to a fairly decent third quarter were exceedingly temporary, and there was plenty of evidence that the economy was slowing in the final months of the year at least in part due to uncertainty over the impending fiscal cliff. Additionally, Hurricane Sandy hitting the New York/New Jersey region in late October was likely to have at least somewhat of a negative impact on the economy. So, people were prepared for a bad number today. What nobody was prepared for, though, was an indication that the economy may have actually slightly contracted:
The United States economy unexpectedly reversed course in the final quarter of 2012 and contracted at a 0.1 percent rate, the Commerce Department said Wednesday, its worst performance since the aftermath of the financial crisis in 2009.

The drop in gross domestic product was driven by a plunge in military spending, as well as fewer exports and a steep slowdown in the buildup of inventories by businesses. Anxieties about the fiscal impasse in Washington also contributed to the slowdown, one reason stockpiles grew more slowly.

Despite the overall contraction, there was underlying data in the report suggesting the economy is not on the brink of a recession or an extended slump. Residential investment jumped 15.3 percent, a sign that the housing sector continues to recover, for one. Similarly, investment in equipment and software by businesses rose 12.4 percent, an indicator that companies are still spending. Although economists expected output to decline substantially from the 3.1 percent annual growth rate recorded in the third quarter, the negative number still caught Wall Street off-guard. It was the weakest economic report since the second quarter of 2009.

"I'm a little surprised," said Michael Feroli, chief United States economist at JPMorgan. "It grabs your attention when you have a negative number across everyone's screens."

Stocks were down only slightly in early trading on Wall Street, as some traders shrugged off the unexpected drop.

Mr. Feroli had been expecting growth to come in at 0.4 percent, which was well below the 1.1 percent consensus among economists on Wall Street. Like some other observers, Mr. Feroli said there were hints the economy was performing slightly better than the headline number suggested.

The 22.2 percent drop in military spending – the sharpest quarterly drop in more than four decades – along with the drop in inventories and exports overwhelmed more positive indicators in the private sector, he said.

For example, final sales to private domestic purchasers, which strips out government spending as well as trade and inventories, rose by 2.8 percent. "Consumers and businesses kept spending at a pretty steady pace," Mr. Feroli said. "There was a lot of noise that moved the headline around." For the entire year, the economy grew by 2.2 percent, a slight improvement from the 1.8 percent annual rate in 2011.

But with unemployment stubbornly high at 7.8 percent and growth expected to remain slow in the first quarter, the poor report Wednesday was likely to set off more finger-pointing in Washington.
While these numbers are certainly depressing, there are a few caveats to keep in mind. First of all, this is an initial estimate of GDP growth and there will be further updates to these numbers coming in February and March. It's likely that we'll see at least some modest uptick in the numbers out of these revisions, although it seems unlikely that those revisions will push GDP growth anywhere close to 1%, and certainly not 2%. So, to some extent, it's worthwhile not to pay too much attention to this initial number and wait and see what's going on in a month or two. Second, as Matthew Yglesias notes, the report isn't quite as bad as the top line number makes it seem:
And yet when you peer into the internals, the situation looks surprisingly benign. For example, "real disposable personal income increased 6.8 percent", which is really solid. Consequently, both personal consumption and personal savings went up. Nonresidential fixed investment went up 8.4 percent. Residential investment went up 15.3 percent. So people are consuming more and saving more and businesses are investing more and we're adding to the housing stock. That's all good stuff.
On the downside we had, as expected, a decrease in net exports and a decrease in inventories. We also had a small decline in state and local government consumption as state/local austerity continues to bite. But what really slammed the economy was that national defense expenditures fell 22.2 percent. That's a lot! And the pacing of military spending is weird. Simply put, nobody cut the Pentagon's budget by 22.2 percent. But the timing of spending and appropriations doesn't line up perfectly, so there are strange swings in the military element of GDP.
Brad Plumer has a fairly good explanation for the reason behind this unusually large drop in military spending, and explains why it's unlikely to occur again in the future. For that reason, it's unclear that what happened in the fourth quarter of 2012 tells us much of anything about what's going to happen going forward. Of course, it's worth noting that we have another round of spending cuts coming down the line. The sequestration cuts originally scheduled to take place at the start of the year have been delayed until March and it seems unlikely at this point that they'll be avoided in whatever kind of deal Congress and the President end up making. Additionally, the CBO estimated that the tax increases that took effect at the start of the year will shave 0.25% off of GDP growth for the entire year. So, I can't really say that this was a "good" GDP report in any sense of the word.
A negative GDP report is nothing to turn askance at, of course. It's not a recession, that only happens when there are two consecutive quarters in which the economy contracted, but it's still not a very good piece of news. Since 2010 there have only been two quarters where GDP growth exceeded 2.6%, and many in which growth ended up being below 2%. Indeed, even before today's numbers most analysts were forecasting that the economy would grow by 1.5% for all of 2013. Those numbers may end up getting revised downward after today's numbers. This is barely economic growth, and it's certainly not the kind of growth we need to deal with our myriad of economic problems ranging from unemployment to our ongoing fiscal crisis. Ideally, we should be seeing GDP growth ranging at least between 2.5% and 3% on a consistent basis. Until that happens, the economy we've been living with since 2009 is going to be "the new normal."