Initial Reports Indicate That Opening On Thanksgiving Was Good For Business
Preliminary data suggests that retailers who chose to open on Thanksgiving Day may have made the right business decision.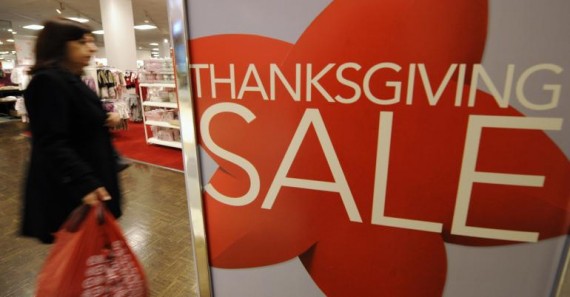 As I noted shortly before the holiday, the decision by some retailers to open on Thanksgiving Day caused no small degree of controversy and criticism that retailers were somehow inappropriately cutting in to a holiday that is supposed to be devoted to spending time with family, friends, football and turkey. As it turns out, though, preliminary reports seem to indicate that it was a good business decision:
Shoppers who braved the sales on Black Friday may have wondered at the size of the crowds. Did they seem a bit smaller than in years past?

That's because, according to one major research firm, they were.

More large retailers were open on Thanksgiving Day this year, and for more hours than in years past. And it appears those openings nibbled away not only at the holiday, but at the sales the day after, too.

"The Thursday store openings did well," said Bill Martin, founder of the research firm ShopperTrak. "But a lot of it was at the expense of Black Friday."

Collectively, sales on Thursday and Friday were up 2.3 percent in brick-and-mortar stores over the same two days last year, according to ShopperTrak.

But foot traffic on Black Friday, traditionally the biggest shopping day of the year, was down more than 11 perfect over last year. Sales were off even more, down 13.2 percent.

The holiday season generally accounts for 20 to 40 percent of a retailer's annual sales, according to the National Retail Federation, and Thanksgiving weekend alone typically represents about 10 to 15 percent of those holiday sales.

This year, however, there is an unusually short window between Thanksgiving and Christmas, and retailers tried hard to encourage people to shop early. Deals were offered weeks in advance, and ads pushed the idea that shoppers should get an early start. And many did. According to the retail federation, 53.8 percent of shoppers surveyed in the first week of November said they had already started their shopping, drawn by early sales.

Mr. Martin said that over all, he expected November sales figures to be stronger than last year's. By Saturday evening, ShopperTrak had not yet completed its data for Thanksgiving Day, but Mr. Martin said he expected sales to be up "dramatically."
The fact that Thanksgiving Day sales may have somewhat cut into Black Friday sales isn't really surprising. The population of people likely to take time out of their Thanksgiving Day to go shopping is, quite likely, fairly similar to the population of people likely to get up early on the following day and brave the crowds, and in many cases the cold weather, of Black Friday in search one deal or another. Nonetheless, if it does turn out that there was an increase in sales over the same two day period from last year, then that would seem to be an indication that the decision to open on Thanksgiving did contribute at least in some respect to the increased sales. This arguably stands as a powerful counterargument to those who spent much of the month of November arguing that there was something horribly wrong with the entire idea of being open for all or part of the day on Thanksgiving. In the end, the best way to evaluate that claim is to see whether the decision to open an extra day or half day ended up bringing in more sales, and whether the revenue generated justifies the additional expenses involved in opening for that period. While it will be several weeks before we can know that for sure, and there is good reason to be careful about judging preliminary data, these initial reports at least suggest that the decision to open didn't exactly turn consumers off.
Putting aside the brick and mortar side of the equation, it also appears that Thursday and Friday were good for online business as well:
Shopping online, however, grew substantially on Thanksgiving and Black Friday this year.

Online sales on Thursday were up nearly 20 percent over last year, according to IBM Digital Analytics Benchmark, which tracks about 800 retail websites in the United States. Online sales on Friday were up almost 19 percent.

Another major surge came from mobile traffic, which accounted for nearly 40 percent of all online traffic on Friday, said Jay Henderson, strategy director for IBM Smarter Commerce.

"That's pretty staggering," he said. "You hear a lot about the year of mobile, and this is probably the fifth annual year of mobile. But 40 percent of all traffic feels like a tipping point."

Mobile sales grew to about 26 percent of total online sales on Thursday and nearly 22 percent on Friday. On both days, the company saw a late surge in online shopping, presumably, as people finished spending time with their families and snuggled up on the couch with their credit cards.
Or, just as likely, people were spending time with their families while using their mobile devices to shop online instead of playing Angry Birds or hanging out on Twitter, or perhaps they were doing all three at various points during the day. Not exactly the Normal Rockwell vision of the holiday is it?