Is It Anyone's Business If You Don't Vote?
Should it be anyone's business if you vote?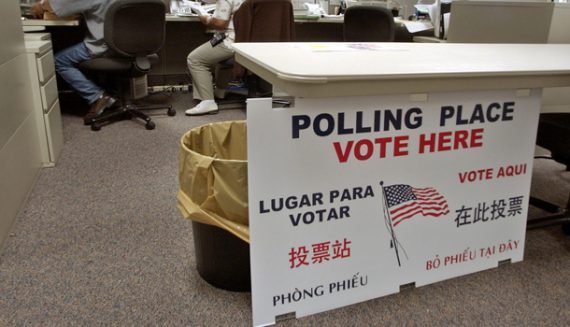 Ann Althouse is slightly perturbed about a piece of mail [Image here] that she received from some group calling itself the Greater Wisconsin Political Fund.  As you can see from the image of the mailing, it purports to be a list of people within Althouse's neighborhood and indicates whether or not they have voted in the last several elections. Althouse writes:
I obscured names and addresses, but be assured, this was a list of real names and addresses of people who live near me, with the information about whether they voted in the last 2 elections. This is an effort to shame and pressure people about voting, and it is truly despicable. Your vote is private, you have a right not to vote, and anyone who tries to shame and an harass you about it is violating your privacy, and the assumption that I will become active in shaming and pressuring my neighbors is repugnant.

Not voting is a valid choice. If you don't have a preference in the election, don't vote. If you think no one deserves your vote, don't vote.
There is, of course, nothing illegal about what this group is doing. In Wisconsin, as in I believe every other state, the voter rolls are a matter of public record and, given that much of this data is electronic, it isn't that difficult at all to come up with lists of people who did and didn't give as well as what party primary they might have voted in . Indeed, political campaigns often use this data to target their direct mail campaigns to voters likely to be receptive to the same. After all, there's no point in wasting money on mailers to someone who's never voted in a Republican primary if you're a Republican running in a primary. As a matter of law, then this group hasn't done anything illegal in coming up with this mailing campaign and in engaging what is, essentially, an effort to shame people into voting.
However, it's often the case that just because you can do something, that doesn't mean you should do it.
Assuming that it didn't land in the garbage before being read like all my other junk mail does, I would feel pretty much the same way that Althouse does about this mailer. Not so much because of the fact that they have access to the data, after all that's public information, although I am a bit uncomfortable about the way it exposes names and addresses to the public . What really bothers me about the manner is the way that it tries to shame people into voting with a sentence like "After the June 5th election, public records will tell everyone who voted and who didn't." It sounds some what like a veiled threat that if you don't vote, whether you want to or not, your neighbors are going to hear about it. Like Althouse says, it's an effort to shame people about voting despite the fact that a person's vote is their own business and they have the right not to vote if that's what they choose to do. I really don't want any of my neighbors coming up to me and saying "Gee Doug, why didn't you vote last November," because, you know what, it's really none of their business.
The "good government" and "everyone should vote" crowds no doubt love doing stuff like this, but it really does strike me as somewhat creepy in the  end, and even a little totalitarian. We do not, thankfully, live in a nation like Australia where people either have to vote or pay a fine, and there is, I would submit, something inherently wrong about trying to shame people into voting. Wisconsin in particular has been a political hot bed for a year now, and it's doubtful that there's anyone left in the state who isn't aware of the choices before them next week. If they want to vote on Tuesday, they will. If they don't, they won't Whatever choice they make is nobody's business but their own.