Is the Federalist Society Nefarious?
By popular demand . . .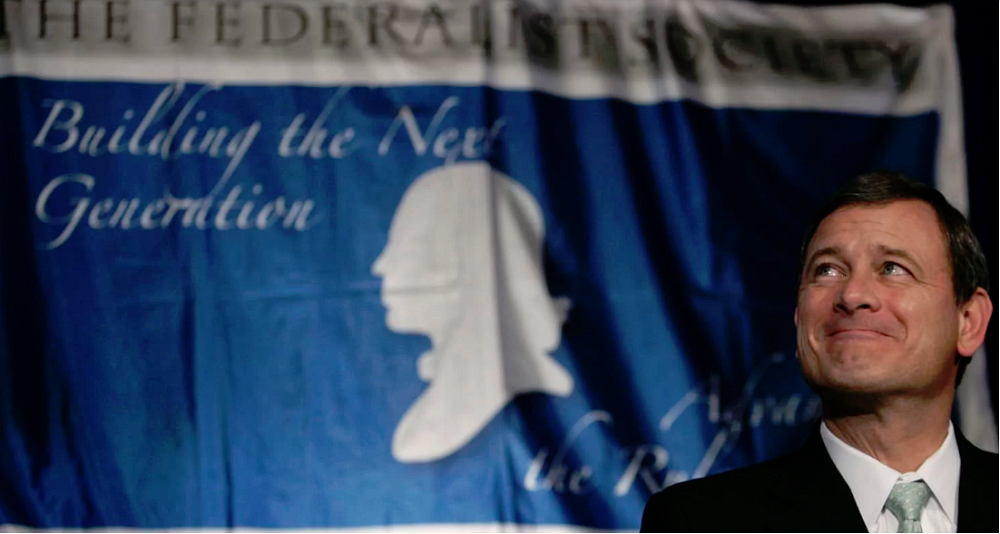 I've had a few requests lately for a post about the nefarious influence of the Federalist Society on our judicial selection process. It's not a subject about which I have especial expertise–indeed, I don't think I'd heard of them until maybe a decade ago and they've been around much longer—and to the extent that I'm knowledgeable I've been reasonably supportive of their agenda. Coincidentally, though, I stumbled on an interesting piece at Think Progress this morning by Ian Millhiser titled "Brett Kavanaugh hurdled his better-credentialed peers to get his nomination. This is how he did it."
His lede starts magnanimously but quickly shifts:
If you clicked on this piece because you're looking for an argument that Judge Brett Kavanaugh is an unqualified hack, expect to be disappointed. Kavanaugh is something far more dangerous — a brilliant, hardworking, deeply ideological hack. If he's confirmed to the Supreme Court, expect him to be extraordinarily effective in pushing a severely conservative agenda.

But neither Kavanaugh nor the last person our accidental president put on the Supreme Court under dubious circumstances, Neil Gorsuch, are the most qualified people for their current jobs — or for any of the other elite jobs they've held in their lifetimes.

The story of how Kavanaugh and Gorsuch managed to rise, despite the fact that they competed against dozens or even hundreds of lawyers with equally impressive credentials, is one of the most important stories in the United States today. It is a story about how small differences can inspire great loyalty. And how shadowy figures can amass great power by controlling what is essentially an affirmative action machine for conservatives.

And it is a dangerous threat to judicial independence and to the rule of law.
Let's treat Millhiser as a hostile witness here. He's clearly qualified to comment on the matter but clearly dislikes conservative judicial ideology. And it's odd to argue that people with Gorsuch and Kavanaugh's legal credentials are somehow akin to "affirmative action" recipients.
But his examination of the arcane world of the legal hierarchy is interesting:
To understand Kavanaugh and Gorsuch's career, it's helpful to understand the fractal inequality that drives the highest echelons of the legal profession.
There's an old joke that the practice of law is a pie-eating contest and the prize is more pie. College students compete for slots at the top law schools. The best students at these schools compete for jobs on the law review, student-run academic journals where the highest editors often work full-time, unpaid jobs on top of their studies. Students who already made it to law review compete to become those editors. The editors compete for clerkships, and the clerks for the most prestigious judges compete to clerk for the Supreme Court.

The marginal differences between these competitors can be vanishingly small. The difference between a Harvard law graduate who gets to clerk on the Supreme Court and one who merely clerks for a court of appeals judge can hinge on the fact that the second graduate had the flu during one of their exams and only received an A- because of that illness.

But these small differences matter a great deal in terms of career outcomes. A lawyer who "only" clerks for a federal appellate judge might begin their career as a Justice Department litigator in Washington, DC. But a nearly identical lawyer who clerked on the Supreme Court is much more likely to start out in a handful of the federal government's most prestigious jobs for young lawyers — The Office of Legal Counsel, a political aide to the attorney general, or even the White House Counsel's office — all of which are often stepping stones to a federal judgeship.

Law firms pay signing bonuses as high as $105,000 for young lawyers exiting a lower court clerkship, but they offer bonuses up to $350,000 to outgoing Supreme Court clerks. Former court of appeals clerks may very well make partner and get to spend the bulk of their career arguing appeals for well-paying clients, but former Supreme Court clerks are overwhelmingly more likely to become Supreme Court litigators themselves — or potentially even Supreme Court justices.

Asking most lawyers to distinguish between the career opportunities available to court of appeals clerks, and the opportunities available to Supreme Court clerks, is a bit like asking whether Wonder Woman could win a fight against Superman. But for the young lawyers whose rare combination of brilliance, diligence, ambition, and luck allows them to compete credibly for a Supreme Court clerkship, their ability to claim that prize could decide whether they go on to become one of the most powerful people in the nation.
This comports with my limited understanding of matters. I'd be interested in insights from HarvardLaw92 or others who travel in those circles. Still, Millhiser hasn't gotten to the "affirmative action" bit.
The important thing to understand about this rat race is that it is a game of very small distinctions. "Feeder judges," the handful of ultra-prominent judges who routinely send their clerks on to clerk for a Supreme Court justice, do not typically hire clerks who are obviously better suited than anyone else who applied for the job. To the contrary, feeder judges typically receive hundreds of qualified applicants, dozens of whom could do the job with rare distinction.

Sometimes, there is a clerkship applicant with such sterling credentials that they are all-but-assured a job with a feeder judge. But the hiring process typically turns on arbitrary distinctions. The clerks each feeder judge hires each year are determined as much by personal connections and luck as they are determined because any one applicant outshines their peers.

Which bring us back to Kavanaugh and Gorsuch.

The striking thing about both men's academic credentials is that they fit right within the zone of twilight where they are credible applicants for a feeder clerkship, but neither man was a standout applicant. Gorsuch graduated cum laude, not magna cum laude or summa cum laude, from Harvard Law School. Kavanaugh initially clerked for Judge Walter Stapleton, a federal appellate judge who was not a feeder judge, before eventually going on to clerk for feeder Judge Alex Kozinski and then for Justice Anthony Kennedy.

Indeed, the circumstances that led to Kavanaugh getting his second clerkship are revealing. Kozinski, who left the bench in disgrace due to his pervasive practice of sexually harassing his clerks, initially hired future Secretary of Health and Human Services Alex Azar as his law clerk. Yet Azar left this clerkship under mysterious circumstances after only six weeks. Brett Kavanaugh was the replacement.

Kavanaugh became Azar's replacement, moreover, largely due to his relationship with Yale law professor George Priest. Priest, according to the New York Times, was "a longtime sponsor of Yale's chapter of the Federalist Society." Kavanaugh and Priest became friends while the former was a student at Yale because they used to play basketball together. When Azar left the Kozinski clerkship, Priest arranged for Kavanaugh to take over.

Without this opportunity to clerk for a feeder judge, it is very unlikely that Kavanaugh would have clerked on the Supreme Court. It is equally unlikely that Kavanaugh would have received a fellowship under then-Solicitor General Ken Starr, and had he not formed this early relationship with Starr, Kavanaugh almost certainly wouldn't have wound up becoming one of Starr's top aides during Starr's investigation into President Clinton — a job opportunity that launched Kavanaugh into the highest levels of Republican politics.

Judge Kavanaugh was set on his career path, not because he outperformed all of his Yale classmates, but because he had credentials that were just good enough to land him a clerkship with Kozinski, and because he played basketball with a prominent member of the Federalist Society.

The public record of Gorsuch's early career is less detailed, but we do know he first clerked for Judge David Sentelle, a very conservative feeder judge known for hiring equally conservative law clerks. Gorsuch was a very good student at Harvard law, but not a standout. He was absolutely qualified to clerk in Sentelle's chambers, but the fact that a "mere" cum laude graduate of Harvard got to clerk in this prestigious chambers likely has as much to do with Gorsuch's right-wing views as it does with his academic record.
So, now we're getting somewhere. Both Gorsuch and Kavanaugh were extremely well-qualified. The argument that they're not the best qualified because others had slightly better grades isn't that interesting. Maybe they made up for it with extracurriculars. Or were better in the interviews. And even networking isn't comparable to affirmative action; it's just the natural course of events in even modestly elite circles. But, of course, we've finally come to the dreaded Federalist Society.
There are two important takeaways from this dive into the elite world of the Harvard Law Review and the Yale Law Journal. One is that the students who live in this world care deeply about very small distinctions. They will perform thousand of hours of free labor, bury themselves in their studies, structure their social lives, and go out of their way to impress certain professors — all to make it more likely they will clerk for someone like Kozinski instead of someone like Stapleton.

The second takeaway is that these ambitious lawyers-in-waiting will typically be eternally grateful to anyone who nudges them just one rung up the prestige ladder.

Which brings us back to the Federalist Society, the Svengali-like organization that Donald Trump relies on to select many of his judicial nominees.
Svengali-like? Tell me more.
The important thing to understand about the Federalist Society is that, with rare exception, they do not promote unqualified ideologues into key jobs. What they can do, however, is make it more likely that when a feeder judge (or a justice, or an attorney general, or a president) is confronted with a dozen highly qualified applicants for a powerful job, the person who ultimately gets the job is a staunch conservative.
That was my prior understanding.
Indeed, the Federalist Society operates in very much the same way that affirmative action functions after the Supreme Court's decisions in Grutter v. Bollinger and Fisher v. University of Texas.
At top universities, there are basically three different kinds of applicants. Some applicants are so obviously qualified that they are certain to be admitted. Others are so obviously unqualified that they will never be accepted. Affirmative action has no impact whatsoever on these applicants.

Where affirmative action can make a difference is the mass of marginal applicants who are unquestionably qualified to go to the school of their choice, but who are not standouts. Affirmative action permits a school to say "we have ten qualified applicants and only three slots remaining, so lets give one of those slots to someone who will diversify our student body."

And so it is as well for job applicants in the Federalist Society's network. Brett Kavanaugh was perfectly qualified to clerk for a feeder judge, but so were a dozen of his classmates who did not get this opportunity. He got that chance because of his connection to a professor closely tied to the Federalist Society.

In that sense, Kavanaugh's career path was very different than that of Chief Justice John Roberts, who graduated from Harvard Law School years before the Federalist Society became a powerhouse in the legal profession.

Like Kavanaugh, Roberts clerked for a feeder judge, Judge Henry Friendly, and then for a Supreme Court justice. Unlike Kavanaugh, young John Roberts did not benefit from affirmative action for conservatives.
Meh. Presumably, there were other, perhaps less reliable, ways for conservative feeder judges to screen applicants for ideological compatibility?
The story of how Roberts became a Friendly clerk is painfully ironic. Roberts' predecessor was Merrick Garland, the Supreme Court nominee that Senate Republicans refused to consider in President Obama's final year in office. Friendly reportedly asked Garland to identify the smartest graduating student at Harvard, and Garland told his boss to hire John Roberts.

Roberts, in other words, does not owe his first big career break to a conservative fraternity. He owes it to a man he has little in common with ideologically. That may explain why Roberts has shown a bit of an independent streak on the Supreme Court. He owes far less to the Federalist Society.
Maybe. Or perhaps it's his temperament. Or the fact that, as Chief Justice, he's got a stronger incentive to look out for the legacy of the institution—it's "The Roberts Court," after all—than associate justices.
The troubling thing about Kavanaugh and Gorsuch's careers is that they are made men. They would have had very fine lives if they weren't plugged into a powerful conservative network, but they almost certainly would have led those lives in obscurity. And they know it. They know exactly who got them where they are.

This is not a recipe for an independent judiciary. The thing about loyalty is that it is not easily set aside. When you've spent your entire professional career depending on an ideological brotherhood for your advancement, you don't easily become an independent thinker once you no longer need their help.
Ultimately, then, the punch line here isn't that powerful. Millhiser doesn't like the Federalist Society and calls it some names but maybe he's just being too fair.
Looking for another reasonable source, I stumbled on a June NPR interview with Amanda Hollis-Brusky, author of Ideas with Consequences: The Federalist Society and the Conservative Counterrevolution. She provides some interesting background:
HOLLIS-BRUSKY: The Federal Society (ph) grows up alongside the Reagan Revolution. You have a small group of law students at elite law schools who are conservative and libertarian-leaning. They see that conservative ideas and ideology are politically ascendant. And yet in their elite law schools, they don't see those ideas represented in their curriculum. And so they decide that they need to found an organization, a club that would bring conservative and libertarian voices, scholars and perspectives into their law schools.

KELLY: And interestingly, you write one of their earliest faculty mentors that they brought in was Antonin Scalia.

HOLLIS-BRUSKY: A lot of Scalia's ideas in writing about originalism and original meaning became deeply ingrained into the kind of founding consciousness of the Federal Society. And the organization really grew up as a organization that promoted Antonin Scalia's conservative judicial philosophy.

KELLY: So how does this play out if we set this against the list that President Trump says? He's got 25 names. He's going to find his next Supreme Court nominee from that list. What role did the Federalist Society play in shaping that list?

HOLLIS-BRUSKY: I would say one very direct role is that Leonard Leo, who was the executive vice president of the Federal Society, took leave from the society to construct that list for President Trump. And so that list is in many ways a product of the Federal Society and its network.

KELLY: Leo in interviews has said the president called and asked him for a list, asked him to come up with this.

HOLLIS-BRUSKY: Yeah. And I think one strong indicator of Federal Society influence here – if you think about Trump's other Cabinet nominees, his secretary nominees, he tends to gravitate towards nepotism, people who have been loyal, faithful. They're his friends. When you look at his list of judges and the people that he's put on the bench, it's been entirely controlled by the Federal Society. And that is an indicator of the pull that the Federal Society has within that space, that Trump wouldn't dare nominate someone who was just a family friend.

KELLY: Do we have any way of knowing how they may be seeking to exert influence on the pick, on who might rise to the top of this list of 25 names?

HOLLIS-BRUSKY: I think Leo, as a gatekeeper, has a lot of power and influence right now. And so as they're walking through this list of nominees, they're of course taking into consideration politics, which senators are more or less likely to vote for particular nominees. So there's broader political considerations here. But Trump has said and the Federal Society has said as much – their focus is on getting verifiably conservative judges on the court and young judges and justices.
Again, this comports with my understanding. In high school and college, when I was first getting interested in and then studying politics, it was received wisdom in Republican and Conservative Movement circles that the judiciary tended to be liberal because, when Democrats appointed justices to the Supreme Court, they appointed liberals who would always stay liberal but, when Republicans appointed justices, they either appointed moderates or conservatives who would inevitably drift left. The explanation given was that the social pressures on Justices, whether in the fabled "DC cocktail party circuit" or from the elite media, rewarded liberal opinions. While some of that is ahistorical, it was nonetheless widely believed. And, I gather, was a large part of the impetus for the forming of the Federalist Society as a means of both promoting and vetting conservatives for the judiciary.
As I've gotten older and less partisan, I've come to prefer the ideal of a more neutral Supreme Court. I'd rather have nine moderate, independent Justices than reliable staunch liberals and staunch conservatives. Realistically, though, the pressures are enormous to find ideologues. The only time when moderates have a chance, really, is when the White House and the Senate are held by different parties. It's why Barack Obama appointed Merrick Garland, who was both older and more conservative than one would expect from Obama; both Sonia Sotomayor and Elena Kagan, both confirmed with a strong Democratic-majority Senate, were more natural choices.
So far as I'm aware, the Democrats don't have a true counterweight to the Federalist Society. The American Constitution Society, formed in 2001, isn't nearly as powerful. But it's not obvious that it's necessary, either.
If the argument is simply that the Federalist Society promotes a conservative ideological agenda, and is therefore evil, it's not one I find interesting. If the argument is that Supreme Court Justices who got there with the help of the Federalist Society are somehow subject to their control while on the bench, I'm interested but would need significantly more proof. After all, they'd likely have been under close scrutiny for a quarter century or so by that point so would be pretty reliable conservative votes.
The more intriguing argument, then, is one not implicitly made by Millhiser: that lower-court judges who got their seats with Federalist Society help are likely to shade their decisions to remain in contention for a promotion. That's actually somewhat plausible to me. Then again, I'd think Democrat-appointed judges would have similar incentives.
Amusingly, the one recent attempt by a Republican President to break with the recent tradition of appointing judges backed by the Federalist Society was the Harriet Miers fiasco. She was, in many ways, a breath of fresh air: not particularly ideological, not from Harvard or Yale, and not from the standard clerkship and Court of Appeals path. But that actually made many—myself decidedly included—skeptical that she was qualified. While I thought she was an impressive, accomplished woman, I considered her unqualified for the Supreme Court because we've become accustomed to intellectuals with stellar judicial credentials. Like it or not, the Federalist Society grooms those people for the GOP.