Is The Right Losing Its Mind ?
American Conservatism has changed significantly since the days of William F. Buckley Jr. One former National Review editor says that it's changed for the worse.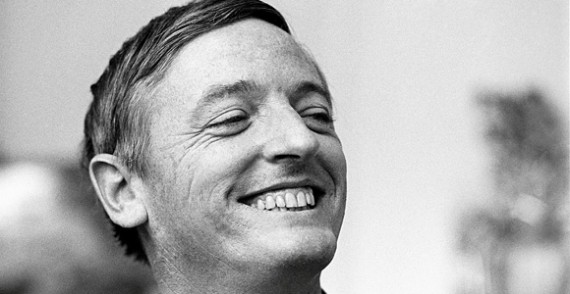 In today's Los Angeles Times, David Klinghoffer, who was a long-time writer at National Review during the final decades of the William F. Buckley era, argues that conservatism has been taken over by the demagogues:
Once, the iconic figures on the political right were urbane visionaries and builders of institutions — like William F. Buckley Jr., Irving Kristol and Father Richard John Neuhaus, all dead now. Today, far more representative is potty-mouthed Internet entrepreneur Andrew Breitbart, whose news and opinion website, Breitbart.com, is read by millions. In his most recent triumph, Breitbart got a U.S. Department of Agriculture official pushed out of her job after he released a deceptively edited video clip of her supposedly endorsing racism against white people.

What has become of conservatism? We have reached a point at which nothing could be more important than to stop and recall what brought us here, to the right, in the first place.

Buckley's National Review, where I was the literary editor through the 1990s, remains as vital and interesting as ever. But more characteristic of conservative leadership are figures on TV, radio and the Internet who make their money by stirring fears and resentments. With its descent to baiting blacks, Mexicans and Muslims, its accommodation of conspiracy theories and an increasing nastiness and vulgarity, the conservative movement has undergone a shift toward demagoguery and hucksterism. Once the talk was of "neocons" versus "paleocons." Now we observe the rule of the crazy-cons.
Klinghoffer's criticism does have an air of elitism to it, of course. When William F. Buckley started National Review in 1955, the American Right was essentially non-existent. The Old Right that had resisted, feebly, the entreaties of the New Deal destroyed itself in the early 1940s as it clung to isolationism while the rest of the nation woke up to the dangers of Germany and Japan. There wasn't really a conservative movement to speak of, leading Buckley to define his magazine's mission like this:
Let's face it: Unlike Vienna, it seems altogether possible that did NATIONAL REVIEW not exist, no one would have invented it. The launching of a conservative weekly journal of opinion in a country widely assumed to be a bastion of conservatism at first glance looks like a work of supererogation, rather like publishing a royalist weekly within the walls of Buckingham Palace. It is not that, of course; if NATIONAL REVIEW is superfluous, it is so for very different reasons: It stands athwart history, yelling Stop, at a time when no one is inclined to do so, or to have much patience with those who so urge it.

NATIONAL REVIEW is out of place, in the sense that the United Nations and the League of Women Voters and the New York Times and Henry Steele Commager are in place. It is out of place because, in its maturity, literate America rejected conservatism in favor of radical social experimentation. Instead of covetously consolidating its premises, the United States seems tormented by its tradition of fixed postulates having to do with the meaning of existence, with the relationship of the state to the individual, of the individual to his neighbor, so clearly enunciated in the enabling documents of our Republic.
Buckley started, or re-started, an intellectual movement that was on life support and, as a result gave birth not only to modern conservatism, but also, to some degree, the modern libertarian movement when members of Buckley's Young American's For Freedom split from the group in the early 1970s over the Vietnam War and the draft and went on to form the Libertarian Party and other libertarian-oriented think tanks.
Much has changed since 1955, though. conservatism is no longer in exile as it was back then. It's a political movement with political leaders that has to appeal to voters. It's also a propaganda movement led by people like Breitbart, Limbaugh and Beck that is as much concerned with grabbing eyeballs as it is with engaging in political debate, perhaps more at times.Klinghoffer wants conservatism to be the philosophical, spiritual movement it was under Buckley and Russell Kirk. That's all well and good, but that's not the kind of movement that's likely to have much luck changing the world in the long term without changing itself. In some sense, the changes that Klinghoffer laments are an inevitable result of the movement's success.
Donald Douglas at American Power Blog argues that Klinghoffer's criticism does little more than help the left, but it can't be denied that the crazy-cons, as Klinghoffer calls them, do seem to be on the rise, and Rick Moran is worried about them too:
Maybe it's the heat. Perhaps it's an al-Qaeda plot that has dumped LSD in public cisterns throughout the country. Or, it could be simple, old fashioned, bat guano crazy wishful thinking.

Whatever it is, the very silly season has arrived on the right and with it, diminishing chances that the American people will drink the same flavor of Kool Ade and join conservatives in giving the Democrats a well-deserved paddling at the polls.

A kind of irrational combination of fear and exuberance has infected the right in recent weeks as the number of vulnerable Democrats grows and the realization that at the very least, the House may fall into their laps takes hold. And if the hysteria was limited to the fringes, one might dismiss it as not worthy of discussion.

Instead, illogical ranting has gone mainstream with a call by former Rep. Tom Tancredo in the Washington Times for the president to be impeached, and now the belief that there may be another American Revolution on the way emanating from the pages of the staid, and usually rational Investors Business Daily.

The probable response of those two media organs would be that these are valid points of view and they are performing a public service by airing them. At least, that's what the New York Times says when they publish off the wall looniness from liberals.

In truth, they are not valid. They are not rational. They are not sane.
I've already written about Tancredo's comments, but the IBD column is worth taking a look at.  In it, former Ford-Reagan treasury department officials Ernest Christian and Gary Robbins launch into what Moran calls, and I agree is, a wildly exaggerated attack on President Obama's record in office:
Too many overreaching laws give the president too much discretion to make too many open-ended rules controlling too many aspects of our lives. There's no end to the harm an out-of-control president can do.

Bill Clinton lowered the culture, moral tone and strength of the nation — and left America vulnerable to attack. When it came, George W. Bush stood up for America, albeit sometimes clumsily.

Barack Obama, however, has pulled off the ultimate switcheroo: He's diminishing America from within — so far, successfully.

He may soon bankrupt us and replace our big merit-based capitalist economy with a small government-directed one of his own design.

He is undermining our constitutional traditions: The rule of law and our Anglo-Saxon concepts of private property hang in the balance. Obama may be the most "consequential" president ever.

The Wall Street Journal's steadfast Dorothy Rabinowitz wrote that Barack Obama is "an alien in the White House."

(…)

Obama is building an imperium of public debt and crushing taxes, contrary to George Washington's wise farewell admonition: "cherish public credit … use it as sparingly as possible … avoiding likewise the accumulation of debt … bear in mind, that towards the payment of debts there must be Revenue, that to have Revenue there must be taxes; that no taxes can be devised, which are not … inconvenient and unpleasant … ."
What Christian and Robbins don't acknowledge, of course, is that what they've accused Obama of are things that could also be said about every President for the past 45 years or more. They've all accumulated unchecked Executive power. They've all increased the public debt at massive rates. They've all increased the role of government in the daily lives of the people. And, yes, they've all had wingnuts on the opposite side of the aisle claiming that we were just one step away from martial law and canceled elections.
Yes, Obama is a liberal. Anyone who didn't know that wasn't paying attention in 2008 and, as Moran notes, can't really claim to be surprised or shocked:
Why is anyone surprised at the liberals engineering income redistribution? It's what they do for a living. Of course, they're never honest enough to run on such a platform (recall Obama denying as much vociferously and the liberal pile on of Joe the Plumber for asking about it). But electing Democrats to such huge majorities is an open invitation for the government to pick you pocket – in the name of "fairness," of course.
Indeed, and as I've said to many of my friends on the right upset by the latest news from Washington, it was the failures of George W. Bush and the Republicans that made Barack Obama's election not only possible, but likely. Obama's mistake, it would appear, is assuming that his election constituted an endorsement of his agenda rather than a rejection of the other guy.
Moran is concerned that rhetoric like this will hurt the GOP at the polls in November. While I don't know that ranting by a guy like Tom Tancredo or an op-ed at Investors Business Daily are going to have that much of an influence on the electorate. However, as the examples of Sharron Angle and Rand Paul show us, one of the most viable Democratic strategies over the next 90 days may be the argument that "Yea we're bad, but look at them. They're crazy."
Will it work ? Maybe not in 2010, but if the right continues down this road then it will be handing Barack Obama back the White House on a silver platter.