Is The Tech Bubble Returning?
Some signs from Silicon Valley seem to indicate that the heady days of the 90s Tech Bubble are returning.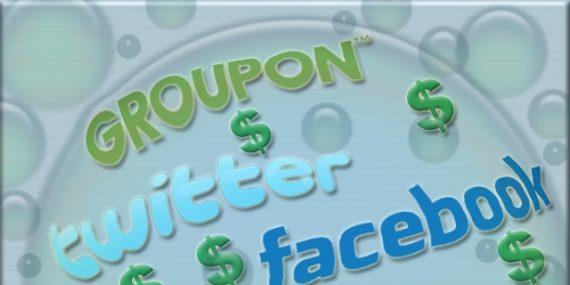 The mid to late 1990s were quite a good economic time in the United States. Economic growth was strong, the stock market was booming, housing prices were increasing at rates that made buying a home seem more like playing the stock market than finding a place that your family would live in for decades going forward, and, out West, companies associated with the technology boom associated with the growth of the Internet and the World Wide Web had seemingly found a way to make money without actually making money. Thanks in no small part to Venture Capitalists who were willing to invest millions in companies that were years away from producing anything that would generate revenue and a stock market eager to invest in the next big thing, companies that seemed to excel at little more than losing money were attracting money from all over the country. Many of these companies ended up being traded on the NASDAQ exchange, and helped to drive that exchanges composite index higher and higher notwithstanding incredibly high price-to-earnings ratios. At its peak, the the NASDAQ had reached an all-time high of 5132 and closed at 5048 in May of 2000. From that point forward, though, it was all downhill. The dot-com bubble had burst, and it started to draft the market down with it. In the end, the popping of that bubble was one of the contributing factors to the recession that the United States was in from March to November of 2001. The NASDAQ index still has not reached the heights it once touched during the glory days of the tech bubble of the late 90s, and the whole experience ended up being eerily predictive of what would happen with real estate and mortgage derivatives only a few years later.
The technology industry has changed significantly since then, of course. Companies like Google and Amazon that were part of the Silicon Bubble back in the 90s are now thriving companies with a solid record of producing revenues. Apple has had an amazing decade long run thanks to a culture of innovation that Steve Jobs helped reintroduce, and even a relative newcomer like Facebook has surprised everyone by generating revenue beyond expectations ever since going public. At the same time, though, some are starting to notice that some aspects of the culture of the bubble economy times, now some fifteen years or more in the past, are returning to Silicon Valley:
PALO ALTO, Calif. — These are fabulous times in Silicon Valley.

Mere youths, who in another era would just be graduating from college or perhaps wondering what to make of their lives, are turning down deals that would make them and their great-grandchildren wealthy beyond imagining. They are confident that even better deals await.

"Man, it feels more and more like 1999 every day," tweeted Bill Gurley, one of the valley's leading venture capitalists. "Risk is being discounted tremendously."

That was in May, shortly after his firm, Benchmark, led a $13.5 million investment in Snapchat, the disappearing-photo site that has millions of adolescent users but no revenue.

Snapchat, all of two years old, just turned down a multibillion-dollar deal from Facebook and, perhaps, an even bigger deal from Google. On paper, that would mean a fortyfold return on Benchmark's investment in less than a year.

Benchmark is the venture capital darling of the moment, a backer not only of Snapchat but the photo-sharing app Instagram (sold for $1 billion to Facebook), the ride-sharing service Uber (valued at $3.5 billion) and Twitter ($22 billion), among many others. Ten of its companies have gone public in the last two years, with another half-dozen on the way. Benchmark seems to have a golden touch.

That is generating a huge amount of attention and an undercurrent of concern. In Silicon Valley, it may not be 1999 yet, but that fateful year — a moment when no one thought there was any risk to the wildest idea — can be seen on the horizon, drifting closer.

No one here would really mind another 1999, of course. As a legendary Silicon Valley bumper sticker has it, "Please God, just one more bubble." But booms are inevitably followed by busts.

"All business activity is driven by either fear or greed, and in Silicon Valley we're in a cycle where greed may be on the rise," said Josh Green, a venture capitalist who is chairman of the National Venture Capital Association.

For Benchmark, that means walking a narrow line between hyping the future — second nature to everyone in Silicon Valley — and overhyping it.

Opinions differ here about exactly what stage of exuberance the valley is in. "Everyone feels like the valley has been in a boom cycle for quite some time," said Jeremy Stoppelman, the chief executive of Yelp. "That makes people nervous."

John Backus, a founding partner with New Atlantic Ventures, says he believes it is more like 1996: Things are just ramping up.

The numbers back him up. In 2000, just as the dot-com party was ending, a record number of venture capitalists invested a record amount of money in a record number of deals. Entrepreneurs received over $100 billion, a tenfold rise in dollars deployed in just four years.

Much of the money disappeared. So, eventually, did many of the entrepreneurs and most of the venture capitalists.

Recovery was fitful. Even with the stock market soaring since the recession, venture money invested fell in 2012 from 2011, and then fell again in the first half of this year. Predictions of the death of venture capital have been plentiful.

For one thing, it takes a lot less money to start a company now than it did in 1999. When apps like Instagram and Snapchat catch on, they do so in a matter of months. V.C.'s are no longer quite as essential, and they know it. Just last week, Tim Draper, a third-generation venture capitalist with Draper Fisher Jurvetson, said he was skipping the next fund to devote his time to his academy for young entrepreneurs.

But there are signs of life. Funding in the third quarter suddenly popped, up 17 percent from 2012. "I think this is the best time we've seen since 1999 to be a venture capitalist," Mr. Backus said. He expects the returns on venture capital, which have been miserable since the bust, to greatly improve this year.

"Everyone talks about the mega win — who was in Facebook, Twitter, Pinterest," he said. "But the bread and butter of venture firms is not those multibillion exits but the $200 million deals, and there are a lot of those." As an example he pointed to GlobalLogic, which operates design and engineering centers. It was acquired in October in a deal that returned $75 million on New Atlantic's $5 million investment.

Better returns would influence pension firms and other big investors to give more money to the V.C.'s, which would in term increase the number of deals.

"I would be really scared if all of sudden the industry raised $100 billion," Mr. Backus said. "But I don't know how you can stop that. The greed factor kicks in. Everyone wants a piece of action."
Some observers are also pointing to other recent news out of the technology sector. In mid-November, we learned that Snapchat, a service that allows users to exchange pictures and short messages that are automatically deleted after a set period of time, turned down a multi-billion buyout offer from Facebook because their owners believe that the company is worth more even though it has yet to actually generate any revenue. Earlier in the month Twitter's IPO was judged a huge success when its share price jumped some 93% above the offering price on the first day of trading despite the fact that there was plenty in the SEC filings that accompanied its IPO to lead one to wonder just how the company could come close to even the still modest success that Facebook has had in integrating ads into its service. A month later, Twitter's share price remains fairly high compared to its IPO price even though those doubts about the company's ability generate revenue remain as powerful as they were from the day the IPO was announced. Indeed, Twitter's share price isn't that far away from Facebook's, even though Facebook has a much, much larger user base and far healthier revenues. Those are just the two most prominent examples of what seems to be a repetition of the cycle that developed in the 90s when big money was being thrown about Silicon Valley under what even back then seemed like dubious reasoning.
None of this is to suggest, of course, that the technology sector is headed for the same kind of spectacular rise and fall we saw in the late 90s. For one thing, there are no doubt some people who still remember what happened back then and are likely to be more cautious about who they give money to. For another, the technology is a far more prevalent part of every day life today than it was in the late 90s, which suggests that investing in the "next big thing" is likely to have more of a chance of success than it did in an era when smartphones didn't exist, home computers were still a relatively new phenomenon on the consumer level, and the idea of near universal always-on high speed Internet access was still pretty much a pipe dream. We may be a point now where the technology infrastructure exists that justifies some of the more "out there" ideas coming out of Silicon Valley. After all, who would have thought that people would be standing in line all night outside an Apple Store to buy a phone?
Even taking all of that into account, though, economic bubbles are still a real thing and there's no reason why Silicon Valley could not see another one pop a few years down the line.